VPC's Wilson says hard-wired, monolithic vendor deals stifling telcos and moving towards collaborative partnerships.
Spend mix change seen as in post.
Accenture held up as key strategic ally and early adopter of new model.
Reality-check acknowledged: old school procurement seen as problem rather solution.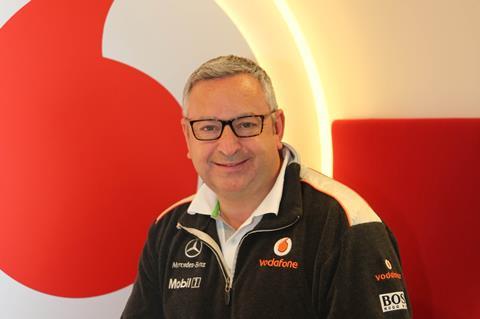 Procurement Director Ninian Wilson gave a glimpse into strategy changes taking place within Vodafone Group's Luxembourg-based buying function during a virtual conference held in late-March 2021.
The formidable Scot, who grew up on the remote, wind‑swept Isle of Lewis, is known for the uncompromising, no-nonsense way in which he extracts savings from Vodafone's biggest vendors. Counter-intuitively, he used the event to share a softer, more collaborative model being adopted with favoured suppliers to align with the Group's new, platform- (and partner-) oriented Tech Comms Company strategy.
It all started with one of those awkward conference call moments, Wilson recalled during the event — which was organised by Group collaboration platform supplier Vizibl. While senior leaders at Vodafone and Accenture — one of those choice vendors — talked through a potential tie‑up on a new service, the latter's top executive was said to have warned participants: "Whatever you do, don't let procurement get involved in this yet".
"I was on the call and I was thinking 'my goodness, how do I deal with this?', right. Apart from resign, because clearly the reputation was that bad", recalled Wilson, "but what she meant, I think, was 'don't just put this relationship through a standard procurement process because it will take far too long and we will lose the value opportunity between the two companies'".
Painful home truth: fractious friction
A managed security services-focused strategic partnership followed on from the conversation, despite Accenture's apparent misgivings, and Wilson said that the tie‑up — revealed in mid‑2020 — is underpinned by a "whole new commercial model" based around the incentivisation concept of gainsharing.
Flanked in the session by Chris Howarth, Managing Director and Global Account Lead for Vodafone at Accenture, Wilson presented the agreement as a new direction for Vodafone Procurement Company (VPC) in how it structures large vendor deals, saying the new approach still needs fine‑tuning but will end up helping "differentiate Vodafone as a Tech Comms Company from traditional telcos".
The new arrangement was said to reflect a "subtle" but "big" change taking place in telecoms procurement as purchasing become less about extracting discounts for short‑term savings and more about playing a central role in strategy and business development.
" A lot of procurement people's DNA is 'take the idea, commoditise it, reduce the price', and, if you do that standard way of procurement, you miss the market, and, if you miss the market, you miss the opportunity… The ecosystem is entirely changing now in telecommunications. We used to just go to see Ericsson and say 'give me an SMS platform, thank you'. Now it's various partners, various ecosystems, and different commercial models. "

— Wilson.
VPC: MDV's agent of mass reconstruction
Although wider changes at VPC were not touched on specifically during the Vizibl Collaborate event, Vodafone has previously flagged that the purchasing business is in the midst of a broader transformation effort aimed at not only squeezing more cost of the Group's P&L but also becoming a significant player in driving its top line, and in its own right.
Founded in 2008, VPC consolidates purchasing and supplier management for Vodafone across its international footprint. It claims now to manage spend of more than €25bn across Local and Partner Markets, joint ventures, and other Vodafone interests.
Led by Wilson since 2016, it has in recent years emphasised efforts to digitalise internal processes and apply intelligent, automated software to transform how it monitors suppliers and processes orders (Vodafonewatch, #143, #157, and #176). There has also been signals of activity around developing new supply chain models, such as design-to-cost and network infrastructure disaggregation, which promise to move Vodafone beyond traditional, monolithic equipment deals.
Wilson's boss, Vodafone Chief Financial Officer Margherita Della Valle, recently hinted that the unit is playing an expanded role in the Group's latest, over-arching efficiency drive, through which Vodafone has been targeting hundreds of millions of euros in annual savings through consolidation of suppliers, "standardisation" of OpCo requirements, and other measures (Vodafonewatch, #192). Della Valle also referenced moves to an "integrated procurement process" as part of future savings measures expected to be laid out when the operator announces its annual results in May.
New model procurement
The changes taking place at VPC tie in with a broader industry refresh of how operators are approaching buying, encouraged by availability of digital technology and the wider disruption taking place in telcos' (and other industries') supply chains.
Detlef Schultz, Wilson's predecessor and now Chairman of VPC, recently articulated a new 'value chain orchestration' role that purchasers could carve out for themselves, declaring that procurement "now needs to evolve from being just a business partner focused on classic category management" and be "much better aligned with the core business [it serves]" (Vodafonewatch, #193).
More broadly, management consultancy McKinsey has suggested the time is ripe for a renewal of "often-underappreciated" procurement functions in the wake of the pandemic and international trade tensions, saying that buying-organisations should focus more on capturing business value by pursuing "operational improvements and strategic priorities" instead of "short-term activities, such as 'category waves', that generate in-year impact". "Too many neglect longer-term, strategic initiatives — such as capability building, digitisation, and stress-testing the supply base — that promote resilience", reckons the firm.
Wilson told the Vizibl Collaborate audience that "the truth is, our industry is changing", and with this sent a shot across the bows of the biggest suppliers.
" If you think of our ecosystem today, what a number of our partners or suppliers have done is they've created standard products — whether that's a Nokia, a Cisco, or an Ericsson — and then they've gone round all of the operators and said, we've got this great product, and you can have it for a million bucks. And they've sold very similar products to all of us.

" Our job as a telecommunications company back then was really to take these products, bundle them into commercial offers, and then try and sell them… But because all the telcos were getting the same input from their partners, a lot of those offerings were very undifferentiated because we were all buying the same things from the same ecosystem. "

— Wilson.
Wilson noted that, financially, operators' spend remains concentrated around "very large relationships with very large partners, [such as] Nokia, Ericsson, Accenture, and IBM", but argued that the mix was set to "completely change" and noted opportunities emerging to work with "smaller startups and smaller scale‑ups" that compete with the big IT and network beasts. "I think, over the next four or five years, you'll see the mix of spend beginning to change. I don't think it has changed materially yet, but I think it is changing", he added.
Modern procurement requires data integrity
It has not escaped Wilson's attention that Vodafone's operator rivals are rebooting their procurement functions in a bid to become more adept and resilient, too. UK peer BT Group may not have been too far from the Scot's mind when he sought to stress how the visibility provided by Vodafone's joined‑up enterprise resource planning (ERP) systems enables it to better monitor spend with major suppliers. BT remains in the midst of a major organisational refresh of its buying department, including with this month's launch of its new, high-tech BT Sourced operation in Dublin — having recently admitted it needed to wade through 35 separate sources of spend-related data when assessing outlay with individual vendors. "We are in the fortunate position, which not all companies are in, that we've got one single ERP system — we've got one single version of the truth", said Wilson, "and it really helps when someone says, 'oh, we're spending far too much with Accenture' that at least we know how much… we're spending with Accenture". Wilson has previously highlighted VPC's SCM Control Centre as key for analytics and reporting, describing it as the "hub for our supply chain operations" and enabling him to base presentations to Della Valle on "real-time scorecards", rather than static PowerPoint slides (Vodafonewatch, #176).
Throwing new shapes
VPC's plan to shift away from its transactional- and volume-oriented past appears to require what Wilson described as "choreography" by the business, both in terms of internal change and positioning within Vodafone. The Luxembourg-based company sits apart from most of the Group's other operations, geographically, but evidently needs to be tightly plugged in to Vodafone's business strategy in order to know where it can best deliver value.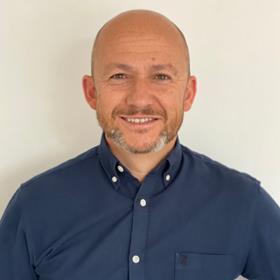 Also interviewed during the session were Paresh Modi, Group Head of Business Development & Innovation at Vodafone, and Kenny Graham, Chief Executive of Tomorrow Street, VPC's innovation joint venture with Luxembourg's Technoport — and there were hints that the trio have formed a tight axis when it comes to pinpointing these requirements.
Modi described his role in the scheme as "identifying those gaps that we have… where our… vendors or suppliers are not exactly delivering to the disruptive agenda that we need to go down". "A big part of my role is going around talking to the people who are making decisions, who have budget, who have roadmaps, who have objectives to achieve", he added.
They are then "paired up" with both VPC, for purchasing and partnering, and Tomorrow Street — which has helped gestate around eight startups in emerging technology areas since being launched in 2017. The JV — which also leverages VPC's relationship with Accenture — works towards "really clear KPIs, which really drives the whole team to make sure that companies we partner with are successful", said Graham.
" Our main goal at Tomorrow Street is to be a scale‑up accelerator, so what we're doing is helping in that journey. We're out there, hunting really exciting young companies that can support Vodafone and the opportunity to differentiate how we serve the customer… it's really about finding some great tech that either we can bring direct to customers or… can fit within Vodafone's digital estate, network estate, or wider product estate. "

— Graham.
Becoming a better Vodafone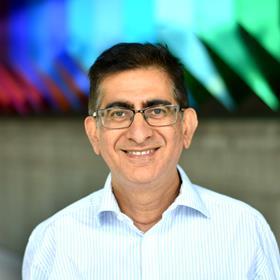 The Vodafone executives were ready to acknowledge that change brings significant challenges, too, with Wilson noting that new partnership models were a work-in-progress. "Have we completely systematised what we do? I wouldn't say we were there yet. I don't think we've quite got a single model that works".
Like Wilson, Modi tied the strategic partnerships programme to Vodafone's Tech Comms Company agenda, which he called "really ambitious and non-trivial".
" As we go into our next phase, which is next-generation telco, we're going to have to work out how do we as an organisation gear ourselves to deliver against those objectives, which means do we have the right people and skills? Do we have the right setup, the technology? Do we have the right ambition levels and are we organised in a way that makes these things work? So those are all very fundamental questions for the organisation. "

— Modi.
There was also a nod to the fact that Vodafone, to attract partners, will need to address scepticism in the tech ecosystem, based on the traditional perception of telcos as difficult bedfellows and often hard to break into because of 'not invented here' syndrome. Vodafone Chief Technology Officer Johan Wibergh — key architect of the Tech Comms Company approach — admitted recently that the operator was seen as "not always that easy to do business with" but wanted to revamp how it negotiates and integrates services tie‑ups (Vodafonewatch, #176).
" I think that our partners are going to be really critical in this whole journey to Tech Comms… Over the last year, we've started to realise that we can't do it by ourselves; something we should have realised a lot earlier. But now we are really much more open as an organisation to bringing partnerships forward. "

— Modi.
Asked about crossover with Accenture's own services business, Modi asserted that "it doesn't matter whether we compete or not".
" Of course, we've got to be careful as to where the lines of demarcation are. The more important thing is, how do you grow the size of the pie, in order that you can have bigger slices of the pie, as opposed to how can you compete with each other. And unless you have open minds towards partners, and partners have open minds towards us — you know, whether they're small partners like startups, or large partners like Accenture — we're not going to succeed in delivering everything that we want to do, we're just not going to get there. And so this piece is really critical. "

— Modi.
Let the entrepreneurs rise
There was also a concession that Vodafone still has cultural legacy to shift.
" I hear people often say, 'Oh, you need to be a little bit more like Amazon' or 'a little bit more like Google'. Well, that's not correct, because what works for them may not necessarily work in our culture and our way of working. We just need to be a little bit more like Vodafone, and be more innovative and entrepreneurial; and that's quite a big challenge for us culturally … "

" You expect your telecoms network to work all the time — 24/7, right quality, right bandwidth — so our culture has been a non‑failure culture because our customers expect everything to work all the time. So that learning culture around 'Oh it didn't work, don't worry, move on to the next thing' isn't quite there in our business, because it's a 'mustn't fail' culture. So these are some of the cultural steps we also have to make, to try and move the company to be a little bit more comfortable with not succeeding… "

" So, there's a whole recipe here. I still think we're probably baking the odd cake, but they're not quite as tasty as we'd like it to be yet, so there's more experimentation for us to go, I think, on that recipe. "

— Wilson.

Richard Agnew is Group Editor at TelcoTitans.