VPC's Wilson says hard-wired, monolithic vendor deals stifling telcos and moving towards collaborative partnerships.
Spend mix change seen as in post.
Accenture held up as key strategic ally and early adopter of new model.
Reality-check acknowledged: old school procurement seen as problem rather solution.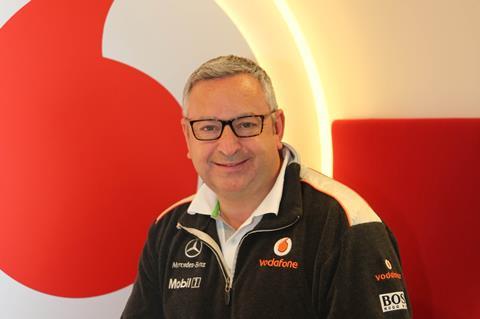 The Vodafone executives were ready to acknowledge that change brings significant challenges, too, with Wilson noting that new partnership models were a work-in-progress. "Have we completely systematised what we do? I wouldn't say we were there yet. I don't think we've quite got a single model that works".
Like Wilson, Modi tied the strategic partnerships programme to Vodafone's Tech Comms Company agenda, which he called "really ambitious and non-trivial".
" As we go into our next phase, which is next-generation telco, we're going to have to work out how do we as an organisation gear ourselves to deliver against those objectives, which means do we have the right people and skills? Do we have the right setup, the technology? Do we have the right ambition levels and are we organised in a way that makes these things work? So those are all very fundamental questions for the organisation. "

Modi.
There was also a nod to the fact that Vodafone, to attract partners, will need to address scepticism in the tech ecosystem, based on the traditional perception of telcos as difficult bedfellows and often hard to break into because of 'not invented here' syndrome. Vodafone Chief Technology Officer Johan Wibergh — key architect of the Tech Comms Company approach — admitted recently that the operator was seen as "not always that easy to do business with" but wanted to revamp how it negotiates and integrates services tie-ups (Vodafonewatch, #176).
" I think that our partners are going to be really critical in this whole journey to Tech Comms… Over the last year, we've started to realise that we can't do it by ourselves; something we should have realised a lot earlier. But now we are really much more open as an organisation to bringing partnerships forward. "

Modi.
Asked about crossover with Accenture's own services business, Modi asserted that "it doesn't matter whether we compete or not".
" Of course, we've got to be careful as to where the lines of demarcation are. The more important thing is, how do you grow the size of the pie, in order that you can have bigger slices of the pie, as opposed to how can you compete with each other. And unless you have open minds towards partners, and partners have open minds towards us — you know, whether they're small partners like startups, or large partners like Accenture — we're not going to succeed in delivering everything that we want to do, we're just not going to get there. And so this piece is really critical. "

Modi.
Let the entrepreneurs rise
There was also a concession that Vodafone still has cultural legacy to shift.
" I hear people often say, 'Oh, you need to be a little bit more like Amazon' or 'a little bit more like Google'. Well, that's not correct, because what works for them may not necessarily work in our culture and our way of working. We just need to be a little bit more like Vodafone, and be more innovative and entrepreneurial; and that's quite a big challenge for us culturally … "

" You expect your telecoms network to work all the time — 24/7, right quality, right bandwidth — so our culture has been a non-failure culture because our customers expect everything to work all the time. So that learning culture around 'Oh it didn't work, don't worry, move on to the next thing' isn't quite there in our business, because it's a 'mustn't fail' culture. So these are some of the cultural steps we also have to make, to try and move the company to be a little bit more comfortable with not succeeding… "

" So, there's a whole recipe here. I still think we're probably baking the odd cake, but they're not quite as tasty as we'd like it to be yet, so there's more experimentation for us to go, I think, on that recipe. "

Wilson.

Richard Agnew is Group Editor at TelcoTitans.