Manifesto that value chain orchestration is the new procurement norm ruffles some feathers.
VPC Chairman upgrades procurement to 'primary provider of business insight and foresight'.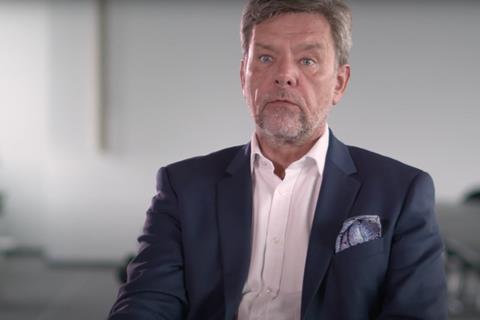 Detlef Schultz, Chairman of Vodafone Procurement Company (VPC), sparked a flurry of comments on LinkedIn in recent days, after penning a somewhat provocative article about the future of procurement, including the declaration that 'category management' is dead. The thought leadership piece never references Vodafone directly, and so may be tangential and only represent Schultz's own opinion with regard to his legacy.
Schultz declared that procurement "now needs to evolve from being just a business partner focused on classic category management" in order to be "much better aligned with the core business [it serves]". "Many procurement departments still define themselves as the masters of price, scale, and scope. Their key performance indicator still is the amount of savings delivered", he said.
Hailing "value chain orchestration" (VCO) as the new norm, Schultz said it is "apparent that the traditional category management approach is not sufficient anymore and will not deliver on the business partners' requirements".
Schultz pointed to the increasing complexity of supplier relationships and how the role of vendors has changed. They can also be customer, partner, and competitor, meaning that the "straightforward value chain constellation", where suppliers play only one role, is now the exception. "More frequently different value chain constellations occur at the same time and in parallel, requiring procurement to take on a larger role", he declared.
The veteran likened procurement's targeted role as the ecosystem's 'value chain orchestrator' to that of a spider in a complex web, "applying the entire suite of digitalisation, data analytics, robotics, and automation" to contribute to the success of an enterprise. "It develops beyond category management towards the primary provider of business insight and foresight and as such having a huge impact on the value chain", he said.
Category management is defined as a strategic approach to procurement where organisations segment their spend into related areas to improve supply chain visibility and efficiency, and potentially identify opportunities for consolidation (i.e. to squeeze suppliers).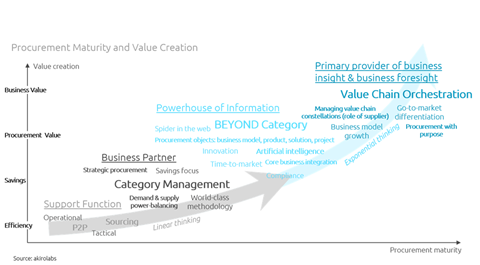 Mis-categorised
Schultz generated considerable interest among industry peers with his article. However, his comments on category management raised no small amount of alarm.
Angus Craig, Head of Procurement at US-based engineering group AECOM, said that while he agreed with many of Schultz' views, he is "more hesitant when it comes to consigning category management to history".
" I suspect your view of category management depends on your definition. For me, it is a way to develop a deep understanding of demand and supply and, therefore, is fundamental to the role of procurement. Innovation, disruption, and the wider application of technology are just some of the factors we need to take into account, not a signal that category management is dead. "

— Craig.
While he agreed that VCO does include category management, Schultz said it extends "much wider, taking advantage of AI, providing deeper business insight and foresight based on data analytics and therefore provides a much larger field for procurement".
Oliver Klein, Head of Transformation Acceleration Programs at SAP Intelligent Spend Group, also said he "would not retire the term 'category management'. Categories have been a proven and well accepted structuring concept".
At the same time, he allowed that category management will need to evolve and adapt to the "value chain orchestrating elements" described by Schultz.
New-era procurement — power-play or power-grab?
While Schultz may be correct about the need to modernise procurement and put the function in the driving seat when it comes to businesses' partnering and services strategy, what he proposes is highly ambitious on practical and political levels for most procurement organisations alone.
As such, his pitch could be interpreted as a desire for greater business relevance and a landgrab for a new, data-driven era where mastery of strategic relationships is integral to success for both telcos and other enterprises.
With regard to Vodafone, VPC has in recent years already emphasised its efforts to digitalise internal processes and transform how it does business. At the mid‑2019 Arch Summit, for example, Ninian Wilson, who succeeded Schultz as Chief Executive (CEO) of VPC in 2016 (Vodafonewatch, #143), flagged that there was a "real appetite around digitalising everything we do", highlighting ties with artificial intelligence‑based "process mining" specialist Celonis to "optimise the POs [purchase orders] that go through our system" (Vodafonewatch, #176).
In an interview with media outlet Supply Chain Management Review in 2020, Wilson reiterated this desire, suggesting that the Group's internal digitalisation has been naturally accelerated by COVID‑19 and the subsequent hike in remote working.
There appears much more to come from VPC, in terms of transformation.
Vodafone Group Chief Financial Officer (CFO) Margherita Della Valle, in whose domain VPC sits, recently highlighted the role the unit and its base of chosen vendor partners are playing in helping the Group cut spend, with Vodafone extracting €600m (£534m) in savings during the current and two preceding financial years (FY18–19 to FY20–21) through consolidation of suppliers, "standardisation" of OpCo requirements, and other measures (Vodafonewatch, #192).
Della Valle also hinted at a move to an "integrated procurement process" as part of future savings measures, although the CFO did not elaborate on whether this was a reference to plans for further consolidation across markets or a more joined‑up VPC, internally.
Since stepping back from the CEO position at VPC in 2016, Schultz has held various advisory roles at KPMG, Roland Berger, and startups.
VPC consolidates purchasing and supplier management for Vodafone globally. Based in Luxembourg, it was founded by Schultz in 2008 and claims now to manage spend of more than €25bn across operating companies (OpCos), Partner Markets, joint ventures, and other parties. The unit seemingly retains Schultz's ambitions to operate beyond Vodafone, which may have been stymied in 2020 by the pandemic.
Schultz and Wilson will no doubt be keeping a watching brief on rivals as they, too, adopt new purchasing strategies. At BT, for example, Chief Procurement Officer Cyril Pourrat was lured from Sprint in 2019 to revamp the buying function, and has already shown ambition to sidestep legacy functions, break silos, and drive transformation of systems and ways-of-working.


Anne Morris is a freelance journalist, editor and translator. She has been working as a reporter and news analyst for TelcoTitans and Market Mettle since 2016.