Vodafone Procurement Company now actively using Trust Your Supplier platform — a means of simplifying buyer-seller relationships.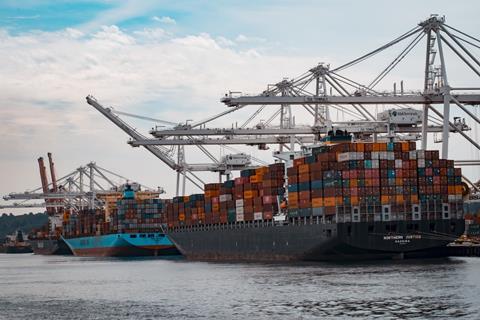 Vodafone Procurement Company (VPC) is understood to be in the latter stages of on-boarding its North American supplier ecosystem onto the IBM-led vendor validation platform Trust Your Supplier.
According to the Trust Your Supplier FAQs, the process of on-boarding a "geography worth of suppliers" takes, on average, two-to-three months.
Without disclosing specifics, VPC confirmed recently that it had begun using the Trust Your Supplier network to "promote and verify" supply chain partners, making it one of the first businesses, alongside IBM and Lenovo, to firm up adoption of the platform since its launch in August 2019.
The move was highlighted as an important step in VPC's broader digital transformation (Vodafonewatch, #193 and passim).
One for the team
Vodafone, which has just shy of 11,000 suppliers worldwide, is said to have played a key role in the platform's development in partnership with a host of other members of the Trust Your Supplier alliance, including the project's two main protagonists: IBM and North Carolina-based blockchain consultancy Chainyard (Vodafonewatch, #176).
The operator is a Trust Your Supplier Governance Board member alongside rival Deutsche Telekom (Founding Member), Verizon Communications (Founding Buyer), as well as Cisco Systems, Lenovo, Nokia, and Telstra.
Purchasing power
The Trust Your Supplier promise is of an interoperable ecosystem leveraging blockchain technology to streamline the otherwise monotonous (and expensive) process of supplier discovery, qualification, on-boarding, and lifecycle information management.
It promises to "reshape" buyer–supplier relations through the provision of customisable, blockchain-embedded "digital passports" for individual suppliers, offering the former "real-time" data assurance (thereby reducing fraud risk and driving inclusivity within supply chains).
Vodafone has separately flagged interest in other blockchain technology use-cases, including: validating and monitoring connected-devices in energy networks, and in supporting settlements for international wholesale and roaming agreements.

Sam Patterson is a Staff Reporter for TelcoTitans, contributing telecoms news analysis since September 2020 as part of the TelcoTitans Editorial team.