CFO flags acceleration of savings push during H1, and possibility of a further expansion of ambitions for the post-COVID era.
Planned developments at Vodafone Procurement Company briefly mooted.
Stark Retail and Shared Services cutbacks detailed.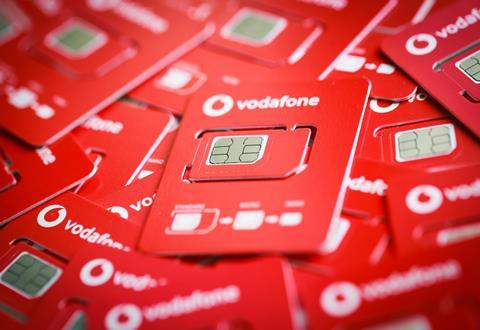 Spend-wise, the key takeaway for Vodafonewatch from the H1 presentation was that the Group — reflecting business' broader, digital-flavoured response to the pandemic — has stepped up automation- and digitisation-led cost-cutting programmes significantly since the beginning of FY20–21, and the start of the pandemic.
More is to come, too, with Della Valle briefly flagging that the "opportunity is there post-COVID to further accelerate our cost reduction programmes".
Detail on the nuts and bolts of this step‑up were light, but there was some striking information tucked away in the presentation documents, including:
What was referred to as "full time employee efficiencies" of 1,100 staff in Shared Services (i.e. the recently-revamped Vodafone Intelligent Solutions) just in the six month-period of H1, bringing the total employees cut from those operations to 4,600 over the course of the past two-and-a-half FYs (against a total of 20,000+ Shared Services employees Vodafone cited earlier in 2020). Some €400m in annual savings are said to have been delivered in Shared Services functions over that period — a not insignificant portion of the Group's overall expense base, which came in at around €30bn in its last full FY. The operator has previously sought to highlight "robotics, artificial intelligence, and process optimisation" as key enablers of the Shared Services trim‑down.
The closure of 728 stores since September 2018, bringing the number of Group shops down to 6,294.
Reiteration of the role Vodafone Procurement Company (VPC) and its base of chosen vendors/partners are playing in helping the Group cut spend, with Vodafone delivering €600m in savings during the current and two preceding FYs through consolidation of suppliers, "standardisation" of OpCo requirements, and other measures. Della Valle hinted at a move to an "integrated procurement process" as part of future savings measures, although the CFO did not elaborate on whether this was a reference to plans for further consolidation across markets or a more joined‑up VPC, internally. Vodafonewatch wondered whether this could be a further factor in the Tech 2025 delay — as it would make little sense to embark on a new approach to buying without it being guided from above by strategy.
Della Valle confirmed that in H1, the Group had moved to "accelerate our operating cost savings" and had delivered a net operating expenditure (opex) reduction of €300m — three quarters of its €400m quota for the whole FY, as per the CFO's recently rejigged, €1bn efficiencies plan for Europe and Common Functions in FY20–23 (Vodafonewatch, #181, #186, and #188).
No in‑market data was broken out, but Germany and the UK have previously been cited as the key markets where Della Valle sees Vodafone as having catch‑up opportunities around opex, versus rivals and peers.
For investment, read Germany
Regarding capital expenditure (capex), there was little sign of COVID‑19 disruption to Vodafone's investments.
Capex rose significantly in H1 (€3.4bn, compared with €3bn in H1 FY19–20), with Germany again emphasised as the main place Vodafone goes shopping. Bolstered by 2019's Unitymedia buyout, Vodafone Germany was one of only a few OpCos to report a year-on-year increase in capital spend during H1. Dwarfing all other business' capex figures, it accounted for more than a third of the Group's outlay during the six months.
 
H1 FY19–20
H1 FY20–21

Vodafone Group, capital expenditure split by OpCo (selected), H1 FY20–21

Note: Figures represent Vodafone's "capital additions" — defined as the "purchase of property plant and equipment and intangible assets, other than licences and spectrum".

Source: Vodafone.

Group

€3,000m

€3,363m

Germany

€836m

€1,161m

Vodacom

€390m

€333m

UK

€329m

€313m

Italy

€229m

€297m

Spain

€309m

€297m

Egypt

€106m

€118m

Turkey

€114m

€112m

Portugal

€84m

€83m

Greece

€51m

€54m


Richard Agnew is Group Editor at TelcoTitans and Market Mettle.
Vodafone Q2 FY20–21
1

2

3

Currently reading

Spend: Della Valle dials it up on COVID cost-cutting

4

5

6