The value of data multiplies significantly once you integrate it.
Breaking down silos to seamlessly orchestrate data can deliver a virtuous circle of customer experience improvement and operational efficiency, presenting a springboard for strategic reboot.
Embracing data as mission-critical must be led from the top.
Hyperscale partnerships provide an on-ramp, but the long-term risk of competition should prompt operators to control their own data destiny.
5G is a prime opportunity to prove the value of customer-centric 'segment of one' thinking as a lever for more dynamic networks and services.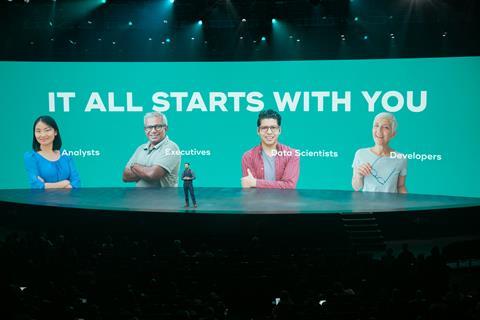 This point is reinforced by Teradata Sales Director Matt Stubbs, who points operators towards adoption of a single data model that costs comparatively little relative to more extensive system overhauls linked to business support systems (BSS). Further, he anticipates that once this approach is initiated, it will "change the way that you build the next generation of OSS [operations] and BSS systems".
The predictive analytics potential of treating data as a strategic asset for telcos is also highlighted by Teradata. When data is unified and accessible across the entire business, operators can "drive the car forwards, looking out the windscreen, instead of driving looking in the rear-view mirror".
Greater visibility supports better financial forecasting, and can be used to model the impact of changes on other key operator metrics (such as NPS) at a very granular level. "You can take every single process in your company, and look at what the impact is on NPS if that process continues or changes", which is envisioned going "all the way down to a segment-of-one, if that's how far you want to go".
Applying the Techco model to 5G
Adoption of next-generation networks, notably 5G, is viewed by Teradata as a clear opportunity to make the jump to a data-driven and customer-centric strategy — not only for services, but also for the network.
Traditional network planning tends to be neither data-driven nor customer-centric, instead drawing on historic assumptions and traditional approaches. The Teradata team calls for the decisions to be based on data gathered from customers and not just devices or cell towers. "You need to build your network where those best customers by value and profitability get the best experience". Then, as rollout builds, operators should be ready to exploit data to ensure commercial offerings match new opportunities.
"These models in networks start to link into your marketing activities, and every time you're rolling out capability and enabling a specific geography you need to be working in advance of that to model the propensity to buy and subscribe to that service. And when you connect these models together, you're starting to get into the numbers that PayPal deals with where they're modelling every single side of every transaction every couple seconds of every day. This is a fundamental change."

Teradata.
Teradata profile, November 2021

BT ACCOUNT TEAM

Lee Mateo-Barlow, BT Account Executive

Matt Stubbs, Sales Director

Rob Anderson, Lead Solution Architect

Natalia Macpherson, Business Partner

Teradata provides a connected multi-cloud, strategic data platform for enterprise analytics. This creates a unified and connected ecosystem to deepen insight and unlock data as a digital organisation's greatest asset.

Originally created as a pioneering research collaboration between California Institute of Technology and Citibank's Advanced Research Group, Teradata is synonymous with enterprise-class data. This heritage is characterised in performance at scale, as well as ultra-resilience, world-class NPS, and innovation (including facilitating AI, deep learning and IoT). Teradata has deep roots in telecoms, as well as academia and financial services.

In recent years, Teradata has transformed itself into a full-fledged software player, being named a Cloud Leader by Gartner. The Vantage software-as-a-service platform bridges multi-cloud, public, internal and hybrid technology environments, including Azure, AWS and Google.

Many of the world's largest and most successful organisations rely on Teradata to coordinate and exploit their strategic data, including the latest generation of digital leaders and transformers that explicitly exploit data for competitive advantage. Use cases encompass cloud, big data, data lake, financial analysis and reporting, operations, and customer insight and experience.

Beyond pure-play software, Teradata experts help their clients unleash and operationalise strategic data, particularly to make it more accessible to end-users. It forms channel partnerships in vertical markets, including telco, to offer next-generation cloud-based analytics solutions to SMEs. Teradata has its own partner ecosystem, including systems integrators Accenture, Capgemini, IBM, Infosys, TCS, and Wipro.

REVENUE: $2bn (FY20)

HEADCOUNT: 9,000

HEADQUARTERS:

San Diego, USA

GEOGRAPHIC:

c. 60 offices in 40 countries

FOUNDED: 1979

WEBSITE: