Clive Selley, Openreach CEO, "in talks" with Vauxhall owner Stellantis to increase production of electric vehicles at its UK plant.
Vauxhall supplies Openreach's 28,000-strong commercial van fleet, which will be 'green' by 2030.
1,000 EVs currently on the road in Openreach livery.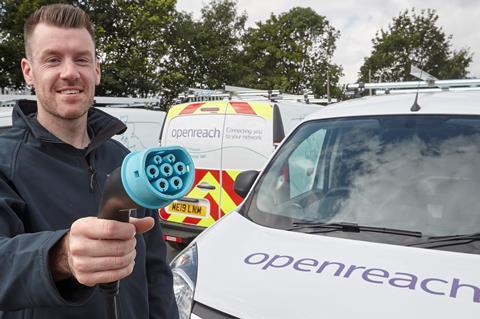 Openreach is holding discussions with Vauxhall parent Stellantis to increase production of electric vehicles in the UK, to support BT targets to run a 'green' fleet by 2030.
Chief Executive Clive Selley said that Openreach was "in talks" with Stellantis, urging the auto manufacturer to add an extra production line to its UK facilities. Weekend reports from The Telegraph claim that Openreach is looking to sign a deal with Vauxhall that will "underpin" a new production line at a manufacturing site in Luton.
The Telegraph further reported that Vauxhall is urging UK ministers to leverage the Automotive Transformation Fund (ATF) to subsidise its production expansion plans.
The ATF is a £1bn subsidy pot set aside by the UK government to invest in "high-value, end-to-end electric automotive supply chain".
Singing from the same hymn sheet
The news echoes recent comments from BT CEO Philip Jansen, who has been vocal in his enthusiasm to purchase British-made vans for the Group as part of its plans to "go green by 2030".
Currently, the Group's electric vans are imported from France. Selley claimed that Openreach will have 1,000 on the road by the end of 2021.
The discussions with Stellantis have been ongoing for some time. Speaking in early-December, Selley said that he was "having calls" with the company to discuss EV production.
" We're working with Stellantis in the UK, the parent company of Vauxhall, to persuade them to build electric vans here in this country. Today, that's where we buy the diesel vans, but we'd like them to put in an electric van production line. "

Selley.
Electric only a short-term fix
Openreach plans to 'green' its fleet of 28,000 commercial vans are underpinned by a migration to alternative fuels (BTwatch, #313). Traditionally, the fleet is diesel-powered. Speaking at BT's environmental, social, and corporate governance Manifesto Launch in early-December, Selley said that, "in the short term, we need electric".
Despite this, however, Selley has been careful not to set targets for electric-powered vehicles, but rather for a 'green' fleet. EV infrastructure challenges and an expected reliance on subsidies and government support appear to have dampened enthusiasm for running a large-scale EV fleet.
Earlier in 2021, Selley described the country's EV charging network as a"shambles", for example, referring to the limited availability of public charging points, something which he said is a "necessity" for most engineers (BTwatch, #329).
Selley noted that his participation in Glasgow's COP26 had been a "learning experience". Among his takeaways was an alternative energy source for Openreach's heavy vehicles, namely hydrogen. "At Glasgow, I learnt a lot and we've brought that learning home".
Work to be done
Selley also gave some colour to the challenges that his Openreach domain faces in its ambition to "go green by 2030".
He said that Openreach's commercial van fleet is the country's second largest — behind the Royal Mail — but that 'greening' that portfolio requires investment and time. Selley noted that Openreach was "still learning what it means to manage a green fleet".
Among the challenges were:
Provision of power at engineers' homes, where the majority of fleets are stored overnight.
Investment into improving public charging infrastructure, particularly for engineers who do not have driveways or suitable places to fit a charger at home.
The need to educate Openreach engineers about the "viability" of EVs.
Never mind the cost
Although Selley mentioned the cost of migrating its fleet to alternative fuels, it was not among the chief challenges of the 2030 goal.
Also speaking at the Group's Manifesto Launch, Simon Lowth, Chief Financial Officer at BT, allayed concerns about the financial implications of such a target.
" We're on a planned replacement cycle to move [the fleet] over to EVs. And we're accommodating that into our fleet costs. "

Lowth.
He added that initial outlay, for example in installing charging points at homes and offices, would be recouped in saved diesel costs in the short term.
Cooperation central to electric migration
In July 2021, BT Group joined forces with BP, Direct Line, Royal Mail, Scottish Power, Severn Trent, and Tesco to establish the Electric Vehicle Fleet Accelerator to help increase the uptake of EVs in the UK (BTwatch, #328). The companies emphasised that, "with supportive government policy in place", they would commit to fully converting their fleets to electric and collectively purchasing 70,000 British-made EVs by 2030. BT Group CEO Philip Jansen's comments at the time chimed with Selley's complaints about UK infrastructure, noting that "we want to buy British, but to do that we need to be confident that the supply of vehicles, components, and charging points to keep our vans on the road will be sufficient, [which] needs to be a team effort with government".
BT is a founding member of the UK Electric Fleets Coalition launched by The Climate Group to support the transition to low-carbon vehicles. As things stand, 114 members have committed to switch their fleets to EVs and/or install charging for staff and customers by 2030.
BT has also previously called on the government to support the roll out of public charge points for EVs to help it meet its target of becoming a net-zero carbon emissions business by 2045, and has trialled electric vans from the London Electric Vehicle Company as part of a pilot also involving DPD, Octopus Energy, and Royal Mail (BTwatch, #300, #317, and passim).

Joseph Purnell is a Staff Reporter for TelcoTitans, contributing telecoms news analysis since 2019 as part of the TelcoTitans Editorial team.