BT and big fleet operators call for all new car and van sales to be electric by 2030.
New coalition urges government action to kickstart EV market.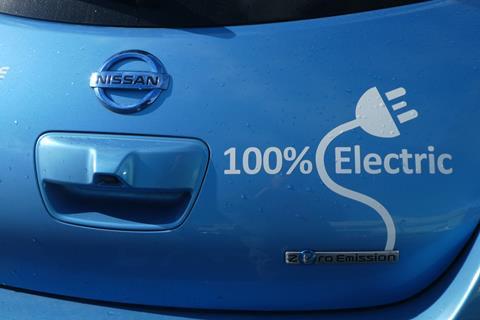 BT Group is leading a lobbying effort to accelerate the UK's transition to electric vehicles (EV) and support uptake of commercial EV as part of its goal to become a net-zero carbon emissions business by 2045.
The UK Electric Fleets Coalition, an advocacy group run by non-profit The Climate Group and founding member BT Group (including Openreach), urged the UK government to bring forward the target for 100% electric car and van sales to 2030 and proposed measures to encourage the switchover to EV.
The coalition, which was launched in June 2020, comprises 21 major UK businesses that collectively operate more than 400,000 vehicles in the country, including household names Anglian Water, BT, Centrica, DPD UK, Natwest Group, Openreach and Unilever. BT Group has the second-largest fleet in the country with 34,000 vehicles, of which 28,000 are used by Openreach (BTwatch, #313).
The UK government is currently consulting on moving forward a ban on sales of petrol and diesel vehicles from 2040 to 2035. But the new coalition wants a more aggressive target of 2030, which is the same recommendation from the UK's Committee on Climate Change, to achieve the country's goal of net-zero greenhouse gas emissions by 2050.
Kickstarting the EV market in UK
While demand for commercial EVs is growing, the market is hindered by a lack of supply and charging points, and the business case remains difficult for many companies, according to the coalition. In a new policy position paper, the group recommended actions the government should take to overcome these challenges, broadly as follows:
Set an ambitious target of 2030 for all new car and van sales to be fully electric.
Stimulate supply by requiring manufacturers to produce more zero-emission vehicles each year.
Invest in charging infrastructure to accelerate rollout of public charging points.
Extend grants for EV and charging points through 2022, at least, to drive demand.
" With the country's second largest fleet of vans, I want Openreach to play a leading role in the UK's transition to low carbon vehicles. But there are still some major hurdles to overcome. For example, the kinds of vehicles, scale of manufacturing, supply-chains and infrastructure needed to electrify large fleets like ours simply doesn't exist today. So, we need Government support to make the transition faster and fuller, and the commitment to maintaining plug-in grants is a welcome first step. "

Clive Selley, Chief Executive, Openreach.
BT's EV roadmap
In its latest Annual Report (for the year ended 31 March 2020), BT Group said its vehicle fleet accounted for two-thirds of its operational emissions. Switching to EV will help the telco reach its goal of reducing emissions by 87% by 2030, compared with 2016/17 levels. As of end-March 2020, BT achieved a 42% reduction.
BT has not set a definitive target for switching its entire fleet to EV but said it will transition "as much of our fleet as we can" to electric and alternative fuels by 2030 (BTwatch, #313).
The telco's EV efforts date back to October 2017 when it first announced plans to switch its fleet to electric or hybrid vehicles (BTwatch, #289). In 2018, the telco introduced an EV company car scheme offering 3,000 staff financial assistance to buy EV and joined The Climate Group's EV100 initiative (BTwatch, #301).
BT no longer owns the fleet business since it sold BT Fleet Solutions to German private equity firm AURELIUS in October 2019 (BTwatch, #300, #306).
Climate change and environmental issues are now core pillars of the company's social responsibility strategy with performance to be measured and reported by key performance indicators (KPIs) and now linked to executive bonuses starting in 2020/21. One-fifth of the bonuses for Group Chief Executive Philip Jansen and Chief Financial Officer Simon Lowth will depend on meeting social responsibility goals, such as reducing emissions. (BTwatch, #311).

Michelle Donegan is an experienced telecoms writer and has been contributing as a reporter and news analyst for TelcoTitans since July 2020.