Increasingly bullish vendor aiming to build on core strategic contract wins with BT to change its image and bring the spotlight onto its software and solutions portfolio in a virtualising environment.
Major vendors still possess heavyweight advantages, but ADVA leveraging agility and reflexes of a middleweight champion.
Importance of traditional telecoms capabilities in synchronisation and transport emphasised as operators evolve.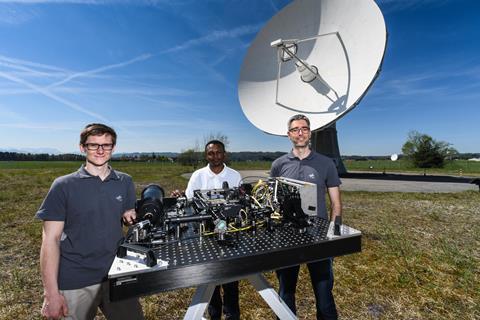 While BT may be using its Telecom Infra Project (TIP) Ecosystem Accelerator Centre (TEAC UK) as a means to highlight its commitment to innovation beyond its traditional (but influential) Adastral Park base, the leftfield participation of ADVA in the process saw an established vendor seizing the opportunity to change its image and the perception of its capabilities both within BT and the wider industry.
Having already commenced the shift away from emphasis on its original core offerings in marketing terms, with 'Optical' recently dropped from its corporate moniker, the vendor is working to reset perception of its strengths and capabilities to be recognised more readily as a solutions provider across a range of network and infrastructure fields, rather than just "shifting tin" in the access network.
Speaking to BTwatch on the sidelines of TEAC UK, Sarah Mendham (ADVA's Senior Director of Sales for BT), Anthony Magee (Senior Director for Global Business Development for Mobile) and Richard Strike (Director, Product Line Management) discussed the history of the vendor's relationship with BT, its focus for future innovation, and expectations for the future for both the UK and the wider industry.
Beyond Ethernet
ADVA's longstanding anchor contract within BT Group is with Openreach, and relates to the provision of Ethernet circuit delivery as part of the Ethernet Access Direct portfolio, with over 300,000 circuits now active across the BT network (treble 2013's 100,000). The relationship with the Group has over time significantly expanded, though, beyond this core offering, including:
OSA FilterConnect — Openreach's virtualised dark fibre or "grey fibre" offering (BTwatch, #295) — was highlighted as a considerable success for both the access services business and ADVA with rising demand over the two years since launch. Significantly, the product is also the basis of the 5G rollout for EE, providing the transport layer for the rapidly developing network.
The contract to provide synchronisation meeting BT's requirements for the primary reference time clock (PRTC) network (BTwatch, #304), which leveraged technology obtained when ADVA acquired Oscilloquartz, was deemed perhaps the most significant recent deal for ADVA, positioning the vendor as a strategic supplier in the core, and putting it in play "up against the big boys".
A further important associated win that came to light in 2019 involves the delivery of small cell gateway and phase synchronisation technology to Openreach for small cells as an element of 5G network deployment (BTwatch, #305). This contract appears to be supporting upgrade of Openreach's Street Access service, which increases Ethernet fibre connectivity to street furniture from 100Mbps to 1Gbps with synchronisation for 5G. ADVA noted that this project could be considered as eight years in the making, with the vendor having been working with BT and Openreach on specially developing the hardware such as demarcation boxes that can fit effectively in lamp posts and on other street furniture, while including the technology features and capabilities needed for anticipated levels of service.
"The perception [of ADVA] has started to change in the past couple of years. We were seen as a smaller specialist vendor [providing boxes] in very high volume, but in the past couple of years we've demonstrated our ability to work and innovate around BT Group's network."

Mendham.
Quantum also offers solace
ADVA has been a significant partner and supporter of BT Group's interest in Quantum Key Distribution (QKD) technology, contributing significant research and providing the transport technology essential to testing and developing the potential of QKD across the UK's testing links and facilities (BTwatch, #255, #297, #305, passim).
Research in the field is ongoing, but it appears that the main challenge in the UK currently is finding a commercial model for the security technology, with enthusiasm apparently tempered by a so-far lukewarm response to QKD development from Government Communications Headquarters (GCHQ). Nevertheless, deployments have begun in Scandinavian markets, and it was noted that the technology has already had a long gestation period and is likely to continue.
Aiming to be a perfectly-sized Goldilocks supplier
ADVA discussed the challenges and opportunities that accompany a position as a vendor that does not have the scale, resources and reach of the global giants, while still providing critical equipment underpinning the evolution of networks. The vendor, which reports annual revenue in the region of €500m, seems to be focused on ensuring it is seen as not too small, and not too big either.
According to the vendor, the relatively compact nature of ADVA enables it to be more flexible and responsive to requirements of major accounts such as BT, and the vendor has found that this has enabled it to develop a reputation for agility within the UK telco. ADVA's scale is seen as enabling a degree of flexibility and responsiveness that may be difficult in larger companies, with the vendor in a position to react and change specifications to meet BT requirements quickly. This in turn, is seen as having benefits to the vendor, with the close relationship meaning that BT has been "unbelievably influential" in the design and development of ADVA solutions.
Being a mid-sized supplier is not without drawbacks, however, and ADVA noted that operators generally may afford more trust to larger vendors, particularly when implementing cutting-edge technology. Nevertheless, ADVA appears to be punching well above its weight, going head-to-head with the peers and competitors it sees when working within BT that tend to be the "megavendors", such as Ciena, Cisco, Juniper, Huawei and Nokia.
The level of 'soft power' resources that a larger vendor can bring to bear in a wider range of areas may also present a challenge for a smaller competitor. For instance, it may not have the personnel to help in getting its message out across senior figures in a labyrinthine telco, and ADVA's Mendham acknowledged that maintaining regular interactions that can build on a level of brand recognition is difficult. ADVA does, though, have a clear approach to building relationships that can counter this headwind, built around collaborative research.
Putting in the research
Indeed, ADVA was keen to stress the collaborative research work that it undertakes with BT Group, which is helping underpin infrastructure evolution, the development of new product offerings, and to build its own reputation and impact across BT Group.
With this approach, ADVA has been able to nurture recognition and relationships with BT across its innovation and technology functions, with links to the architect teams said to be particularly important in developing a trusted technological partner status. This relationship, and associated understanding of the direction of travel and priorities of BT Group, is said to feed through to relationships with executives in the lines of business that are developing new offerings. In these cases, the vendor's potential contribution is clearly understood and discussions on goals and objectives can quickly be pulled into focus, meaning collaboration "is not a sales job".
"We know a lot of the architect team in BT, and would like to be known as a trusted partner. We pride ourselves on not 'doing a sales job' on them. It's a technology relationship, and out of that comes respect. They like working with us, they see us as a capable and innovative partner"

Magee.
The vendor said that it has a consistent presence within BT working on a range of projects that may develop into commercial contracts, and always contribute to greater understanding around technological issues. While the actual physical presence on the ground at BT premises such as Adastral Park may be modest, a significantly larger team is usually focused on BT-related projects at varying stages. 
[The challenge is] how to move into new applications in lines of business. Atarchitecture level, [our relationships] with Technology and research, Openreach, and in some pockets elsewhere —for example, BT Media & Broadcast —are all strong. But it's how we take a new solution into a line of business that's never seen us before [that is challenging — and why TEAC UK held such appeal]."

Magee.
Expanding horizons beyond Openreach
Mendham also sought readdress a possible perception that ADVA prioritises Openreach within its BT relationship.
Stressing that the overall ADVA account is operated at BT Group- not Openreach-level, and that the vendor has access to all divisions, she recognised the significant revenue contribution that comes from the access services business. However, she also maintains that should opportunity arise elsewhere in BT, the vendor would be in a position to invest and support a range of products. Indeed, the ADVA team noted that on occasions research and development work that may begin within one part of BT finds an eventual home in another part of BT Group as requirements and strategy change internally.
"We're influenced by BT Group as a whole. And [the message] we're trying to reach out to these businesses is that if you actually collaborate with us we can invest and help with your line of business."

Mendham.
Getting market context
Good relationships with Openreach's communication provider customer base is also considered a strength for ADVA, with its own wider mobile network operator relationships highlighted as a way for it to gain an understanding of market demand — potentially before requirements filter through to the BT division.
Building from this knowledge, ADVA is in a position to look ahead and factor anticipated market expectations into its products with pre-packed solutions available when Openreach seeks to respond to customer demands.
Industry research projects that can run across years are also considered valuable in developing working relationships. TIP and BT's TEAC are clear examples (see above), while iCirrus 5G (a consolidated radio and optical access network research project which was part of the European Union's Horizon2020 initiative) was also highlighted. The latter University of Kent-led project saw initial ADVA participation prompting encouragement for BT to participate as it considered the pros and cons of Ethernet-based optical fibre fronthaul to 5G networks. BT Principal Network Architect Andy Sutton became involved on the iCirrus 5G Advisory Board, giving the project the opportunity to help inform the approach of EE to its next-generation network deployment.
Participation in standardisation is also deemed an important element of the ADVA approach with organisations, including IEEE, MEF, Broadband Forum, ITU-T, ONF and OCP.
Future potential with BT and current hot topics
ADVA spotlighted key areas of innovation that it is examining both internally and externally (with partners including BT) where it expects to become increasingly relevant as next-generation converged networks are built out.
Network slicing is a well-trodden aspect of 5G, with ADVA looking at its role in the control plane from both a hardware and software perspective. Being able to slice is considered crucial for putting a small cell and a fronthaul connection over the same physical infrastructure. In this light, ADVA highlighted the programmable nature of its equipment, with Strike suggesting the vendor "took the plunge" on software defined networking (SDN) to offer open interfaces for network configuration and provide opportunities for operators to take greater control of network slices.
Virtualisation is a clearly significant area for operators, and one where ADVA is building on its heritage plus capabilities brought in from acquisitions (such as the Ensemble network function virtualisation platform). Taking the virtualisation approach to the infrastructure market is creating opportunities with ADVA noting that different elements of the BT business may be interested in adopting different elements of a more virtualised setup. Openreach was identified as potentially more interested in physical demarcation elements, while Enterprise could resell a product for wholesale customers based around compute elements of a virtualised infrastructure solution, without wanting or needing to engage with complexity surrounding software.
ADVA also commented on virtualisation within the RAN, and suggested there is a tendency within the industry to concentrate collaboration opportunities on software specialists in the initial phases. This could result in operators potentially disregarding the importance of transport expertise that will be needed to ensure effective synchronisation and telco standards of reliability.
Security is a growing area of interest and ADVA noted that, with this is emerging as particularly relevant with increased virtualisation, IP security, and media access control. Outside the UK, government and military customers are emerging for encryption solutions in these areas, with ADVA working alongside local operators.
100G aggregation is a technology said to be reaching a tipping point for Ethernetaccess technology, as 10G macrocells begin to proliferate with 5G deployments. More mobile backhaul bottlenecks are anticipated in networks as these macrocells are widely deployed, with edge cloud solutions at points of presence expected to address this swell in traffic. To ensure that processes can be managed efficiently to the compute layer and aggregating the traffic effectively, transition to 100G technology is seen as inevitable.
Emerging opportunities and wider markets
While a significant customer and partner, ADVA is maintaining business and innovation opportunities beyond BT Group, with areas of focus that may diverge from BT's current focus, or meet requirements of the operator's global peers:
Research into adaptive modulation technology in an optical transport setting was highlighted by Strike as an area of innovation gaining traction in mainland European test beds, but yet to take off in the UK.
The Ensemble Activator network operating system from ADVA is also at the heart of TIP's Disaggregated Cell Site Gateways research Project and represents a commercial product emerging from an industry research project.