BT highlights ability to plug QKD into OSA Filter Connect, a commercial WDM-based product provided by Openreach.
Extensive commercial deployment of QKD in BT's metro and core networks still at least five years away, however.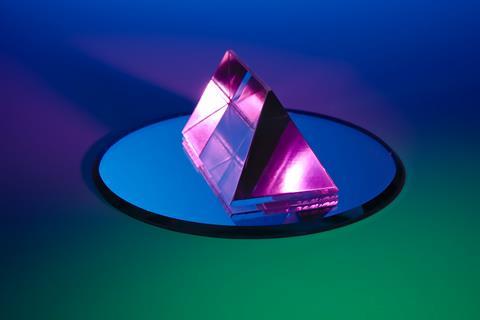 Andrew Lord, Senior Manager of Optical Research at BT, told TelcoTitans that a customer trial using quantum key distribution (QKD) was launched last week.
BT was going to announce the customer proof-of-concept (PoC) a few months ago, but that was put on hold by COVID-19 restrictions that apparently made testing impossible. Lord said full details of the QKD trial, which presumably incudes the customer's identity, will be released shortly.
This is a significant development.
The PoC being put through its paces is the integration of QKD with OSA Filter Connect, a commercially available wave division multiplexing (WDM) fibre product provided by Openreach and developed by longstanding partner ADVA (BTwatch, #295).
The trial, according to Lord, is an important step towards the practical application of what is an exotic technology for network engineers, based as it is on what Lord calls "fantastic physics".
QKD promises to provide virtually "un-hackable" data links by using single particles of light (photons) to transmit data-encryption keys over fibre.
Getting practical with QKD
In a recent webinar, Lord said the PoC was the outcome of various tests and trials (see below). "We've tested the theory, and now we're going to do something practical with it", he said.
Simply put, BT is allowing its trial customer to plug QKD into the OSA Filter Connect product in order to provide highly secure data links.
" We're taking one of the channels [from OSA Filter Connect] to be a 'key' QKD wavelength. Another channel is used to reconcile the keys, and another to send data. In this trial, [the customer is able] to purchase an actual genuine product, plug QKD into it, and have a full working commercial solution. This is no longer an experiment. "

Lord.
To arrive at this point, Lord said it was necessary to bring together two communities: one comprising quantum physicists, who design the QKD solution; and the other made up of network engineers, who know how to build networks. "It's unusual to bring those two together", said Lord, "but they really do have to come together if you want to do a complete solution".
Lord thought the first QKD business cases would be fibre connections within a city. He told TelcoTitans that extensively available QKD solutions, spanning metro and core networks, were at least five years away.
"A metro and core QKD-protected network, which is cost efficient, needs to aggregate traffic on the same fibre pipes", said Lord. "In other words", he added, "you need to apply networking principles to QKD".
Winning over the doubters
The UK's National Cyber Security Centre (NCSC), as Lord acknowledged on his webinar presentation, has flagged concerns about using QKD tech in industry and critical national infrastructure (BTwatch, #313). The NCSC has a number of concerns, ranging from making sure implementations are done in such a way that hackers cannot find 'backdoors', to the integrity of the system that manages QKD keys. "None of this is really a long-term problem, it's just there's still quite a bit of work to do", said Lord.
BT takes QKD on the road
Lord said BT has been conducting QKD trials since 2012–2013, starting out in collaboration with Toshiba Research (BTwatch, #254, #270, #280, and #287).
Since then, the Group has engaged in numerous network trials and partnerships. The overriding aim of the research and development work, emphasised Lord, is to look at the capability of QKD over "real fibre links", and to then convert the tech into something "that the whole network can use".
The foundations
In June 2018, BT flagged the construction of the UK's "first" QKD-secured, high-speed fibre network, which runs between BT Labs in Adastral Park and Cambridge University (BTwatch, #297 and #304).
Stretching over a distance of 120km, and across a standard fibre connection through multiple BT exchanges, the link was built by BT, the University of Cambridge, and the University of York. It was co-funded by the Engineering and Physical Sciences Research Council. Other suppliers in the mix include ADVA, which provides a dense wave-division multiplexing fibre network, and Switzerland-based ID Quantique, which provides commercial QKD gear (ID Quantique's investors include Deutsche Telekom and SK Telecom, both of which also consider themselves telco QKD leaders). The project is led by the Quantum Communications Hub, which forms part of the UK National Quantum Technologies Programme.
The pilot is still up and running, and connections to a wider QKD network are now being established in Bristol. Lord explained that integrating QKD keys with very high-speed optical transmission posed a "whole host of challenges", not least in in terms of how you make sure that classical wavelengths are not producing too much noise that affects the quantum channel. "The proof of concept has taught us a great deal about how to build networks that integrates QKD", added Lord.
In September 2019, BT was flagged as one of the UK participants in a Europe-wide quantum communications research project (BTwatch, #307). The OPENQKD pilot is funded through the European Union's Horizon 2020 initiative, and will examine the application of QKD technology in various areas, including electricity supply chains, government services, healthcare, and, particularly, telecoms security. Along with existing QKD research partners in the UK (Toshiba Research, the National Physical Laboratory, and the University of Cambridge), BT was slated to provide systems and network provision expertise building on collaborative work already undertaken by the partners. Work linking biotechnology labs conducted by BT, Cambridge, and Toshiba is also expected to contribute towards the development of healthcare use-cases as part of the project (BTwatch, #255, #297, #304).

Ken has been writing about developments in the fixed and mobile markets for over twenty years. He has been a contributor to TelcoTitans since 2015.