Nutanix's Tarkan Maner discusses with Vodafonewatch his take on the evolution of the cloud services sector, and the way in which digital transformation efforts demand a fundamental re-think of the misbalanced relationship between telecoms and technology players.
Sector veteran Maner predicts telco fightback in the hyperscaler blind spot of global-localisation.
Tech industry largely ignoring scale of opportunity presented by xSP.
Rising tide behind 5G and virtualisation presents chance for strategic partners to embed with operators and move beyond 'sell-to' mindset.
Hybrid multi-cloud is "an operating model, and not a destination".
Nutanix harbours considerable ambition to closely partner telcos and play a key role in building new markets, while also providing legacy-to-cloud bridge.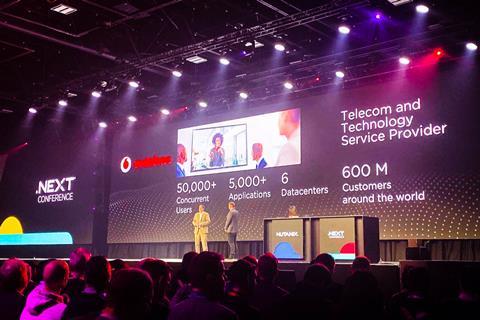 With a background in tech that has seen him regularly cross paths with global telcos, Tarkan Maner, Chief Commercial Officer at hybrid cloud infrastructure enabler Nutanix, has an eye on the long game.
Conscious of the historical and geo-political environment in which operators have evolved, and the ebb and flow of their influence, he considers that many Silicon Valley peers are overlooking an opportunity. They should be working harder to understand and collaborate with telecoms companies because the pendulum could swing away from the hyperscalers in the coming years.
Considering estimates that the telecoms services accounts for a very significant proportion of the multi-trillion dollar global technology market, Maner stresses "I always tell tech executives that you omit the telco industry [from your strategy and plans] at your own peril".
These comments go against the orthodoxy that suggests global internet giants will be unassailable in a virtualised world, with operators at best playing second fiddle. Maner sees telcos adapting their own ways in order to achieve primacy in the cloud, learning from the best practices of consumer and enterprise technology leaders such as Apple and Google, and appreciating the benefits and importance of delivering technology in the simplest way.
It is not just in telco that Nutanix presents hybrid cloud as a grand opportunity, with its unconventional call to major players to shape their own technology destinies. This is evident in early scale adopters of public cloud, such as US retail giant Home Depot, and multinational French energy major Total. It also highlights a common hinterland where telcos can ally their own enterprise arms and ambitions with Nutanix's enablement and deep enterprise customer base.
Tongue in cheek, Maner says he is wary of sharing these lessons, "because there's a market opportunity and I don't want my competition to learn all these things". However, he pinpoints a significant opportunity for telcos to collaborate with tech players beyond the current alpha behemoths on finding a path to market that plays to both sides' strengths, building on hybrid converged cloud infrastructure.
Nutanix profile, December 2020

Global Account Director – Vodafone:

David Ross

Nutanix provides software that enables modern hybrid multi-cloud infrastructure (HCI) for enterprises, empowering their digital transformation and combining multiple public cloud services, built on open standards.

The 2020 pandemic has emphasised the value of Nutanix propositions that enable clients to rapidly and efficiently adapt and scale cloud-aligned infrastructure, including adjusting to spikes in demand for remote working and accelerating digitalisation.

Across a decade of hypergrowth, Nutanix has built a reputation for delivery and service excellence (average NPS above 90 for over five years) and a portfolio helping clients update and cloud-orient their core technology and application services. Its Nutanix Cloud Platform unifies internal enablement (storage, virtualisation, compute, networking, security and orchestration) natively with public multi-cloud resources. Leading solutions for remote working (desktop-as-a-service, or EUC), asset utilisation (database-/legacy-as-a-service, or ERA), and resilience (disaster-recovery-as-a-service) offer performance, scale and cost benefits.

Nutanix's pitch for its new Clusters hybrid cloud offering includes decoupling applications from specific platforms, not least by making its own enabling software portable and available on a pay-as-you-go model. This offers business and financial agility, as well as technology. Use cases include Lift and Shift (consolidation to the public cloud, or internal transition, without the requirement to re-architect), On-Demand Elasticity ('bursting' workloads to public cloud to meet demand-spikes), Business Continuity (simpler fallback to public cloud resources) and Cloud-Native Solutions (embedding modern capabilities, such as AI and analytics, into core applications). Introduced with AWS support in 2020, Azure will be added to Clusters in 2021.

As a cloud software company, Nutanix solutions are delivered to its 18,000-plus enterprise client base directly, via channel and systems integrator partners, integrated into hardware from major original design and equipment manufacturers (such as Dell, Fujitsu, HP, Supermicro, and Lenovo), as well as through technology and service provider alliances.

With its AOS operating system available on Nutanix-branded hardware as well as other vendors' equipment, "our HCI core software supports all leading server platforms, including Nutanix NX-series; we're like Appleand Googlein one place" quipped Maner. This can create challenges on the 'visibility front', with Maner noting that Nutanix can be widely deployed in telco set-ups both directly and through multiple partners, leaving operators potentially hazy on the full extent of critical support it provides.

Revenue:

$1.3bn (FY19/20)

Headcount:

6,000+

Headquarters: San Jose, USA

Geographic: 70+ offices in ~30 countries

Founded: 2009

Website:
A little bit of politics…
Maner is deeply sceptical that, as time goes on, governments in nations across the globe will be willing to give globalised hyperscalers free rein to access and manage sensitive information beyond sovereign borders.
He also considers that, in not being cognisant to this megatrend, many in the tech sector are set for a rude awakening. "Everybody who thinks telcos are dead: they are not reading history books", he says.
It is within this wider, geopolitical context that Maner predicts tier-one operators have a strategic role to play at the heart of cloud services development.
"Telcos are going to gain even more popularity and strength because the governments and administrations —in Turkey or India or Japan, in Western countries, in the US — do not want data to go to a third-party foreign cloud service player, and for that data to leave their country."

Maner.
Telcos have already taken a first swing at developing their own cloud offerings, before reverting to a partnering approach when they could not match the impetus of hyperscalers. However, the next phase of market evolution, based on building a more localised domestic presence, can play to their strengths. This reinvigoration of telcos can, Maner argues, already be detected in internet giants' enthusiasm for a stake in the game, with investments from Facebook and Google in Indian operator Reliance Jio a prime example.
Maner acknowledges that the scale of investment that companies such as Amazon, Google, and Microsoft have put in to cloud services puts them in an imposing position, with a "huge infrastructure gap, an intellectual property [IP] gap, and a know-how gap".
His role, he believes, is to alert operators to the cloud infrastructure enhancement capabilities within Nutanix that can be leveraged to become locally- and regionally-focused competitors (or coopetitors) to globalised tech giants. The vendor is already helping operators, such as Vodafone, to modernise the provision of cloud, application, and resilience capabilities internally and across geographically-distributed and mix-sourced functions, like retail and customer service.
"Telcos may not be major cloudplayers today, but they are going to get there in the next decade."

Maner.
Nutanix's move to pay-as-you-go in an 'as-a-Service' world
Nutanix has shifted towards taking an annual current value (ACV) approach to revenue recognition, moving away from the total current value (TCV) norm. This is intended to change business mindset and foster deeper customer relationships.
Noting the tendency of some tech companies to "just throw technology over the fence and let the customer figure it out", Maner says the new model will provide customers with a clearer picture of what they are paying for and help them mitigate risk, while providing opportunities for Nutanix to demonstrate its value. A key benefit of the subscription model is enabling customers to transfer their licences back and forth between on-premise and cloud use. IT teams can become more central in the decision-making process, as transformation is made simpler and more flexible.
Rethinking and remaking telecoms networks
Maner believes that technology vendors need to rethink attitudes that see telcos either treated as just another business customer — or worse, discounted as not worth the hassle of building relationships with.
This has seen a tendency not to look beyond 'sell-to' opportunities, which Maner considers to offer only a fraction of the potential in telco relationships, and that 'sell-through' alliances will come to dominate in the 5G era.
Maner suggests the tech industry has had a "short-sighted view of… the telcos for decades", and that many tech players see telcos as "very difficult to deal with". He highlights the way in which telcos are increasingly multidimensional, with many incumbents having become "a little bit Amazon, a little bit Netflix, a little bit Vodafone, a little bit SoftBank".
As such, "once you get into telco, and you have the right approach —to partner, not just sell —then the opportunities grow immensely", he says.
The virtualisation of telecoms networks is also expected to provide huge opportunities for tech, and a rethink about the nature of telco infrastructure. Operators are introducing 5G-oriented compute, storage, networking and security capabilities as part of a hybrid cloud converged infrastructure. Business and operational support systems will also go through a similar evolution. "Even simple base stations are going to go through massive integration efforts", says Maner.
Tech needs vision, and the right connections…
The challenge for tech players in securing a deeper relationship with operators is seeing the bigger picture beyond service delivery, and not just focusing on successful execution of a designated task.
Maner says that Nutanix's focus is on hybrid cloud infrastructure that can fit within a multi-cloud environment. Customers want some critical services available on-premise from their own data centres, while also working with both global hyperscale and national cloud providers — the latter perhaps for sensitive information that needs to remain in-territory. Customers, according to Maner, want the cloud to be "an operating model, and not a destination".
Tech companies may also be failing to connect with the right people in telco to achieve their aims, by not looking beyond the Chief Technology or Information Offices, or engaging with the lines of business responsible for delivery of commercial offerings built on cloud services and virtualised networks capabilities.
"In the past 24 months, 80% of my telco conversations have been with line of business folks who are starting a service —[e.g.] a new cloud service, a new data service, a new content service, or new desktop-as-a-service for business —to compete against the cloud companies and tech companies. IT is definitely a part of the decision process. Clearly. But to make it easier for IT to be part of the decision, we need to make sure the technology is simple (simple to deploy, simple to use) and delivers financial value."

Maner.
More partner proposition prepositions
Maner adds 'sell-with' to the combo of sell-to and sell-through in the triumvirate of approaches to partnering with the telecoms sector. This can be seen in Nutanix's existing work with telcos, like Vodafone, to explore the services space. "Clearly, it's complex. Clearly, it goes through a lot of change", he said, "but the opportunity is too huge to ignore".
He noted that services companies are already being acquired by players in the sector, from systems integrators such as Amdocs, to major network equipment players like Ericsson, while operators themselves develop new service-focused units and become what Maner terms "xSPs".
"I think the boundaries between the service providers [SPs] and telcos are going to get even more blurry in the next decade, and I think the opportunities are going to grow immensely."

Maner.
He anticipates this will see operators move beyond tier-one alliances with traditional large suppliers, and diversify their partner matrix.
"The game is changing now. Telcos are getting smarter and can directly go to companies like us to build their infrastructure. I think that's one area they're doing better and changing. It's a much more open-network, open-partnership opportunity."

Maner.
Responding to this telecoms sector change, tech companies will need to ensure that their offerings are capable of becoming building blocks that form part of wider solutions.
"Look at Nokia, it's a service company now. You're going to see the same thing happening with companies like Ericsson and others… We need to figure out how to partner with these service companies, making sure our technology is simple, open-standard and integrated, but at the same time modular like Lego pieces so telcos can leverage their past investment."

Maner.
Nutanix and Vodafone
Vodafone has adopted Nutanix services for desktop- and database-as-a-service deployments, as well as through hardware, partner solutions, and elsewhere. This includes Vodafone Group Data Centre's (GDC) re-platforming to a software-defined DC architecture, which has seen it migrate from an on-premise to hybrid-cloud model, with Nutanix underpinning the next-generation technology stack.
"Nutanix was the best fit for our environment, let's say our journey to a hybrid-cloud scenario… in the port, in the first days of the implementation, [Nutanix and its people] were outstanding, [the importance of which] which we sometimes forget."

Michael Janssen, GDC Lead Architect Remote Access,discussing Vodafone's 2017–18 selection of Nutanix to provide the hyper-converged infrastructure technology now powering the critical remote-access solution supporting 50,000 concurrent users and over 6,000 applications.