As the CRM giant sharpens its focus on telco transformation, Salesforce Industries highlights the need for operators to lose legacy baggage, embrace cultural change, and focus on collaboration to move at digital pace.
Experience of acquisition Vlocity demonstrates three trends in telco transformation, from gradual evolution to enthusiastic adoption of greenfield solutions, with digital-led programmes sparked by B2B and e-commerce also coming to the fore.
Salesforce head of vertical solutions for telcos, Dan Ford, notes continued relevance of standards-based solutions in the pursuit of simplification, as operators strive to move faster, and meet more sophisticated demands for a digital customer experience.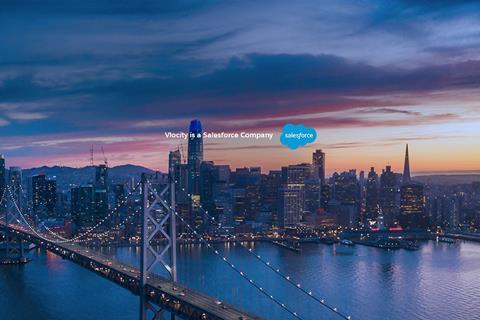 "I think, overall, there's a growing demand from their customers for operators to deliver a fundamentally simpler, easier customer experience. For consumers, our expectations are not being set by BT or Deutsche Telekom or AT&T; they're being set by their experiences with webscale brands — Google, Amazon, Apple, Netflix."

Ford.
Digital transformation at web-speed

In an interview with Vodafonewatch, Dan Ford, who heads the Communications & Media sector for Salesforce's new Industries group, discusses the vendor's drive into tailored solutions, leveraging the June 2020 acquisition of vertical cloud stack pioneer Vlocity and its integration within the customer relationship management (CRM) giant's Customer360º user data panoply.
Following the buyout, which itself provided strong indication of the importance Salesforce places on offerings for major vertical markets, Ford is extending a remit he has held at Vlocity since 2014. He highlights the potential for Salesforce to accelerate development of focused solutions that address the unique requirements of different sectors, to rapidly and efficiently advance clients' digital transformation programmes.
In the context of telcos, this encompasses areas such as product catalogue, CPQ (configure, price, quote), and contract and order management — which can be enabled via the Salesforce platform. "When we develop these products, we're developing them with that end-to-end process in mind", says Ford — "we call it catalogue-driven commerce and fulfilment".
While operators are taking a range of different approaches to digital transformation, the difficulties faced by telcos, and the challenges met by Salesforce in developing approaches to address them, have universal themes. The most common are centred on Digital Customer Experience (CX), Evolutionary Cloudbusiness support system (BSS), and Greenfield CloudBSS.
Salesforce Industries profile, November 2020

Global Account Director - Vodafone:

Matthew Flynn

Vlocity germinated as an industry domain adjunct to Salesforce's CRM platform (with Salesforce Ventures a backer), providing enterprises with solutions tailored to their industry-specific requirements. It was the fastest growing of Salesforce's thousands of partners, and one of only three strategic-level independent software vendors within this circle.

Now acquired and recast with even greater ambition as Salesforce Industries, which is already described as a $1bn (£0.8bn/£0.9bn) business, the unit is now targeting the communications and media, financial services, healthcare, retail, manufacturing, public, and utilities sectors. As a point of reference, it today benefits from annual R&D spend of more than a dozen times' Vlocity's all-time outlay.

The Industries group is tasked with extending Salesforce deployments through its portfolio of market-specific business and platform capabilities that leverage the cloud computing leader's omnichannel and platform capabilities across sales, marketing, commerce, service, application, and automation.

To date, this has encompassed more than 100 telco transformation projects at around 60 communication service providers worldwide, with tier-one engagements including BT, Deutsche Telekom, Orange, Telstra, TIM, T-Mobile US, Verizon and Vodafone (along with challengers like MÁSMÓVIL, Sky, and Three).

Also drawn on is a hinterland of specialist technology partners and solutions, across fields such as network and service inventory, provision and activation, network policy and management, and rating and charging. These notably include real-time charging startup MATRIXX Software in greenfield deployments, and the software division of tier-one network equipment producer Nokia providing support systems in areas including order management, rating and charging, and billing within evolutionary transformation projects. Implementation partners also play a key role, such as Accenture, Deloitte, and IBM.

Revenue:

$17bn (FY19/20)

Headcount:

~50,000

Headquarters:

Salesforce Tower, San Francisco, USA

Geographic:

60+ offices in ~30 countries

Founded:

1999

Website:
Escaping the restraints of legacy systems in an online world
Ford notes that end-customer demand has seen a seismic change, with telcos expected to offer fluid and painless digital engagement akin to that provided by internet majors. This has dramatically altered the frame of reference for operators' services.
However, unlike these upstarts (in terms of communications history, at least), operators are carrying a lot of baggage, including a heavy back catalogue of legacy services and systems — often tallied in the double- and single-digit thousands, respectively. This not only makes innovation complex, but also means creating a complete and clear view of the customer is very challenging. The key, according to Ford, is letting the past go.
"I think a central tenet to any successful digital transformation programme is simplifying your product catalogue. It's dramatic. It's re-imagining and simplifying your commercial processes and the customer journey."

Ford.
Ford cites the example of a converged operator in the Americas with tens of millions of subscribers that needed to eliminate data and customer experience practices siloed within fixed, mobile and pay-TV lines brought together through acquisitions — in the process, unifying what were effectively three separate technology stacks — in order to become a genuinely integrated multi-play service provider.
This complex project is in progress, but has already seen the product catalogue and commercial processes more than halved, twelve different customer screens unified into a single 'Customer 360º', mobile services activated 60% faster, and training time reduced by 40%.
He also referenced a North American operator that had, through years of inorganic growth, reached a stage where it was offering multiple iterations of near-identical products via overlapping customer processes. Through joint research on transformation, the operator was able to develop a path to adopting best practice processes for simplification.
"It's just really applying some of those same customer experience and user journey rules of thumb that Amazon and Google and others have championed, but applying that now to telco services. It's amazing how, by just making life simpler for people, how much happier they can be."

Ford.
Keeping up with the telco standards
Ford reflects on the strategy, already ingrained in Vlocity's startup days, of working with standards bodies in the communications sphere — most notably TM Forum. This is said to enable the vendor to integrate pre-built processes within operator client and technology partner environments, facilitating faster transformation projects built on tried and tested capabilities.
To drive simplification within its proposition, Salesforce Industries leans on TM Forum's InformationFramework (previously known as the Shared information and Data model, or SID). This was originally composed by telcos but is now adopted more widely to achieve greater interoperability between digital business processes across different entities' systems. Vlocity-developed data models conform to this standard, and work has been undertaken on productising open application programming interfaces (OpenAPIs) developed by TM Forum members.
Keys to success: a culture of agility, and resisting the urge to tinker
Cultural discordance can be a significant hurdle in transformation programmes.
Ford notes that a critical element of a successful relationship between vendor and operator is buy-in from the highest echelons, with C-level champions driving the cultural evolution that needs to accompany digital transformation — in concert with the business and IT teams.
Agile development models are central to the Salesforce Industries approach. Some operators "immediately get it" and are already on a path that entails faster and more fluid development models, but others have needed the vendor to steer expectations away from massive, multi-year project development that are followed by a 'bigbang' delivery when all goals are met.
"I think most operators around the world recognise that in order for them to continue to excel and thrive, they need to fundamentally transform themselves… [and] I think it's safe to say that the biggest enemy of transformation is complexity.

That complexity comes in the form of product complexity where many operators have hundreds of thousands of SKUs in their product catalogue; outdated, inflexible, broken business processes; and then also IT complexity where most tier-one operators have literally thousands of IT systems, many of which were defined, designed, and delivered decades ago, and which fundamentally don't work well together and don't communicate together.

Most importantly, they lack a consistent view of the customer that allows them to interact with customers in a very continuous way as they traverse, and as they interact with the operator through their mobile device, through their web store, in the retail store, through social and through contact centres."

Ford.
In Salesforce's world, those 'bigbang' transformation programmes are history; replaced by an agile 'wave' roadmap that sees initial delivery within months. Required is an appreciation of Minimum Viable Product (MVP) that is underpinned by a cloud-enabled development and delivery cadence of launch, iteration, and extension in cycles measured in months — conceivably, ten times' faster than in the past.
Salesforce, naturally, is more specific on the headline benefits that can be achieved by its operator clients, compared to legacy approaches, pointing to 40%–60% faster time-to-market, and 30%–40% lower total cost of ownership.
Another major driver of successful adoption and cultural change is a willingness to have faith in the type of solutions being acquired, and to resist the temptation historically prevalent among telcos to 'customise'. Wilful customisation can make updates difficult, negate agility, and compromise the project. "You're buying the software for a reason", reminds Ford.
Ford also stresses the importance of ensuring that training and certification is common to all parties across the transformation programme, in the process ensuring alignment with technology and implementation partners.
Collaborative re-imagining with Centres of Excellence
The collaborative approach needed to ensure that customer experience transformation progresses in a consistent way, building on operator buy-in, and an agile mindset, has seen Salesforce Industries favour creation of joint Centres of Excellence (CoE) with its larger telco clients.
These can be particularly relevant when working with a tier-one operator that is present in multiple markets, balancing specific local requirements with the incentive to leverage scale and efficiencies.
"What we want to do is to develop a Centre of Excellence where we're applying a consistent approach and leveraging assets to deliver the best of both worlds: acustomer experience which best serves the local market; but doing it in such a way that we're able to reuse and leverage our learnings across all markets. That will help us launch new capabilities faster and offers customers that may be interacting with an operator across multiple OpCos, a more consistent experience."

Ford.
A CoE might be initiated with Group IT, to help support consistency across deployments, provide opportunities to take experience from one market for reuse in another, and to add impetus and efficiency to the collaborative method.
As a central CoE hub, potentially with OpCo satellites, Salesforce's professional services teams work with operator staff to develop rollout plans. This collaborative approach both supports the operator's deployment and, according to Ford, influences the roadmap for the development of Salesforce Industries solutions. Giving the example of an Asian operator undertaking a large transformational programme, the CoE brings together around 15 partners.
Typically, the client's project team encompasses key local operations executives alongside Chief Technology and Information Officers, with Chief Digital Officers increasingly appearing alongside customer service leadership.
B2B sweetspot
Recently, Salesforce has seen the majority of its telco projects in the B2B space, which Ford credits partly to the higher margins that can be derived from small- to medium-size businesses, compared to larger enterprises and consumers.
Common approaches to cloud BSS transformation strategy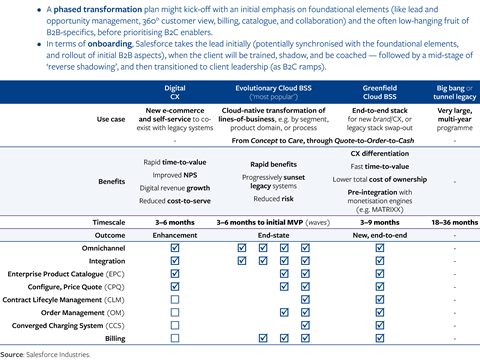 Wholesale services provide expansion opportunity
While operators are looking to simplify internal systems to reflect the needs and expectations of their consumer and business retail customers, Ford believes there is also a growing opportunity to overhaul their approach to wholesale services.
He notes that tier-one operators can find themselves working with hundreds or thousands of business-to-operator (B2O) service partners and resellers, with a fragmented catalogue of services and most orders completed electronically without any sales contact. Ford highlights instances where, by unifying the service portal and product portfolio, Salesforce has made it simpler for resellers to complete orders, prompting a significant jump in satisfaction with the operator across the channel, quantified by a double-digit rise in Net Promoter Score (NPS) performance.
Tying in with its industry participation (see above), Salesforce employs standard APIs for integration, which enable workflow for wholesale services to traverse multiple nations, automate a string of processes involved in providing quotes to customers, completing their orders, and verifying fulfilment.
In a real-world instance, a transformation of this nature for a European operator reduced average order time to minutes from potentially days, and substantially improved customer satisfaction.