Survey provides exclusive insight into Vodafone executives' perceptions of key suppliers.
Including special focus on where operator is at with data adoption, to drive efficiencies and speed to market.
Top ongoing challenges include organisational and technical bottlenecks.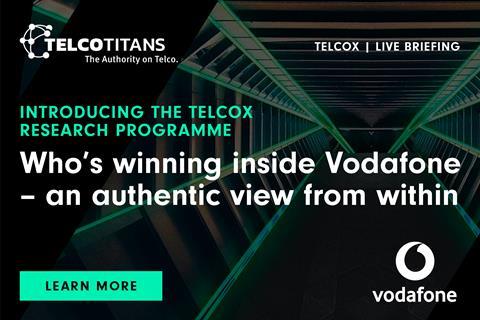 More than three quarters of Vodafone's senior executives are now frequently using data to drive their day-to-day decision-making, according to a TelcoTitans survey of leaders within the Group.
Our inaugural TelcoX report — available now — shows data practices have reached very meaningful levels of traction within Vodafone, while highlighting barriers remaining to broader and deeper adoption.
Internally, there is widespread buy in to Vodafone's drive to better mine information for actionable business insight, with the vast majority of respondents seeing data as "very important" for its digital transformation. The Group's data science functions are also perceived positively across the organisation.
Significantly, Vodafone's powerful Group Finance department is viewed as particularly adept at exploitation of data for decision-making. This correlates to positioning at the helm of the Group's digital transformation programme, with Group Chief Financial Officer Margherita Della Valle recently laying out her intent for all executives within her domain to have "leading roles in applying analytics to help the business".
Siloes and legacy still creating challenges
Driving data effectiveness is seen as at a less advanced stage within Vodafone's IT and customer experience functions, despite long-running transformation programmes in both areas.
Vodafone has placed data at the heart of its go-to-market strategy across Europe and Africa, evidenced by an ongoing shift from physical to digital assets in retail, commercial re positioning in certain markets, and targeted deployment of digital-led sub-brands such as SIMon (Germany), ho (Italy), Lowi (Spain), and VOXI (UK).
The report highlights the key, ongoing obstacles to deeper use of data within Vodafone's operations. As with many large businesses, the limitations of legacy systems, and the need to break down technical or organisational siloes, are widely seen as continuing challenges. Costs and the challenges of data management remain prevalent issues, while leadership and ownership of data initiatives are raised as obstacles by around a quarter of those surveyed.
The report's publication comes with Vodafone in the midst of a major re platforming of its data infrastructure and operations, through a six-year partnership with Google Cloud. Through the tie up, the Group claims to have identified several hundred instances where it could use data to "deliver new products and services quickly across Vodafone's markets, support fact-based decision-making, reduce costs, remove duplication of data sources, and simplify and centralise operations".
Unique brand perception feedback
The TelcoX findings are the first in a series of ongoing research Waves offering partners and suppliers' unique insight into senior executives' priorities and perceptions at Vodafone and other major operators. The programme explores how telco decision-makers view their businesses and prospects, key suppliers and their brand attributes, and covers areas such as cloud, consultancy, data, enterprise, infrastructure, and services.
Partners and vendors covered (selected)

| | |
| --- | --- |
| Accenture | Amazon Web Services |
| Amdocs | Apple |
| Cisco | Ericsson |
| Google | Huawei |
| IBM | Intel |
| Mavenir | Microsoft |
| Nokia | Oracle |
| Pega | Qualcomm |
| Salesforce | Samsung |
| SAP | Teradata |
| VMware | ZTE |
The TelcoX Wave 1 research was conducted with select, senior decision-makers at Vodafone, to understand their:
Views on priorities and industry direction.
Thinking regarding the positioning, opportunities and challenges of Vodafone businesses and competitors.
Level of regard for and associations with key supplier brands.
Feedback on the strategic use of data inside Vodafone, including their perception of data-focused suppliers.
Participants were opted in from the subscriber base of Vodafonewatch, giving us a unique perspective on views inside Vodafone.