Group CFO Margherita Della Valle plays leading role in transformation.
Finance team is digital early adopter, leading Group by example.
CFOs wield more influence over digital strategy.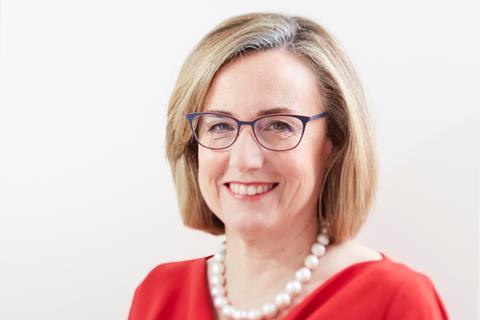 Vodafone Group CFO Margherita Della Valle embodies the business trend for finance teams to drive digital transformation efforts. In an interview with Deloitte, she shared some insight about how her department has stepped up to lead the Group's current "digital first" strategy.
The two most important attributes her Group Finance team needed to steer the company-wide changes were deep knowledge of the business and a "passion for digital", she said.
Della Valle told Deloitte that her team does not need to be data scientists, but they do need to "understand how to leverage data science". The potential of automation and analytics means Vodafone can measure in real time the profitability of stores, infrastructure, or individual customers, she explained. "I want all our finance people to have leading roles in applying analytics to help the business", she said.
Also, to really understand the business needs, finance employees should move between their department and other units within the company, Della Valle said, noting that some of her own Vodafone career was in marketing.
Vodafone's latest transformation programme, which ran to the end of FY20–21 (March 2021), was launched in late-2018, when Nick Read became Chief Executive and Della Valle was appointed CFO (Vodafonewatch, #192 and passim). It has focused on four areas: customer engagement; digital transformation; asset utilisation; and portfolio simplification.
Della Valle said she has had a "leading role" in Vodafone's digital transformation as well as in improving return on capital employed through more efficient asset utilisation, highlighted by network-sharing partnerships across Europe and spinning out European TowerCo Vantage Towers (Vodafonewatch, #193 and passim).
Since the launch of the transformation strategy in 2018, Vodafone's European cost base has decreased by 15%, Della Valle said. "The transformation is paying for itself," she said. "As CFO, I find it fantastic that we can improve customer loyalty at the same time we are driving cost out of the business at the highest speed we have ever achieved".
Della Valle is currently directing savings initiatives under a recently rejigged, €1bn+ efficiencies push focused on Vodafone's Common Functions and operations in Europe. The drive focuses on the FY20–23 period. However, the Italian recently indicated a "acceleration" of the push could be in the offing as Vodafone seeks to expand use of digital technology to extract savings from its business (Vodafonewatch, #192 and passim).
Finance leads by example
In the operator's "digital first" efforts, Della Valle said the finance department has been on the "front lines" as an "early adopter" of robotic process automation and artificial intelligence (AI). She also pointed to the ongoing development of Vodafone's Shared Services operations that provides "the platform for putting digital into practice at scale on standardised processes", led by the Group's recently revamped Vodafone Intelligent Solutions division (Vodafonewatch, #192 and #194).
Looking ahead to what's next
The transformation programme has resulted in changes to Vodafone's planning processes. Della Valle said that the Finance department now has "clear roadmaps" for the next twelve months and following two and three years "in terms of transformation".
This visibility could be a loose reference to upcoming plans for an expansion of Della Valle's automation- and consolidation-led cost-cutting drive. During Vodafone's H1 FY20–21 results presentation, made in November 2020, the slide deck alluded to a "Phase Two" for leadership's plans for FY21–22 and beyond, albeit largely centred around existing areas of strategic focus such as "co-best" positioning in terms of network quality, platforms rollout, digital transformation, systems simplification, and lobbying for regulatory change (Vodafonewatch, #192).
CFOs expand digital influence
According to a recent Accenture survey of CFOs, 72% said they have final say on their company's technology direction. The survey also found that finance departments are adopting digital technology faster than expected. CFO respondents said 60% of traditional finance tasks are automated, which is up from 34% in 2018. Looking back to Accenture's previous CFO survey in 2018, it was expected that just 45% of finance tasks would be automated by 2021. "The role of the CFO has further evolved beyond serving as the finance lead to becoming a 'digital steward' of their organisation. Increasingly, CFOs are focused on collecting and interpreting data for key business decisions and enabling strategy beyond the borders of the finance function", said Christian Campagna, Senior Managing Director and Global Lead of the CFO & Enterprise Value Practice at Accenture.

Michelle Donegan is an experienced telecoms writer and has been contributing as a reporter and news analyst for TelcoTitans since July 2020.