Experimental PON tech developed by Nokia Bell Labs gets runout at Vodafone's Competence Centre in Eschborn, Germany.
Enables speeds of up to 100Gbps on a single wavelength using a combination of 25G optics and "advanced" DSP techniques.
Nokia envisages commercial availability in "second half of decade".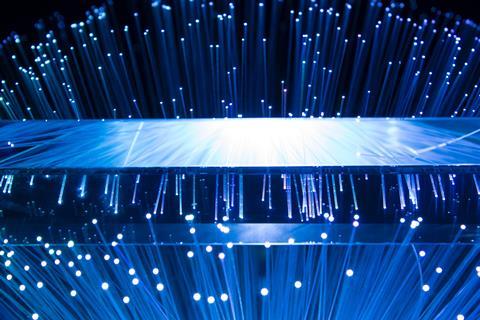 Vodafone put Nokia's prototype 100G PON passive optic network (PON) technology through its paces at its Competence Centre in Eschborn, Germany.
The new PON tech, developed by Nokia Bell Labs, is capable of delivering speeds of up to 100Gbps on a single wavelength. This is a reference to capacity rather than end-user speeds, however, since 100G is shared among users in a point-to-multipoint PON deployment. The trial was billed as the first of its kind by a "major operator".
Science non-fiction
Nokia argued that the new PON tech was not as future-looking as it might seem, since it leveraged "cost-effective" 25G optics, which have a "mature eco-system and available today".
To go beyond 25G nonetheless required "advanced" digital signal processing (DSP) capabilities, which were showcased in the trial. "Once this DSP is adopted", continued Nokia, "50G and 100G are straightforward and could be commercially available in the second half of the decade".
Another feature of Nokia's nascent 100G PON tech is "flexible rate transmission", which results in lower PON latency and, according to the Finnish supplier, "cuts power consumption in half".
"100GPON has 40 times the capacity of today's GPON networks, and tentimes the capacity of XGS-GPON, so it will help us keep ahead of the demand curve. In addition to ultra-high speeds, the technology supports our vision of highly efficient and adaptable next-generation networks. 100G PON enables flexible rates, and works by grouping modems using a technique similar to the one we already use in our cable networks, so this experience can help us to better evaluate and exploit this new PON technology."

Gavin Young, Head of Fixed Access Centre of Excellence, Vodafone.
Nokia talked up a long collaboration with Vodafone when it came to exploring different PON variants. It referenced a time wave division multiplexing PON (TWDM-PON) field trial with Vodafone Spain as far back as 2015, which was the first of its kind in Europe (Vodafonewatch, #136). The trial involved equipment developed by Alcatel-Lucent. Nokia acquired Alcatel-Lucent in 2016.
GPON not going away
Next-gen PON developments aside, Bruno Cornaglia, Fixed Access Senior Manager at Group Technology, was recently sanguine about the ability of gigabit passive optical networks (GPON) to meet growing consumer bandwidth demand in the near- to medium-term (Vodafonewatch, #193)
Despite rising volumes of traffic, caused primarily by video services, he thought GPON — which has a system capacity of 2.5Gbps downstream and 1.25Gbps upstream, typically shared between 32-to-64 customers — was "probably sufficient" for meeting bandwidth demand until 2025.
Cornaglia was not advocating a sitting-on-hands approach until 2025, however. Speaking on a webinar hosted by Total Telecom — entitled What does the future hold for NG-PON? — he said that even if GPON was considered sufficient for now, there was still a need to build a network that was future proof. "If customers start to require higher data rates", he said, "we can't [provision that] in a hurry, and so we need to prepare the network and move rapidly to XGS-PON".
Beyond XGS-PON, Cornaglia identified a "technology battle" to win the hearts and minds of operators, with two "feasible options" apparently set to scrap it out with one another. One option he said, was to continue with more advanced TDM-based PON systems, such as 25G and 50G PON, although Cornaglia did not seem impressed. "25G-PON is not a big jump in capacity [from XGS-PON], and 50G-PON may incur higher laser costs", he said.
The alternative path — TWDM-PON in the shape of NG-PON2, followed by G.hsp TWDM — was not without its problems either in Cornaglia's view, at least in terms of where technology development stands today.
"TWDM-PON suffers from high opto-electronic costs", he said, as well as citing issues surrounding temperature stability of tuneable lasers. Despite these concerns, Cornaglia drew attention to TWDM-PON's greater spectrum efficiency and scalability than TDM-PON, owing to the ability to add more wavelengths on the same system.
NG-PON2 is purportedly capable of between four and eight wavelengths, each supporting symmetrical 10Gbps. G.hsp (higher-speed PON) TWDM projects wavelengths supporting symmetrical 10Gbps.

Ken has been writing about developments in the fixed and mobile markets for over twenty years. He has been a contributor to TelcoTitans since 2015.