Bisio claims country's operators unfairly handicapped after heavy outlays on spectrum.
5G development projects completed in Milan.
CEO voices caution again about Italy's plan for a single broadband infrastructure company.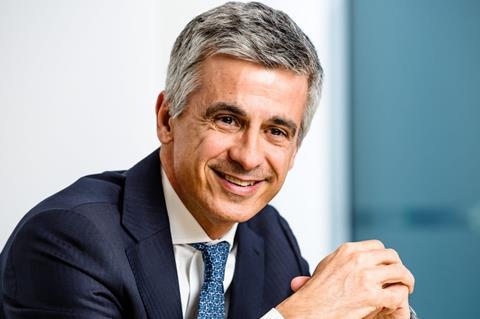 Aldo Bisio, Chief Executive (CEO) of Vodafone Italy (VfIt), appealed for financial assistance from government to roll out 5G.
Speaking virtually at 5G Italy, an international conference promoted by the Italian National Inter‑University Consortium for Telecommunications, Bisio complained that Italy's operators had been "burdened" by paying much more for 5G‑friendly frequencies than their European counterparts.
He ruefully pointed out that Italy had shelled out "four times compared to Spain, three times that of England, and almost twice what Germany paid". The CEO concluded that "this is an issue on which I believe there is a need on the part of the government to offer a support to the operators".
Vodafone spent a hefty €2.4bn (£2.2bn) in Italy's auction of 700MHz, 3.7GHz, and 26GHz airwaves, which was completed in October 2018 (Vodafonewatch, #169). Most of Vodafone's outlay — €1.685bn — was spent on an 80MHz chunk of 3.7GHz frequencies. The 14‑day auction raised a total of €6.55bn, which was €4bn more than expected.
5G Italy was an ideal platform for Bisio to make his case. Among the topics up for discussion at this week's three-day event was how and where to allocate Italy's portion of the European Union's NextGenerationEU recovery fund.
Of the €209 billion assigned to Italy, around €40 billion is set aside for digital development, including infrastructure and services. On its website, 5G Italy pointedly noted that investments in 5G have been referred to as a "priority" by the European Commission, along with the installation of fibre directly to the home.
Milan élan
In parallel with the 5G Italy event, Vodafone Italy announced it had completed all of its 41 proposed 5G projects in Milan covering various areas, including health and security (Vodafonewatch, #162). The OpCo worked with around 38 industrial and institutional partners on the projects, including Altran, Huawei Technologies, IBM, Nokia, and Qualcomm, as well as Milan's Politecnico university. 5G coverage in Milan, which Vodafone has showcased as a Group 5G hub (Vodafonewatch, #158, #160, #162, and #165) now exceeds 90%.
Single network caution
Unlike Nick Read, CEO of Vodafone Group, Bisio does not appear to think that Italy's plans for a single broadband infrastructure company offering wholesale services will necessarily lead to renationalisation and re‑monopolisation (Vodafonewatch, #189). He is nonetheless wary of the project, which is aimed at merging FiberCop and Open Fiber (see below).
"The debate on the single network has focused too much on governance models and shareholding structures, and little on industrial plans."

— Bisio.
Bisio worried about safeguarding quality of service, and, if that could not be achieved, then it would not be worth giving up the "formidable engine that is competition", even if there were some synergistic cost savings to be made by having a single infrastructure company.
Tangled web
FiberCop is 58%‑owned by Telecom Italia (TIM), and 37.5% by US private equity group Kohlberg Kravis Roberts (KKR). Fastweb, an Italian broadband operator, will also hold a 4.5% stake in the new company, after FlashFiber, a joint venture between Fastweb and TIM, is incorporated into FiberCop. FiberCop 's assets includes TIM's copper and fibre access lines. Wholesale provider Open Fiber is jointly run by state-controlled utility Enel and state lender Cassa Depositi e Prestiti (CDP). TIM has agreed a Letter of Intent with CDP to merge FiberCop with Open fibre, to create a unified network player called AccessCo. Under the agreed terms, TIM will own at least 50.1% of AccessCo.

Ken has been writing about developments in the fixed and mobile markets for over twenty years. He has been a contributor to TelcoTitans since 2015.