OpCo reallocates FTTP budget to finance HFC upgrades and expansion.
Cable seen as giving better return on investment.
VfD commits to fulfilling existing pipeline of FTTP projects.
DOCSIS 4.0 in the wings.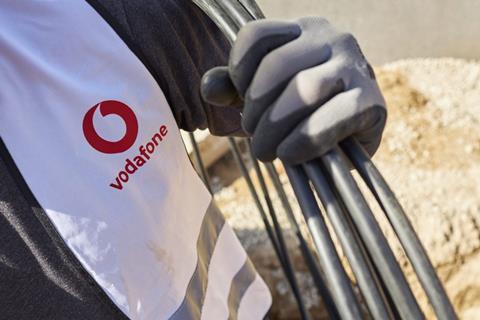 Vodafone Germany (VfD) said it was winding down investment in fibre‑to‑the‑premise (FTTP) infrastructure. Funds earmarked for future FTTP rollouts will now be redirected towards hybrid fibre coaxial (HFC) network upgrades. The aim of passing 25 million premises with cable-based Gigabit connections by 2022 is apparently still in place.
According to "internal mail" seen by Rheinische Post, VfD's top brass are not keen on investing in "independent" FTTP projects because returns are too low. The upshot, beyond existing commitments, is that the operator will only deploy residential FTTP "extremely selectively". There are no plans for rollouts in new industrial parks.
Despite a cooling of FTTP enthusiasm, the OpCo nonetheless claimed it had built "one of the largest fibre-optic expansion pipelines in Germany in recent months". Projects in the pipeline encompass the connecting of 150,000 households and 23,000 businesses. In November 2020, VfD said it expected to complete this work within 18 months.
Talking DOCSIS 3.1 and beyond
With 22 million homes currently passed, helped in part by the 2019 acquisition of Unitymedia (Vodafonewatch, #174, #184, and #187), VfD lays claim to the largest cable network in Germany.
HFC upgrades appear to be going well, too, after recently adding 1.7 million DOCSIS 3.1 connections sooner than originally planned (Vodafonewatch, #188).
Enabled by DOCSIS 3.1, VfD's 1Gbps Gigacable Max service is underpinned by hardware and software from existing supplier Harmonic. In announcing the deal with Harmonic, Guido Weißbrich, Director of Network Planning & Network Deployment at VfD, pointed to the solution's "software‑based architecture, scalability, and efficiency", which helps to solve "critical space, power, and cost challenges" as the operator rolls out DOCSIS 3.1 across the country.
VfD also has its eye on DOCSIS 4.0, which is capable of up to 10Gbps downloads and 6Gbps uploads. The operator plans field tests of the new technology in the next two years, depending on when hardware prototypes become available. Broadband TV News reported that Peter Breitwieser, Head of Product Management, Cable Fixed at VfD, said the DOCSIS 4.0 trial is intended to start in 2021 (Vodafonewatch, #188).
Sharing is not caring, says Deutsche Telekom
Not everyone is enamoured by HFC. Timotheus Höttges, Chief Executive of rival Deutsche Telekom, recently called "Gigabit" claims around DOCSIS 3.1 as "fake news". Although Höttges has alluded to a possible fixed‑line "renaissance" in Germany, following the COVID‑19 lockdown, he was adamant that cable was "not the answer", noting that 1Gbps speeds could not be relied upon as cable is a shared medium.

Ken has been writing about developments in the fixed and mobile markets for over twenty years. He has been a contributor to TelcoTitans since 2015.