Leads way in sourcing 'open' radio hardware suppliers.
Targets DU/CU disaggregation and white‑box base stations.
Involved in raft of new TIP initiatives, including Solution Groups, OpenBNG, and MUST.
Tenorio insists commercial deployments to date are "tip of the iceberg".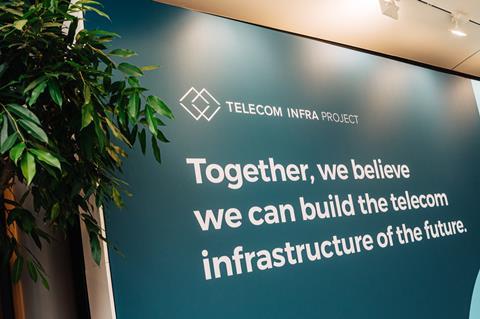 An online conference update on Telecom Infra Project (TIP) progress saw Vodafone mentioned in multiple new initiatives, coupled by repeated insistence from TIP's top executives — perhaps a little over‑defensively — that tangible progress was being made.
TIP Chairman Santiago Tenorio, who is also Vodafone's Head of Network Strategy & Architecture, talked about products that you can "touch and feel". Referencing several suppliers of radio hardware that have close compliance with OpenRAN TIP specifications (see below), Tenorio emphasised this was "not stuff that you're going to have in five years". It was something, he said, you can deploy — at least in Europe — "as early as 2021".
In strong echoes of a presentation by Attilio Zani, Executive Director at TIP, Tenorio said success could only be measured by commercial rollout, and that greater operator and vendor involvement — since the last TIP update in February 2020 — reflected growing industry momentum. "This is only the tip of the iceberg, and there is much, much more coming", he claimed.
Zani said the TIP mantra was "deploy, deploy, deploy, faster, faster, faster". He described the initiative as providing a "supply and demand framework" that "listens carefully" to the requirements of operator and vendor members when developing specifications and "facilitating use‑cases".
Both Tenorio and Zani envisaged increased TIP disaggregation activity in core and transport networks going forward. Opening up the radio access network (RAN) through disaggregated software and general-purpose processor hardware has taken up much of TIP's attention to date, accounting as it does for a huge chunk of operator expenditure. Disaggregation work beyond the RAN is to be complemented by "end‑to‑end" interoperability efforts undertaken by TIP's new (and Vodafone-backed) Solution Groups (see below).
Sales pitch
Tenorio picked up on Zani's 'what‑TIP‑can-do‑for‑you' theme, making his presentation feel more like a sales pitch aimed at operators and suppliers to get more involved, rather than simply a rundown of TIP developments.
"Companies come to TIP looking for a specification that is going to be consistent across the industry, not just the requirement of one operator or one region. They're going to be global products. And that is the single most important value TIP is adding to the open ecosystem. We are at a place where operators and technology partners work together to define requirements that are then consistent and global across the industry, which, I think, gives suppliers a huge sense of security to know that, if they simply [work to] those requirements, they're going to have customers out there. "

— Tenorio.
Tenorio and Zani both talked of building "robust and more flexible supply chains", although Zani acknowledged what he saw as the "absolute necessity for deeper collaboration as an industry".
TIP's Executive Director indicated that operators and 'challenger' suppliers — looking to get a toehold in software and hardware markets dominated by 'monolithic' vendors — needed to be proactive and collegiate if they were to be useful additions to the TIP cause. "What's important is that TIP members take responsibility for delivery of testing in field trials and share experiences", asserted Zani.
He flagged publication of the "Vodafone Turkey OpenRAN Trials PlayBook", authored by Vodafone and Parallel Wireless, as a good example of the type of experience-sharing he had in mind (see separate report).
Opening up radio hardware…
Vodafone can lay legitimate claim to driving TIP's ecosystem building efforts of radio hardware suppliers that are compliant (or near compliant) with specifications developed by the OpenRAN Project Group. Tenorio unveiled several that emerged from a recent Vodafone request for information (RFI) for 4G/5G remote radio heads (RRH), and described them as "frontrunners" in the open radio hardware space (see table). He urged industry to pay them attention.
Apparently speaking on behalf of the suppliers, Tenorio indicated that operators will be able to "buy radios [from the RFI 'winners'] and deploy them on OpenRAN systems towards the first half of 2021".
The RFI appears to build on radio hardware work carried out by the TIP‑backed Evenstar programme, which, accompanied by what seemed nervous laughter, Tenorio acknowledged had "design input" from Vodafone. "We stayed honest [about that]", he said.
The aim of Evenstar was to build a single‑band (1800MHz) RRH using a traditional MIMO configuration and 160W power consumption, and compliant with application programming interface specifications drawn up by the O‑RAN Alliance.
Tenorio said first‑phase validation of the resultant RRH product, led by Mavenir Systems in partnership with Facebook and MTI, went "very well", and that Evenstar was "progressing to field trials".
The handling of commercial traffic on the RRH is apparently going to happen "very soon". The TIP chairman speculated — but without any real conviction as far as Vodafonewatch could tell — that Evenstar might branch out its RRH efforts into dual‑band and massive MIMO.
Tenorio did not make clear when the Evenstar RRH product will hit its sub‑$1,000 (£774/€853) target, although an "optimised" second-generation design, slated for availability during Q2 2021, is aimed at hitting that pricing milestone (Vodafonewatch, #188).
Vodafone-backed Evenstar, curiously, responded to Vodafone's radio hardware RFI. Since Evenstar (awkwardly) won in Vodafone's 'major breakthrough' category, it might help explain Tenorio's seemingly anxious laughter. Vodafone, effectively, lauded its own RRH design expertise in an industrywide RFI.
Category
Frontrunners
Vodafone's "frontrunner" open radio hardware suppliers
Source: Vodafone.

Multi‑band remote radio head

Baicells Technologies, Comba, Fujitsu, Mavenir, NTS

Single band remote radio head

Comba, Mavenir, NTS

Massive MIMO

Airspan, Gigatera Communications, NEC, NTC, Xilinx

Most efficient energy consumption

Comba, Mavenir, NTS

Most efficient mechanical design

Mavenir, NEC, NTS

Portfolio breadth

Comba, Fujitsu, Mavenir, NEC, NTS

Major breakthrough

Evenstar
…and "white-boxing" the baseband
Tenorio sees no need to stop at radio when it comes to RAN disaggregation. Seeing potential for white‑boxing entire base stations, he wants to give the disaggregation treatment to the distributed unit/centralised unit (DU/CU), which handles baseband processing.
Working with Dish Network in a DU/CU subgroup, which is part of a newly "streamlined" OpenRAN Project Group, Vodafone will launch an RFI and publish the results within a "few months". Tenorio added, almost as an aside, that Vodafone "may" design its own baseband into Evenstar.
Streamlining
The restructured OpenRAN Project Group, unveiled as part of the latest TIP updates, is to look at all RAN generations, from 2G through to 5G New Radio (5G NR). 5G NR activity was previously treated separately. It is chaired by Vodafone and T‑Mobile US.
Other subgroups in the new‑look OpenRAN Project Group, aside from DU/CU, are the RAN Intelligence and Automation (RIA) subgroup, and the Indoor and Outdoor subgroups.
Comprising Vodafone, BT, Deutsche Telekom (DT), and Dish, the RIA subgroup, established in July 2020, has already jointly shared details about the first set of prioritised artificial intelligence/machine learning use‑cases aimed at driving automation, energy efficiency, and higher performance in the RAN. In the Outdoor subgroup, Vodafone, working alongside Smartfren and TPG, has initiated requirement harmonisation for peri‑urban deployments.
Bigger picture
TIP is now looking more carefully at "end‑to‑end" interoperability across different network layers through its Solution Groups, officially announced a few days before the online conference event.
"For the last couple of years, through our Project Groups, we have dealt with point products, and delivered against the requirements and development of those components. Now we've been asked [by TIP members] to build end-to-end network configurations that address specific market environments and topographies."

— Zani.
Solution Groups will focus on combining contributions from existing TIP project groups, including OpenRAN, Open Optical & Packet Transport (OOPT), Wireless Backhaul, Open Core, and Open Wi‑Fi. Work is initially split into four Project Groups, and sees involvement from Vodafone (Open Automation Project Group) and Vodacom (Network‑as‑a‑Service Project Group):
Network‑as‑a‑Service: aims to improve network economies in rural and peri‑urban areas through use of open disaggregated network technologies and shared physical infrastructure. Supported by Vodacom, Everis, Facebook, Internet para Todos, MTN, Orange, and Telefónica.
Mobile data offload: addresses capacity needs for growing traffic demand in cities; will build, test, and deploy "carrier‑grade managed open Wi‑Fi networks" through partnership with cities and operators. Supported by Dense Air, Dublin City Council, Facebook, Shoelace Wireless, Sligo County Council, and ThinkSmarter Analytics.
Connected city infrastructure: looks at economic and operational challenges of deploying small cells in urban environments. Supported by Dublin City Council (Smart Docklands), Connect Research, Dense Air, Facebook, Schréder, and local mobile operators.
Open automation: aims to improve user experience, operator agility, and operational economics associated with the planning, deployment, and assurance of end‑to‑ end network services. Supported by Vodafone, Atrinet, Entel, Facebook, FRINX, GigaMonster, MTN, and Telecom Argentina.
Fixing fixed access
TIP is ramping up efforts to disaggregate fixed access networks, signalled by new work on the broadband network gateway (BNG). The technical requirements for OpenBNG have been drawn up by Vodafone, BT, DT, and Telefónica, as part of their TIP collaboration in Disaggregated Open Routers (DOR). DOR is a subgroup of the OOPT Project Group, in which Vodafone is an active participant.
Alex Choi, Head of Strategy & Technology Innovation at DT, said the next OpenBNG step will be to implement an "operational model" that has already been applied by Disaggregated Cell Site Gateway (DCSG), another OOPT subgroup, and Phoenix. Described by the OOPT project group as a high‑capacity, disaggregated, and open optical transponder, Phoenix was recently said to be "generally available" (Vodafonewatch, #188).
According to TIP, the first OpenBNG lab trials are slated to start in Q4 2020, after an RFI, which will then move into "early field trials" in 2021.
TIP's Open Core Network Project Group has published the first release of technical requirements for 5G fixed wireless access use‑cases, which includes cloud‑native infrastructure, core network functions, deployment automation, and orchestration.
MUST have
With the exception of OpenRAN, the OOPT project group has tended to grab most of the TIP headlines. The latest round of updates shows it is still a hive of activity. As well as OpenBNG, OOPT unveiled a new subgroup called Mandatory Use Case Requirements for SDN for Transport (MUST).
The main objective of MUST is to accelerate and drive the adoption of software-defined networking (SDN) standards for IP/MPLS, optical, and microwave transport technologies.
Vodafone, together with DT, MTN, Orange, Telefónica, and Telia Company, threw its weight behind the new initiative.