Vivek Badrinath emphasises operational and strategic independence from Vodafone.
CEO claims Europe is 20 years behind the USA in commercialisation of towers.
Newspaper interview used to defend upcoming listing on Frankfurt Stock Exchange.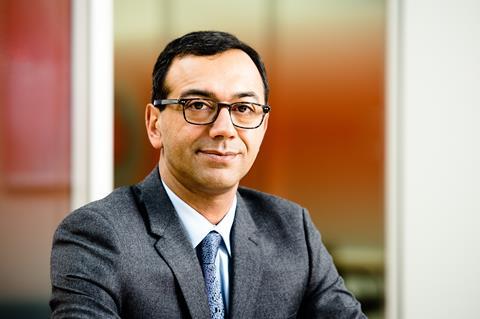 Vivek Badrinath, the 51-year-old Chief Executive (CEO) of Vantage Towers — Vodafone's European TowerCo spinout — was at pains to say he was his own man.
In an interview with The Sunday Telegraph, the former globe-trotting CEO of what was once Vodafone's Rest of the World (RoW) region — organisationally now disbanded — said bluntly that he now "won't have Vodafone interfering in my life on operational and commercial decisions".
Aware that any possibility of favouritism might make potential customers of Vantage Towers a tad nervous, Badrinath indicated that this issue was swiftly dealt with since he officially took the helm at newly-created Vantage Towers on 1 April 2020. "We took care of that. It's done, it's put to bed", he said.
Badrinath admitted in the interview to feeling jaded with his three-year RoW tour of duty, and that the Vantage Towers offer from Vodafone Chief Executive Nick Read — last November — came at the right time.
"You spend two nights a week sleeping on a plane", he said. "It's the kind of job you do for some time and then at some point the music has to stop".
Breaking Badrinath
Badrinath, it seems, is now rejuvenated. He described Europe's tower space as "exciting", and a promising avenue of reliable, high-margin income from rent paid by mobile operator tenants.
"There is this big trend towards the commercialisation of towers, and Europe is maybe 20 years behind the US", he said. Vodafone is now looking to rake in some serious cash from its tower assets through an upcoming initial public offering (IPO) of Vantage Towers, slated for early‑2021.
Read's predecessor, Vittorio Colao, apparently had his part to play in creating the 20‑year gap. Although it was not clear from the interview if Badrinath was pinning any sort of blame on Colao, The Sunday Telegraph noted — perhaps prompted by the Vantage Towers CEO — that Vodafone's ex-CEO was against selling what he viewed as the "family silver".
Boosting the tenancy ratio was one target pinpointed by Badrinath at the spinout's Capital Markets Day, in preparation for an IPO, in November 2020. The tenancy ratio averaged out across its European assets was around 1.3× as of 30 September 2020. The aim is to increase that in the "medium term" to at least 1.5×.
But Badrinath is looking at more than just tenancy ratios, important as they are. "What we have learned is we are good at managing masts from a technical point of view", he said, "but where we are not as good is on the commercial side".
The CEO talked about "better landlord management", and to negotiate harder on site‑rental fees. "We've been hiring hungry commercial people from outside Vodafone", explained Badrinath. "He or she doesn't quite look like the nerdy, techie who is inside the operations".
Made in Germany
Vantage Towers is headquartered in Düsseldorf and will list on the Frankfurt Stock Exchange. Badrinath argued that this made perfect sense. For one thing, he said, Germany is home to most of its tower technical staff, looking after more than 19,000 macro sites in the country (the biggest single contributor among the ten markets Vantage Towers has a presence).
Rules of the London Stock Exchange, pointed out the article in The Sunday Telegraph, would also not allow a German corporation a premium listing if it had less than 50% of its shares in a free float. This would potentially deprive Vantage Towers access to "large pools of capital".
The IPO is expected to value Vantage Towers at £23bn (€25.8bn), boosted by £5bn following incorporation of a 50% stake in Cornerstone Telecommunications Infrastructure Limited, which is expected by the end of January. Vantage Towers has now some 82,000 macro sites to its name, and is Europe's largest TowerCo.
The switch Badrinath must flick to ensure Vantage is advantaged
During the November 2020 Capital Markets Day, Badrinath summed up the business model flip Vantage Towers must bring about if it is to be a success as a standalone — and "proactive", commercially-minded — business.
While in‑house, infrastructure management operations within Vodafone's OpCos were "reactive" when it came to responding to competitor site requests, and they had no designated teams geared towards driving "lease‑up", he noted. Vodafone Germany's network team, for example, had a backlog of 300 unanswered tenancy requests when Vantage took over the assets.
Since being enlisted to set up Vantage, Badrinath has been working to build — and incentivise— an organisation that is proactive when it comes to "identification of customer site requirements", underpinned by a "clear strategy to increase tenancies and deliver growth", and "strong and hungry" when it comes to chasing down sales.
To achieve the latter, and convince Vodafone's competitors that it is focused on meeting their needs first and foremost, Badrinath's team must persuade them that it has completely moved beyond the legacy focus on delivering network advantage to Vodafone.
If it does not, independent tower players with no telco lineage or tainted loyalties, such as Cellnex and American Tower (the prospective purchaser of many of Telefónica's European assets), will be waiting to step in and churn customers away, and Vodafone's parental control over (and effective monetisation of) Vantage could come into question.
If it does, the rewards on offer are significant. Even as is, the TowerCo begins life with lofty margin compared with its parent, at about 55% (after leases) — but Badrinath's slides indicated this could climb considerably as tenancies ramp up, owing to the reduced marginal cost of installing new kit at sites. His slides indicated margin on an average tower increases by around ten percentage points, from 50% to 60%, when it moves from one tenant to two.
Vantage's medium-term plan is to drive mid-single-digit growth in revenue and to shift margin to a "high 50s percentage", fuelling "mid-to-high single digit" free cash flow growth. Supporting this is a target of bringing in 15,500 new tenancies (at least a 10% increase, by Vodafonewatch's estimate, and possibly closer to 20%).
This "lease‑up" drive appears set to form Vantage's main focus, but Badrinath indicated the new TowerCo had other growth opportunities up its sleeve, too.
These include savings initiatives, with Badrinath citing "significant cost efficiency opportunities" through: buyouts and renegotiation of leases; automation-focused IT upgrades; operational efficiencies via systems such as predictive maintenance; and deployment of more energy-efficient solutions at sites.
Vantage also sees opportunities to expand — whether organically or inorganically — beyond its existing footprint and focus areas, and into services such as fixed wireless access, indoor wireless, private networks, fibre backhaul, smart-city deployments, and edge and/or data centre infrastructure. Vantage has a €1bn+ kitty reserved for these investments, Badrinath said.

Ken has been writing about developments in the fixed and mobile markets for over twenty years. He has been a contributor to TelcoTitans since 2015.