Vivek Badrinath enthuses about "exciting business model".
Sees scope for innovation and expansion through greater non-operator engagement.
Always on the lookout for M&A opportunities, but existing markets take priority if going down consolidation route.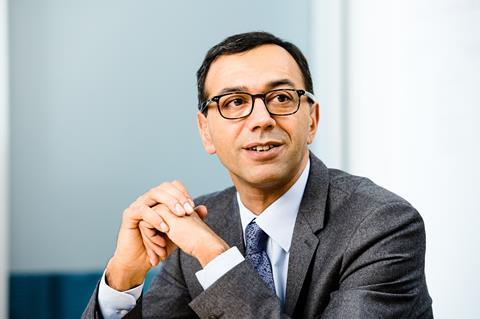 Vivek Badrinath, Chief Executive at Vantage Towers, firmly rejected the notion that Vodafone's European towerco spinout was little more than a bond proxy, offering investors predictable — if not spectacular — returns over a long period of time.
Speaking on the recent Digital Infrastructure Forum hosted by Maitland/AMO, a financial consultancy, Badrinath crowed about an "exciting business model" and untapped opportunities. He referenced the US towerco market where 90% of towers are used by non‑operators. "In Europe, it's north of 50%", he said. "We're 20 years behind".
Warming to his expansionist theme, Badrinath said the tower infrastructure asset class had "intrinsic characteristics to generate new business models". He spoke of "proximity" — Vantage Towers' some 82,000 sites spread across ten European countries are necessarily located where there is demand — along with "green electricity" and "connectivity".
These three attributes, argued Badrinath, created new opportunities for more engagement with Internet of Things operators (smart city applications, say, through deployment of sensors) and government‑led public safety schemes.
"There is [ICT] innovation to be done on top of [what might be called] mundane real‑estate assets with long term contracts", said the CEO.
Nothing wrong with cash-flow predictability…
Badrinath was in no mood to bite the Vodafone hand that feeds Vantage Towers, however. He stressed that having a "32‑year inflation‑indexed contract with an investment‑grade customer called Vodafone" meant lots of certainty about cash flow. "It's a very healthy place to be", he said.
The CEO also mentioned "intrinsic growth" that comes from being "co‑partner with Europe's largest operator". He referenced Vodafone's recent commitment to contract for the construction of around 6,850 build‑to‑suit sites.
…and choosy on M&A
While Badrinath thought there was "space" for pan‑European towerco players through consolidation, he displayed little enthusiasm for M&A outside the ten markets Vantage Towers already has a presence (see table).
"Any expansion in those countries is the first thing we'll do, because it's more relevant for our customers", he said.
Vantage Towers infrastructure line‑up, July 2021
Market
Entity (Group ownership)
Number of macro sites (tenancy ratio)*
Notes

Notes: * As of 30 September 2020. **Local entity name not yet confirmed.

Sources: Vantage Towers; Vodafone; and Vodafonewatch.

Regional

Europe

Vantage Towers (100%)

82,000

Listed on the Frankfurt Stock Exchange in mid‑March 2021. Vodafone raised €2.3bn after releasing 18.9% equity.

National

Czech Republic

Vodafone Towers Czech Republic (100%)

3,800 (1:1.1)

–

Germany

Vodafone Towers Germany (100%)

19,100 (1:1.2)

New entity will oversee various network-sharing and coverage expansion initiatives with Vodafone Germany's rivals.

Greece

Vantage Towers Greece (62%)

4,900 (1:1.6)

Vantage Towers owns 100% of its Greek business after exercising a call option to buy the 38% it did not already own from partner Crystal Almond.

Entity excludes, ostensibly, any tower assets held by Victus Networks, a longer‑running network‑sharing joint venture (JV) with Wind Hellas, formed in 2014. The extent of these assets has not been confirmed.

Hungary

Vodafone Magyarország Toronyvállalat (100%)

1,900 (1:1.3)

–

Ireland

Vodafone Towers Ireland (100%)

1,300 (1:1.5)

–

Italy

Infrastrutture Wireless Italiane (33.2%)

22,100 (1:1.9)

Network‑sharing JV, co‑controlled with Telecom Italia.

Portugal

– ** (100%)

3,500 (1:1.2)

Vodafone Portugal has a network‑sharing relationship with NOS.

Romania

– ** (100%)

2,200 (1:2.0)

Vodafone is yet to confirm future plans for Netgrid Telecom, a historical network-sharing JV with Orange Romania

Spain

Vodafone Towers Spain (100%)

8,800 (1:1.6)

Vodafone has a long‑running, and repeatedly rebooted, network-sharing relationship with Orange Spain.

UK

Cornerstone Telecommunications Infrastructure (50%)

14,400 (1:2.0)

Network‑sharing JV with Telefónica UK.

Ken has been writing about developments in the fixed and mobile markets for over twenty years. He has been a contributor to TelcoTitans since 2015.