New funding deal with B Riley provides cash assurance as investment builds ahead of commercial launch.
Satellite service provider indicates willingness to work with existing collaborators such as Vodafone to explore opportunities in IoT and public sector — once mass-market play gets established.
New CFO, Sean Wallace of Cogent, brings industry and finance experience and highlights SpaceMobile MNO relationships as a key draw when taking new post.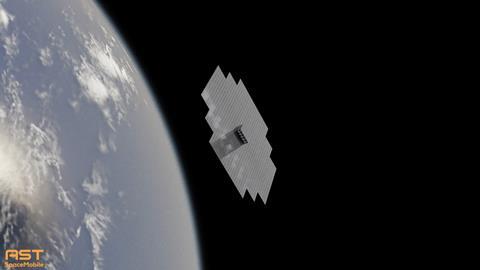 AST SpaceMobile, the Vodafone-backed low-Earth orbit (LEO) satellite developer, updated the markets on its results for the three months to the end of March 2022 (Q1 FY22), with incremental progress made towards its plans for a final pilot programme for its technology from summer 2022. The LEO business also provided assurance that, as investment in industrialising its satellite service continues, it has the liquidity and resources to follow through with its plans for a 2023 commercial launch.
After spending $68m (£55.7m/€65.2m) in cash during the quarter while generating $2.4m in revenue, a theme of the results presentation was 'flexibility' as the satellite developer progresses towards its service launch. Cumulative capital expenditure in the latest BlueWalker 3 (BW3) satellite, and the premises to build its commercial successors, has reached $115m, while quarterly operating expenses now near $30m.
However, the business still holds $278m in cash and other current assets, and has entered a common stock purchase agreement with B Riley Principal Capital, which it said gives it the option of selling up to $75m in additional Class A shares to the investor over the coming 24 months should it need a further cash boost. Management emphasised that the business continues to consider a wide array of fundraising options, including seeking additional investors or taking on debt, but added that the B Riley agreement was "good to have in our back pocket".
The Q1 FY22 results also saw another agreement with a mobile network operator highlighted, with a Memorandum of Understanding now in place with Globe Telecom of the Philippines. This adds an additional 86 million to the potential footprint for its mass-market satellite-to-mobile service, which now covers 1.8 billion accesses worldwide. SpaceMobile's ability to test services in the USA was also smoothed following clearance from the Federal Communications Commission for the BW3 satellite to use 3GPP cellular frequencies for space-to-ground testing.
SpaceMobile acknowledged that many of its MoU agreements with MNOs are still a step away from firm commercial commitments, but stressed that the important element of the deals was that they demonstrated that the satellite business and operators were strategically aligned, without restricting the terms on which it delivers services commercially. More concrete contracts are anticipated on a market-by-market basis as the service gets closer to official launch.
SpaceMobile emphasised that it continues to focus on the business model that will see it work with MNOs to provide mass-market consumer services, which has been an area where satellite–MNO partnerships have previously underwhelmed. However, expansion into additional industry verticals such as IoT, or working with government or military customers, was not ruled out. It was also noted that existing partners, such as Vodafone, already have a strong presence in these markets and the potential exists for expansion while working with current partners.
Management would not be pinned down on launch dates for either the BW3 trial satellite or the initial launch of commercial BlueBird satellite constellations, emphasising that there are a multitude of moving parts involved with launches, while expressing confidence that projects would proceed in line with contracts agreed with launch partner SpaceX.
SpaceMobile also allayed concerns on supply chain risks, stating that the BW3 launch is not dependent on parts arriving for completion, and that the business is sufficiently vertically integrated in terms of technology used to be able to plough its own furrow on development.
New CFO shows drawing power
Only a couple of weeks after his departure from internet service provider Cogent Communications was announced, Sean Wallace participated in the SpaceMobile conference call as its new Chief Financial Officer. After two years in the same role at the ISP, and following a career in the banking sector, Wallace identified the commitment of SpaceMobile partners such as Vodafone and Rakuten, and SpaceMobile's anticipated ability to finally crack the challenge of providing satellite connectivity to mobile users outside traditional coverage, as key incentives for his switch to the new venture.

Neal Doran is a Senior Analyst for TelcoTitans. Neal's industry knowledge and experience as a telecoms analyst and writer spans three decades, and he has been a key part of TelcoTitan's Editorial team since 2001.