Evolving cellular broadband provider now claims association with 1.8 billion mobile accesses as commercial plans progress.
FY21 results see $80m more cash spent by SpaceMobile, but with $322m still at hand to fuel 2023 first phase launch.
Management assures supply chain and satellite slots secure despite global upheaval.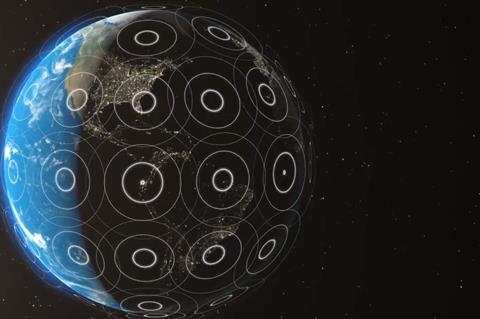 AST SpaceMobile, the Vodafone-backed low-earth orbit (LEO) satellite developer, unveiled its financial results for the year ending 31 December 2021 (FY21), declaring its final test launch to be on track for summer 2022 with funds in place to follow through with the initial deployment of operational satellites.
To demonstrate its building momentum, the SpaceMobile results also referenced a new partnership announced a few days previously: mobile network operator (MNO) Orange has signed a non-binding memorandum of understanding that will see it engage with testing of the SpaceMobile service in an additional African market, with a view to further expansion of the collaboration between the two partners. While the commitment within the agreement appears loose, it enabled the satellite operator to claim its relationships with MNOs now put its services potentially within the reach of 1.8 billion of the world's five billion mobile phones.
In November 2021, 23 MNOs had signed as SpaceMobile partners, including Vodacom rival MTN Group.
Setting the standard
During the FY21 results call SpaceMobile identified the agreement in place with Vodafone as a template for deals with other telcos, with new MNO arrangements mirroring the approach initiated with its strategic partner. SpaceMobile is pursuing what it describes as a super-wholesale model which includes revenue-sharing deals to deliver benefits as adoption rises, and leverages investment from MNOs in earthbound technology and spectrum while minimising its operating expenses.
The operating expenses associated with developing the satellite business are currently rising significantly, reaching $92m in FY21 compared to $27m a year earlier. Higher spending was linked to increased spending on engineering, the expansion of manufacturing facilities to support industrialisation of satellite building, and continued investment in research and development. Revenue for the business remains limited at this stage of development, but still rose from $6m to $12.4m.
SpaceMobile stressed that production of its initial batch of 20 satellites was within budget, with each craft expected to cost between $13 and $15m, and with available cash of $322m available to cover deployments into 2023. The business is on the lookout for opportunities to raise additional finance, and anticipates raising additional funds ahead of a fuller commercial launch, when service revenue will begin to alleviate the need for cash injections.
Management also attempted to assuage concerns regarding the possible impact on industrialisation and commercialisation of the SpaceMobile service caused by disruption in global launch capacity amid the war in Ukraine. The number of potential launch slots accessible by satellite operators has been significantly curtailed by blocks on working with Russian businesses. However, SpaceMobile's engagement with SpaceX, agreed in early-2022 appears to be shielding it from any near-term impact.
Regulation still a little grey
While a commercial launch now appears on the horizon, with 2023 expected to see early services made available, SpaceMobile — and the satellite connectivity sector more generally — is still thrashing out where services such as satellite-delivered cellular broadband sit within the regulatory landscape.
There has been concern that clearance from the US Federal Communications Commission (FCC) for the SpaceMobile cellular broadband service may not be secured ahead of the launch of the next test satellite in summer 2022. During the conference call, however, management appeared happy with progress on securing clearance, but suggested testing could continue outside the USA if issues arose.
The prospect of heightened rules and regulations linked to 'space junk' were also addressed, with SpaceMobile highlighting that its planned LEO global coverage would require just hundreds of satellites, which it considers compares favourably to some connectivity technologies that depend on several thousand satellites for coverage. It was also said that the BlueBird satellite at the core of its offering had been designed to have a 'thin' profile that would minimise the risk of collision with other entities in low orbit.

Neal Doran is a Senior Analyst for TelcoTitans. Neal's industry knowledge and experience as a telecoms analyst and writer spans three decades, and he has been a key part of TelcoTitan's Editorial team since 2001.