Telefónica's Executive Chairman and an avid numbers man, Álvarez-Pallete will take some convincing to follow business plans of others.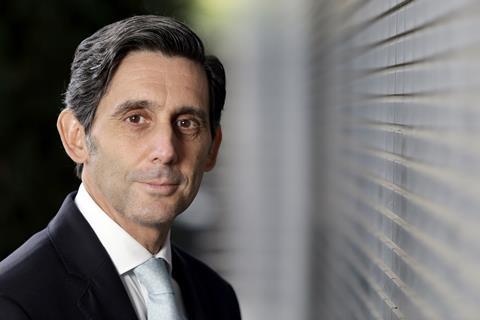 Name: José María Álvarez-Pallete López
Age: 56
Salary: Compensation package, as Telefónica Executive Chairman, totalled nearly €5.4m in the year to 31 December 2019 (Reuters).
Troublemaker rating: 🤝 🤝 🤝
Career
A strong academic pedigree in economics and accounting, plus well-honed management skills, helped Álvarez-Pallete make his mark in business at a relatively young age.
Before joining the Group as CFO for Telefónica Internacional in 1999, Álvarez‑Pallete commenced his career as a junior auditor at Arthur Young Auditores. He then spent six years in corporate finance at Benito y Monjardín and Kidder, Peabody & Co. Afterwards, he worked a four-year stint at outposts of Mexican multinational CEMEX, including as CFO for Spain and with oversight of Indonesian and Singapore operations.
Joining Telefónica aged 35, he occupied various key positions and rapidly overtook more established leadership candidates to take over the reins from the racier César Alierta as Chairman and CEO in 2016.
The same year that Álvarez-Pallete arrived at Telefónica, he was promoted to Group CFO (1999–2002). Other high-profile roles followed, including as: Managing Director and subsequently President of Latin America (2006–2011), when he also joined the senior board; CEO of Europe (2011–2012); and Group COO (2012–2016). He has also held positions on numerous subsidiary boards, as well as seats at China Netcom (2005–2008) and Portugal Telecom (2008–2010).
Álvarez-Pallete is something of an academic prodigy, boasting graduate and postgraduate degrees in economics from the prestigious Complutense University of Madrid (the latter completed in 2009, while heading Latin America for Telefónica). He also studied economics at the Free University of Brussels aged 17, and holds a Masters in international management from IPADE.
Vodafone connection
Cornerstone Telecommunications Infrastructure Limited (CTIL), a 50:50 infrastructure JV between Telefónica UK (O2 UK) and Vodafone UK (VfUK). More engagement (or disengagement) with VfUK looks likely with the pending merger of Liberty Global's Virgin Media with O2 UK, encompassing the stake in CTIL. The latter deal could drive VfUK closer to local incumbent BT (which sits in Deutsche Telekom's strategic orbit), or at least its access services unit Openreach.
Vodafone Spain recently (and quietly) extended its role as strategic wholesale customer of Telefónica consumer fibre assets.
Snapshot
There seems to be two sides to Álvarez-Pallete. On the one hand, he can be the self‑conscious academic, happy to show off his nous in economics, penchant for strategy, and grasp of detail. When leading the then‑growing Latin American operations of the Group in the 2000s, Álvarez‑Pallete was keen on giving mini‑lectures on the region's macroeconomic conditions in support of his case for future growth.
On the other hand, and somewhat unusually for an incumbent telco CEO, he can give the impression — to use Mark Zuckerburg's motto — of wanting to "move fast and break things". He also seems very comfortable delegating day-to-day responsibilities to lieutenants.
In 2011, as Telefónica Europe CEO, Álvarez‑Pallete was instrumental in setting up Wayra, Telefónica's startup accelerator. It was at Wayra that the talented (and woolly‑hatted) Chema Alonso began his Telefónica career. Álvarez-Pallete later took Alonso under his wing, appointing him Chief Data Officer. But Álvarez-Pallete's handling of Alonso shows he is not one for blind loyalty. Alonso no longer reports to him, occupying what looks a more focused position as Chief Digital Consumer Officer.
Another Álvarez‑Pallete trait is slimmed-down management structures. He recently unveiled a five-point reorganisation plan for Telefónica, which, he boasted, would position the Group "for the next 100 years".
But it is not all work and no play. Álvarez‑Pallete is a keen runner, and, some years ago, was caught on camera playing Candy Crush on his tablet while Alierta was giving a speech.
Likely to say: "Let me see the macro-economic analysis."
Unlikely to say: "Leave things the way they are."
Troublemaker rating: 🤝 🤝 🤝 Tactical disputes


Ken has been writing about developments in the fixed and mobile markets for over twenty years. He has been a contributor to Market Mettle and TelcoTitans since 2015.