Fries cautiously tells analysts to watch out for some "activity" at its Dutch JV in the next 24 months.
VodafoneZiggo burnishes its IPO credentials with target-busting financials for FY20.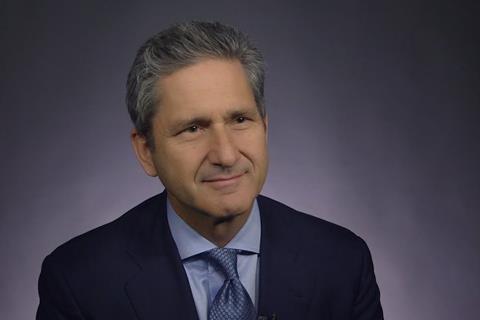 Mike Fries, Chief Executive at Liberty Global, raised the possibility of a VodafoneZiggo listing within the next 24 months.
A 50:50 joint venture (JV) between Liberty Global and Vodafone in the Netherlands, VodafoneZiggo is performing well. In turn, this has fanned the flames of speculation surrounding an initial public offering (IPO).
Fries seemed cautious not to appear too keen for a listing on Liberty's annual results conference call with analysts, however. "Is it an IPO candidate? Potentially," he cagily remarked.
One possible reason for the apparent hesitancy is that Fries does not want to irk Vodafone with loose talk of a listing without consultation with its partner first, although this is technically not a requirement under the terms of the JV. Each VodafoneZiggo shareholder now has the right to initiate an IPO, despite the wishes of the other.
Although Fries seems happy to take a collaborative approach with Vodafone over the next two years, he gave the impression that he would not desist from pressing the IPO button beyond that timeframe, even if Vodafone was against a listing. "There are built-in provisions in these [JV] documents for a reason… because nobody knows what [things will look like] in five or six years", said Fries. "It's going to be an interesting 24 months".
Fries is a big fan of the Dutch JV, and undoubtedly views it more as nearer-term IPO opportunity than a longer-term one. "Vodafone Ziggo is a great case study for how fixed mobile convergence delivers growth and stable free cash flow", he said.
One reason why Vodafone might be cautious about an IPO is continued uncertainty surrounding the possible monetisation of VodafoneZiggo's tower assets. The Dutch JV's towers were not folded into Vantage Towers, Vodafone's European TowerCo spinout, which is is still working towards a flotation in "early-2021". During 2019, Vodafone stated it was "exploring network-sharing/tower options" in the Netherlands, while the JV flagged it was intending to "explore potential monetisation opportunities for our mobile towers portfolio". As far as TelcoTitans can determine, neither has updated on their thinking since.
Bracken breaks cover
Charles Bracken, Chief Financial Officer (CFO) at Liberty, was not as coy as his boss about putting the case for a VodafoneZiggo IPO when speaking at a recent (and virtual) UBS Global TMT Conference.
Reflecting on VodafoneZiggo's adjusted EBITDA and cash-flow performance, as well as the JV's faster-than-expected progress on realising cost-saving synergies, Bracken reckoned — as transcribed by CQ FD Disclosure — that it "would obviously achieve a pretty premium valuation, particularly when benchmarked against KPN".
In language not out of place in a VodafoneZiggo IPO prospectus, Bracken added that the JV was a "very significant national champion" in fixed-mobile convergence (FMC), and that it was "over-indexing" the sector in terms of revenue growth. "We see [annual] free cash flow, which is around €400m, accelerating from here", maintained Bracken. He added that VodafoneZiggo "continues to have opportunities to drive more cost out of the business".
Liberty, which has been conducting a major overhaul of its European businesses in recent years, sees itself as currently having four "national FMC champions". One is in the UK (through the pending Virgin Media merger with Telefónica UK); another in Switzerland (via the prospective combination of UPC Switzerland and Sunrise); one in Belgium (where Telenet is already listed); and VodafoneZiggo in the Netherlands.
Bracken called Telenet an "interesting template", and added that Liberty was "driving towards" a Swiss-listed champion; a UK-listed champion; a Dutch-listed champion; and possibly even a Benelux-listed champion through a combination of Telenet and VodafoneZiggo. Fries has previously acknowledged "compelling logic" to the idea of amalgamating the two Benelux businesses, although Vodafone has not shown much enthusiasm (Vodafonewatch, #187 and passim).
VodafoneZiggo outperforms
Aside from some pandemic-induced squeezes at its mobile business during Q4 2020, VodafoneZiggo posted a solid, ticking-all-the-boxes performance for its fiscal year to 31 December 2020 (FY20).
Run-rate synergies of €214m were delivered, beating by a year the €210m target set for the end of 2021. Adjusted EBITDA growth of 5.7% beat guidance of 4%–5%.
The number of converged households that subscribe to both VodafoneZiggo's fixed and mobile offerings increased by 113,400 to 1.46 million. Converged households as a percentage of "revenue-generation units" was 43% at the end of 2020, versus 40% twelve months previously.
The only way is up? VodafoneZiggo key financials, FY20
FY20
FY19
Change

Note: * Previously referred to as operating cash flow.

Source: VodafoneZiggo.

Revenue

€4,000.2m

€3,922.9m

2.0%

Consumer cable revenue

€2,095.5m

€2,023.9m

3.5%

Consumer mobile revenue

€870.1m

€869.1m

0.1%

Adjusted EBITDA *

€1,876.9m

€1,775.5m

5.7%

Adjusted EBITDA margin

46.9%

45.3%

1.6pp
Irish M&A question to be answered this year
In another comment likely to have pricked ears at Vodafone HQ, Fries fleetingly mentioned towards the end of his Q&A session with analysts that there was still some FMC-building to be done in Poland and Ireland (where Liberty's Virgin Media Ireland competes against Vodafone Ireland in the fixed broadband space).
Fries said, with an allusion to possible M&A activity, that Liberty will "continue to evaluate what the right long-term future for those markets is in terms of their strategic footprint, and whether there's a fixed-mobile opportunity".
"It would be surprising to me if we ended 2021 without continued transformation, even in those two markets, whatever that might look like", he added.

Ken has been writing about developments in the fixed and mobile markets for over twenty years. He has been a contributor to TelcoTitans since 2015.