Operator confirms longstanding network partners Ericsson and Nokia as 5G SA radio suppliers.
CTIO claims provider has the "best technology partners" that can help develop 5G "at the highest level of quality".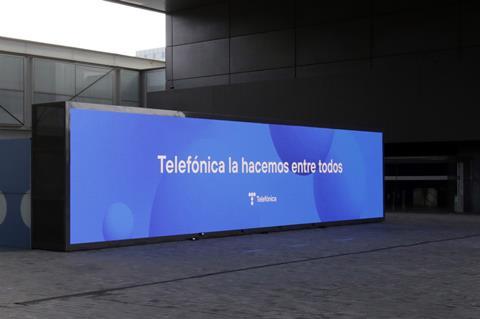 Telefónica España confirmed that longstanding network partners Ericsson and Nokia will be radio suppliers for rollout of its 5G standalone (SA) network. Each have been awarded a 50% share until 2026.
5G SA deployment includes 3.5GHz and 700MHz frequency bands. An auction of 700MHz (694MHz–790MHz) airwaves is slated to start this week (see below).
The announcement is no surprise. Aside from news filtering through Spanish media outlets last month that Telefónica España had chosen Ericsson and Nokia for 5G SA, the Nordic duo is well entrenched in the operator's 2G, 3G, and 4G networks, and responsible for 5G non-standalone (NSA) deployment, the 4G-infused variant of the next-gen tech.
Telefónica España stressed that its 5G SA supplier selection gives "continuity", and that Ericsson and Nokia will roll out the standalone variant in each of their respective geographical footprints. In doing so, said the operator, complexity of radio network evolution is "minimised", and advantage can be taken of what it called the "best 5G SA features". The strategy of supplier continuity in 5G, emphasised Telefónica España, is consistent with Group strategy.
Telefónica España alluded to the "modularity and flexibility" of the Ericsson Radio System portfolio and Nokia AirScale to evolve the 5G access network, both in urban and rural areas. Interleaved Antenna Solution antennas, said the operator, will also be used to upgrade existing sites to 5G and "integrate all legacy technologies and bands along with the massive MIMO capabilities of 5G".
Joaquín Mata, Chief Technology & Information Officer at Telefónica España, talked about "stability for the deployment and development of 5G", and that the operator felt "very comfortable with having the best technology partners that will help us develop 5G at the highest level of quality". He was fulsome in his praise for the two suppliers' track record, saying they had "responded outstandingly" in the past when it came to radio deployment for previous cellular generations.
Some Spanish media outlets tried to frame Telefónica España's selection of Ericsson of Nokia as a snub to Huawei. This seems wide of the mark given the operator's highly plausible narrative of continuity. However, by insisting that Telefónica España was in the best possible 5G SA hands, Mata may well have been indirectly addressing concerns in some quarters that it was somehow missing out on 'better' and cheaper equipment from the embattled Chinese supplier.
700MHz coverage boost
Telefónica España took the needless step of confirming it will take part in Spain's auction of licence concessions in the 700MHz frequency band, which is scheduled to start this week.
By doing so, however, it gave the operator another chance to brag about how its 5G coverage is complemented by an "extensive fibre network in Spain" that can provide high capacity backhaul links. It envisioned that the addition of 700MHz airwaves to current 5G deployment in 3.5GHz spectrum will "consolidate its leadership in connectivity".
Telefónica España launched 5G NSA in September 2020. With the help of Dynamic Spectrum Sharing (DSS) technology, it was able to reach 76% of the population with 5G signals within three months. Population coverage now stands at 80%. Telefónica España is also working towards a gradual shutdown of its 2G and 3G networks, with 3G set to be switched off by 2025.
Under auction conditions set by Ministry of Economic Affairs and Digital Transformation, reserve prices total €995.5m. To try and encourage bidding, this represents a cut of between 12.5% and 20%, depending on the tranche. Licence concessions are valid for 20 years, although they can be extended by another 20 years if certain conditions are met.
There are seven tranches of 700MHz spectrum up for grabs: two paired 10MHz blocks, and two paired 5MHz blocks, in the 703MHz–733MHz and 758MHz–788MHz bands; and three 5MHz blocks in the 738MHz–753MHz band assigned for supplementary downlink.
The Spanish government foresees more than 400 towns will have 5G coverage on the back of 700MHz licence concessions by the end of June 2025. Of this number, 30% are targeted for 5G coverage before the end of 2022, and 70% before July 2024.

Ken has been writing about developments in the fixed and mobile markets for over twenty years. He has been a contributor to TelcoTitans since 2015.