Renewed and expanded wholesale volume deal will remove the handbrake on Telefónica's broadband products, and drive TDE investment.
While DT network currently focused on urban areas, Telefónica's plans for a €5bn rural fibre network are reportedly nearing completion.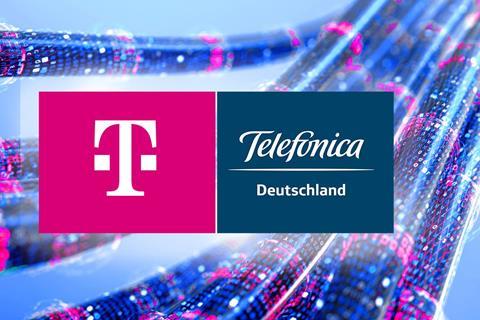 Telefónica Deutschland (O2 Germany) and Deutsche Telekom (DT) talked up the renewal and expansion of their wholesale broadband infrastructure access agreement for another ten years. The re-energised deal came as O2 Germany backs infrastructure sharing as the way forward on accelerating fibre deployment, through partnering with established players in urban areas, and creating a semi-independent FibreCo to cover rural locations.
While to date, the deal with DT has focused on enabling O2 Germany to provide VDSL-based superfast broadband to customers using wholesale DT products, the partners highlighted that the "pioneering" contract extension will see opportunities for expansion of higher speed full-fibre services to German customers.
The revised deal, expected to come into effect in spring 2021, was described as the first of its kind in the German market and will enable O2 Germany to offer fibre-to-the-cabinet (FTTC) broadband services more than 33 million lines, and "ultrafast" offerings over a fibre-to-the-premises (FTTP) network currently covering 1.8 million sites. Under the previous arrangement, connection speeds were capped at 100Mbps regardless of the technology used to deliver connectivity. The new agreement will see O2 Germany able to market up-to-1Gbps services.
It will also see O2 Germany commit to volume usage of the DT network under a contingent contract, securing the operator discounted prices and delivering guaranteed revenue for DT. The incumbent claimed that this will support its investment plans for FTTP, with Dirk Wössner, Chief Executive (CEO) of Telekom Deutschland, describing the agreement as an "important additional lever". The operator is also looking to offer similar wholesale deals to other operators in the German market.
In acknowledging the new deal, O2 Germany CEO Markus Haas emphasised that the contract provides planning security for his business, and stressed that it will enable O2 Germany to offer full fibre "especially in large cities", which fits neatly with its plans for creating a semi-independent rural fibre infrastructure company (see below).
O2 Germany originally signed a wholesale agreement for access to superfast services in 2013, marking a change of focus onto delivering fixed-line services and deprioritising ownership of fixed network assets. Recent years has seen its enthusiasm for leveraging other operators' assets increase through a 2019 deal with Vodafone Germany to use its ultrafast networks to offer up-to-300Mbps services (although this deal is proving slow to reach fruition) and an agreement a few months later providing unfettered access to the cable network of Tele Columbus (Telefónicawatch, #138).
The deal still needs to be approved by local regulator the Bundesnetzagentur (BNetzA), although, with the precedent of the existing deal and DT commitments to making similar terms open to all, clearance appears likely. Indeed, the regulator went as far as welcoming the news of the extended agreement as a positive sign of healthy cooperation in the market, while reserving its right to review the details of the deal.
Need for speed
Telefónica recently flagged that fresh arrangements with DT were in the pipeline, with Group Executive Chairman José María Álvarez-Pallete noting that O2 Germany had been granted access to DT's "wholesale, ultra-broadband network with technological evolution granted, which means that if they go from VDSL to fibre, we have that evolution granted". The impression given by Álvarez-Pallete, speaking at a Goldman Sachs industry event, was that access to fibre was already part of the 2013 agreement. However, it may be that the Chairman was referring to the renewed partnership and got away with letting the cat out of the bag on the new deal ahead of its official announcement.
Allianz emerging as likely fibre buddy for German dig
Shortly after the news of the wholesale renewal broke, Reuters reported that Telefónica Group was progressing quickly with its plan to create a fibre infrastructure provider in Germany, with final negotiations underway on a €5bn investment programme.
The reports suggested that several banks and an "infrastructure investor" have been lined up for the project, with the transaction being overseen by bankers Lazard. The private equity division of German insurance group Allianz was subsequently cited as an interested investor in a report by Spanish newspaper Expansión. Telefónica was said to be close to signing an agreement with Allianz Capital Partners on the creation of a 50:50 joint venture (JV) that could invest in building a fibre network for up to two million homes — initially in small towns and cities.
According to Expansión, the project has been given the code name "Beethoven" and foresees each partner owning a 50% stake in the JV. The Spanish Group would be represented mainly by Telefónica Infra (which also oversees wireless infrastructure business Telxius), with Telefónica Deutschland (O2 Germany) also holding a small stake.
While O2 Germany is expected to be the anchor tenant for the infrastructure rollout, rivals DT and Vodafone have been invited to become customers with the goal of preventing overbuild in uneconomic areas. Potentially tying in with the idea of a rural-focused business, Telefónica trademarked "Our Green Fibre" in Germany in summer 2020 (Telefónicawatch, #147).
Reuters indicated that bank loans are expected to contribute about €3bn to the funding, with the remainder brought in from sale of equity in the business.
The reports from Spain put the likely cost of the initial rural rollout at around €2.4bn, based on estimates that it costs €1,200-per-household on average to deploy fibre in Germany. However, the full cost is estimated at close to €2,000-per-household including home equipment and service installation.
The true level of expense also depends on a huge number of variables — not least how 'rural' the JV's target market proves to be, how efficiently it can manage deployment, and whether there is any easing of planning restrictions by authorities in Germany, to support fibre expansion. DT, which is in the process of ramping up full-fibre rollout to two million premises-per-annum, recently reported that its expense had dipped below the €1000 mark for each home passed (Deutsche Telekomwatch, #92).
Spanish know-how in demand
Allianz Capital Partners was apparently attracted to the deal in Germany because of Telefónica's expertise in deploying fibre networks in Spain. Expansión said the Spanish parent plans to relocate 100 experts from Spain to Munich in the hope that their accumulated experience will help bring down costs.
The paper noted that the cost of fibre deployment in Spain is ten times lower than in Germany, at about €120 per household (an evidently generic figure influenced by Spanish authorities' early move to encourage fibre rollout, and the dense nature of Spanish cities).
From Telefónica's perspective, Allianz Capital Partners appears to have emerged as the preferred partner following negotiations with other potential investors, said to have included Macquarie Capital (which created a similar operation in Spain with the purchase of MÁSMÓVIL assets); Antin Infrastructure Partners (the owner of Spanish fibre operator Lyntia); and other infrastructure investors such as Brookfield Infrastructure Partners and Kohlberg Kravis Roberts (KKR).
The Allianz unit comes with a recent track record in European broadband investments. In 2019, for example, it acquired a 75% stake in Niederösterreichische Glasfaserinfrastrukturgesellschaft (nöGIG), which is deploying a fibre-to-the-home (FTTH) network in Austria. In the same year, it acquired a 49.99% stake in SFR FTTH from Altice France, together with AXA Investment Managers–Real Assets and Omers Infrastructure.
O2 on a mission in wireline
Shortly after announcing the DT deal, O2 Germany flagged that it was "attacking in the fixed network market" with the release, from 3 November 2020, of reworked and "simplified" wireline tariffs covering DSL, cable, and fibre connections.

Neal Doran is a Senior Analyst for TelcoTitans. Neal's industry knowledge and experience as a telecoms analyst and writer spans three decades, and he has been a key part of TelcoTitan's Editorial team since 2001.