Presidential decree to freeze broadband, telephony, and pay-TV tariffs until end-2020 further weakens Argentina's place in Telefónica world.
Move seen as damaging enough to warrant cross-industry response.
In subsequent dialogue with Enacom, operators show some willingness to play ball in return for assurances on "industry sustainability".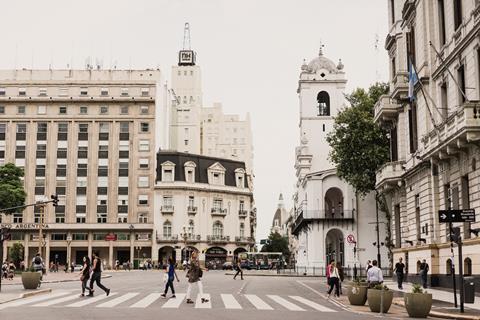 Telefónica Argentina, which has long been a drag on Group performance, initially came out fighting against Decreto de necesidad y urgencia (DNU) –– a necessity and urgency decree targeted at the telecoms and media sectors –– issued by President Alberto Fernández, somewhat bizarrely, on Twitter.
By declaring broadband, fixed-line, mobile, and pay-TV as "essential public services", Fernández ruled that current tariffs must be frozen until the end of 2020. Moreover, any price hikes afterwards must first be cleared by the state.
In a quickly prepared joint media statement with other telcos and pay-TV providers in the country, Telefónica Argentina claimed that "such an untimely and inconsistent rule change has a profound negative impact". It warned that these measures would "put the brakes" on Argentina's ICT sector.
The government is also reportedly anticipating "inclusive plans" for provision of basic services to low-income groups. What this might mean in practice is not entirely clear.
Maryleana Méndez, Secretary General of the Inter-American Association of Telecommunications Companies, of which Telefónica is a member, said the "announced measure affects investments made by all operators and harms future deployments". She added that the decree "surprised and generated a lot of uncertainty in the market".
Prior to the Fernández decree, Telefónica Argentina and other operators were gearing up to raise prices after "months of freezing" owing to COVID-19.
Cooling-off period
Following the issue of "DNU 690", representatives from Telefónica Argentina, Telecom Argentina, and América Móvil's Claro met with Claudio Ambrosini, President of Entre Nacional de Comunicaciones (Enacom), the country's telecoms and media regulator, in early-September 2020.
The mood was reportedly conciliatory, with the three companies apparently willing to "work on a common agenda for the regulation of DNU 690", and to establish "regulation that meets the needs of all members of the telecommunications sector, and that takes into account the interests of users and consumers".
In a further sign that operators were buckling down to DNU 690, they agreed with Enacom that customers receiving an invoice after 31 July 2020 that contained raised tariffs would receive a credit note in their next invoice.
In terms of a quid pro quo, operators expressed the need to have a "predictable horizon" with respect to the market, and to "guarantee the sustainability of the industry". What Telefónica Argentina and its rivals had in mind here was not made clear.
Crying over Argentina
Even before the new pricing restrictions were announced, Telefónica Group was already distancing itself from the under-pressure Argentinian operating business.
Telefónica Argentina has seen write-offs attributed to a "high inflationary and currency depreciation scenario", and the whole Hispanoamérica division, in which it sits, is considered non-core and not reflective of the 'new Telefónica' (Telefónicawatch, #141, #146, passim).
Telefónica performance against guidance, Group, and selected operating businesses: Assessing the impact of Argentina on FY19 performance
Revenue change (organic)
OIBDA change (organic)
Source: Telefónica.

FY19 guidance

Around 2%

Around 2%

Group performance

FY19 parameters

3.2%

1.9%

Excluding Argentina

0.8%

0.5%

Ken has been writing about developments in the fixed and mobile markets for over twenty years. He has been a contributor to TelcoTitans since 2015.