Satellite player set to challenge FiBrasil's co-owner in Brazil's growing ultrafast broadband market.
Sky's move may sound the starting gun in renewed race to build bundled offerings in underdeveloped converged services sector.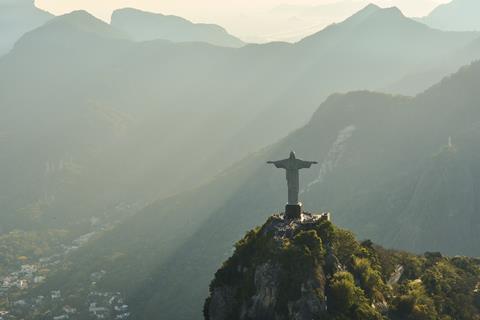 Sky Brasil is to launch fibre broadband services after entering a wholesale access agreement with FiBrasil, the fibre InfraCo jointly owned by Telefónica and Canadian investment fund CDPQ. The deal will see the satellite TV business, which is owned by Grupo Werthein, compete directly in the broadband market with Telefónica|Vivo.
The non-exclusive fibre agreement will enable Sky to offer fibre services to its 4.1 million pay-TV customers. According to local reports, Sky Fibra is initially set to launch in between 60 and 70 locations across the country, with plans to expand to 170 towns and cities by the end of 2022. It appears that Sky engineers will be responsible for connecting households to the FiBrasil fibre network.
Raphael Denadai Sanchez, Sky Brasil's President, said that FiBrasil was selected for the initial launch based on footprint, price, and willingness to meet Sky's partnership conditions.
Denadai is a Telefónica veteran, having spent 15 years with the Group before leaving to join Cinemark as Chief Financial Officer. In 2019, he switched to Sky in the same role, prior to taking the top job in 2021.
Sky Brasil already offers up-to-25Mbps broadband services based on fixed-wireless access technology, with a customer base of about 150,000. While the service is not being closed, the priority is now fibre access, and FWA customers on the FiBrasil footprint will be encouraged to switch to the fixed-line service. Sky's initial fibre offerings are 200Mbps connectivity for a monthly fee of BRL 119.90 (€23), reduced to BRL 89.90 per month on a six-month promotional rate, and a 400Mbps product for BRL 169.90 per month (BRL 129.90 on promotion). Sky is not currently charging for installation or equipment.
Currently, Vivo offers 300Mbps broadband for BRL 120 per month, and 600Mbps for BRL 160 per month.
Fibre connectivity will open opportunities for Sky to move away from costly satellite-driven services and towards less capital-intensive IPTV services in the future. The business is pursuing several options for growth, including through the acquisition of Oi's pay-TV assets, which include its IPTV platform. It is also attempting to develop a free-to-air broadcast offering, intending to build a base that could be upsold premium pay-TV subscriptions.
However, the FiBrasil footprint will remain relatively modest in the near future: the target is six million premises by end 2024 in a country of more than 70 million households; and a larger operator may be needed as a partner in more densely populated regions and cities. This could provide an opportunity for collaboration between Sky and a fixed-line operator such as Vivo.
A fibre competitor, but perhaps a bundling partner?
While speculative at this stage, the Sky move may sound the starting gun on a more widespread attempt to develop a converged services market in Brazil.
Through its Claro operations, América Móvil is currently the most complete converged fixed service provider in Brazil, with a 43% pay-TV market share and 23% broadband share. Sky is currently the second player in the pay-TV market with a 27% share, although the acquisition of Oi's 20% market share could put it in the lead. Meanwhile, Telefónica|Vivo is fourth in pay-TV with a 7% market share, and is the second-largest fixed-broadband provider with a 15% share.
It could therefore be argued that Telefónica and Sky have a common convergence enemy.
Telefónica has previously expressed an interest in the Sky business and, several years ago, was linked with a possible acquisition of Sky Brasil when it was still owned by AT&T (Telefónicawatch, #101). Now, bundled Sky and Vivo products — driving fibre adoption in emerging regions, and offering value-add opportunities in established market segments — could bolster both parties' core services. This could not only challenge the strength of Claro, but also provide a way to respond to the rise of OTT players in the Brazilian market.
The traditional pay-TV market has been waning in Brazil in recent years, with piracy and the rise of players such as Netflix blamed for declines. Market penetration for traditional multi-channel TV services has fallen from about 27% at the end of 2014, to just below 20% at the end of 2021. Telefónica|Vivo, meanwhile, stopped selling direct-to-home services in 2019 with a total switch-off set for the end of 2022. It is now focused on its Vivo Play app-based offering, but even here is seeing subscription declines, with a base of 891,000 customers at the end of June 2022, down 3% on a year earlier.