Another social pact unveiled as COVID‑19 and currency falls combine to wipe €1.5bn off reported revenue, and shred profitability.
Cash generation a priority as strict — and seemingly permanent — spending and investment restrictions are put in place.
Telefónica Infra ambition emerging as plans for new wholesale fibre networks anticipated for core markets.
Telefónica Tech held up again as the future, but core service revenue still sub‑€1bn for H1 FY20.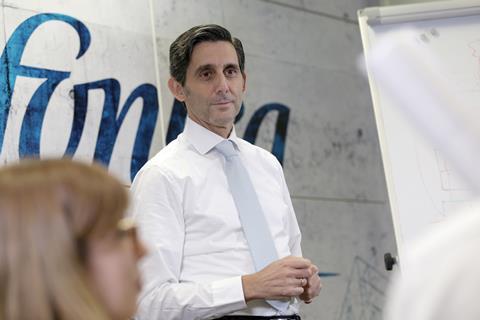 Telefónica in recent quarters has jazzed up its quarterly results updates with social media infographics, and management talking-head videos showcasing the discussion points and progress made by the Group as it aims to become more a relevant digital communications giant and less a staid telco. These shiny baubles and moderately aggrandising videos were absent as the Q2/H1 FY20 results dropped, perhaps understandably as the one‑two punches of a global pandemic and a collapse in Latin American currency values contributed to a 15% year‑on‑year drop in quarterly revenue to €10.3bn, and 25% collapse in OIBDA to €3.3bn over the same period. Meanwhile, earnings-per-share was down 54%, and free cash flow fell by more than 25% year‑on‑year.
Instead, Telefónica offered distractions from its financial performance with new deals and more new initiatives. The unearthing of a new buyer for its Costa Rican business just months after Millicom pulled the plug was held up as an example of responsiveness and dynamism. There was also the unveiling of a new pact called the Digital Deal, which is intended to put digitalisation to use in the cause of social improvement — marking yet another attempt by Executive Chairman José‑María Álvarez‑Pallete to establish a sense of purpose for the Group.
As an update on existing Digital Manifesto plans (Telefónicawatch, #128), Álvarez‑Pallete suggested the adoption of digital technologies will be essential to economic and social recovery from the impact of the pandemic. The programme is set to have a Europe‑wide ambition, but the initial tangible changes will be in Spain, where Telefónica is aiming for 100% fibre coverage by 2025, and promising to take a lead in 5G (despite not yet having launched in the country yet). At the end of this announcement, the release of the results was included almost an afterthought, and the Group may have good reason to focus on its loftier goals.
Generating cash and cutting costs
Beyond the horrible headline reported figures, which the Group could not even bear to include in the initial highlights page of its report, the organic performance was still (understandably) bad, but less hair‑raising.
On this basis the Group's four core markets of Brazil, Germany, Spain, and the UK saw comparatively modest falls with collective revenue down by less than 4% and OIBDA down by around 6.5%. An emphasis on digital channels helped these businesses continue to operate with heightened efficiency, and no doubt aided by lockdown restrictions making it more difficult for end‑users to move providers, customer loyalty and satisfaction were said to have improved.
Telefónica has been increasingly focusing on cash generation as the bellwether of Group health, and this has intensified in 2020 as traditional metrics and comparisons prove more challenging. In Q2 FY20 the new favoured metric of OIBDA minus capital expenditure (essentially operating cash flow) was down less than 1% organically, despite a 5.6% (€1.8bn) drop in revenue.
To achieve this, the Group cut back its own spending strongly, with operating cost reduced by 5% organically, and capex slashed by 22%.
Highlighting the cuts in capital investment required a potentially tricky balancing act for management, with Telefónica maintaining that it is continuing to drive forward with the creation of next‑generation infrastructure even as it put the brakes on spending. According to Chief Financial & Control Officer Laura Abasolo, a stricter approach to allocation of resources and relentless prioritisation has enabled the Group to continue funding its network rollout plans, while still saving money.
This tough new approach is not expected to be a temporary thing, either, with Abasolo adamant that the reduction in current spending is not just a matter of pushing outlay further down the pipeline, but also a new approach that will be maintained in coming years.
Lurking fears of a downgrade
The results presentation saw a lengthy discussion on Telefónica's credit rating, and rumblings that a downgrade could be on the cards at Moody's or Standard & Poor's which already has a "negative" outlook for the operator.
Both Abasolo and Álvarez‑Pallete dedicated significant time to responding to analyst questions on the topic, emphasising continued dialogue with the agencies, progress in deleveraging, and an expectation that the Group will significantly surpass market expectations on cash flow for the year. Sounding more animated — and arguably more agitated — than usual, the Executive Chairman listed ongoing and potential inorganic actions that are to help bolster the Group's finances. These included the asset sales in Latin America, the UK JV with Liberty Global, the potential for Telxius to monetise more towers, and the potential for investors to be found to buy into Telefónica Tech.
Abasolo, meanwhile, appeared to acknowledge the decision is out of the Group's hands, saying "it is for them to judge, but for us to explain everything we are doing to deleverage".
Infra ambition to fibre‑up the world
With its latest results presentations, Telefónica has confirmed a bold new strategy to develop a fresh approach to fibre infrastructure rollout in markets outside Spain, as previously reported by Telefónicawatch in April 2020 (Telefónicawatch, #142).
The Group has indicated that in Germany, Telefónica Infra‑controlled Telxius is analysing the potential of creating a new infrastructure venture that will bring full‑fibre networks to remote rural areas of the country, and see it wholesale access to the network to wider market. The venture will be controlled by Telxius, potentially with Telefónica Deutschland as a stakeholder, with investment funds invited to participate.
Management stressed that the venture will be a neutral wholesale service provider, offering access to the infrastructure to all local players, although O2 Germany will be an anchor tenant. Until now, O2 Germany has been focused on offering fibre and ultrafast fixed‑line services through wholesale agreements with Deutsche Telekom and Vodafone Germany, and the mooted Telxius venture will feed into that strategy, serving customers in currently underserved regions.
A similar venture is being considered for Brazil, to sit between Telefónica|Vivo's own network infrastructure upgrades in major urban centres, and its franchising model for the most isolated parts of the country. Between these two extremes, the Group considers that capital could be attracted into a joint enterprise delivering neutral access.
The UK may be next on the list. When the Group unveiled the proposed merger with Virgin Media in May, it suggested its fibre skills could be put to use in accelerating the cableco's Project Lightning FTTP rollout. While management at the H1 FY20 results presentation could not say too much about any plans they might implement when the merger is completed, they appeared quietly confident that from 2021 there may be an opportunity for the UK to follow in the footsteps of Telefónica's other major markets.
The Telefónica interest in fibre infrastructure management does not end in its core operating businesses, either, with Abasolo noting that the Hispanoamérica division under her control is already on this path, with plans along the same lines in Chile.
Telefónica Tech remains an enigma
Eight months after the restructure that created Telefónica Tech was announced (Telefónicawatch, #139), the scope and the scale of the division still appears confusing to TelcoTitans, and the latest presentation did little to clarify its parameters.
There are indications that it is a wide‑ranging division embracing all business‑to‑business activities, and not just digital services, but it is not yet identified as a contributor to Group revenue so the extent of its responsibility is unclear. Meanwhile it is also unclear if Consumer‑focused technology business is within the division, and any information on this segment has vanished from reporting.
It appears, though, when management refers to Telefónica Tech performance, it is often referring to the Tech Services kernel of the business, which is the collective name for the cloud services, cybersecurity, and IoT units of the Group. These are being "carved out" into independent entities within the division, with the restructuring of cybersecurity operations said to have been completed (Telefónicawatch, #144).
The limited financial information provided suggests that these three businesses are still some way from being at a scale where they could be considered the driving force of the Group, with a combined €756m in revenue over the entirety of H1 FY20. Telefónica stated that this marked an 18% year‑on‑year increase for the half year, and featured 14.5% year‑on‑year growth in Q2. However, based on previously reported figures of €460m in Tech Services revenue in Q1 FY20, Q2 revenue of less than €300m appears surprisingly low.
More positively, lockdown appears to have helped the cloud services and cybersecurity units return to solid growth after a slowdown at the end of FY19. However, IoT and big data revenue declined marginally for H1 and by 9% in Q2 FY20 as installations were suspended as a result of movement restrictions.
In H1 FY20, Telefónica Group generated roughly €2.6bn in revenue from its business with major corporate customers from a total of €4.3bn for the business segment. Revenue across B2B services was down 3% for the half year and 6% for the quarter as SME spending was hit particularly hard by the COVID‑19 crisis.