Venture has target of reaching 13,000 rural communities in Peru by end of 2020.
Telefónica now has sights set on deploying thousands of open RAN nodes in "core markets".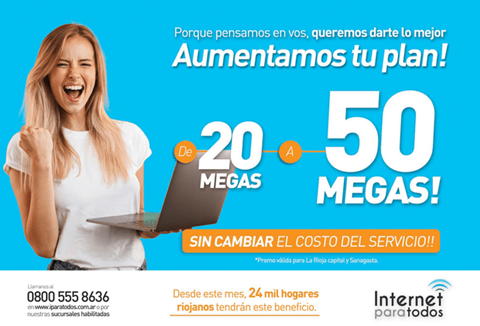 Teresa Gomes, Chief Executive of Internet Para Todos (IpT), the Telefónica Perú-backed wholesale rural wireless company using open radio access network (RAN) technology, said she was "hoping" to cover more than 13,000 remote communities by the end of this year with "high-speed internet access" based on 4G.
The coverage update came on the back of an announcement that IpT had managed to connect 270 rural communities in Cajamarca, northern Peru, to 4G internet. The aim is to more than double that number in the region by the end of 2020. Providing internet access to local students was flagged as particularly important, doing away with the need to travel in order to find a signal.
Launched in May 2019, IpT had connected 1.6 million Peruvians across 10,000 rural communities by the time it celebrated its first-year anniversary. Its ambitious aim of connecting more than 30,000 rural communities by 2021 still remains in place.
Peruvian pioneers
Alongside Telefónica Perú, the original IpT backers are Facebook, the Development Bank of Latin America, and IDB Invest. In terms of open RAN deployments, IpT and Telefónica Perú are leaning heavily on work done by the OpenRAN Project Group, which falls under the auspices of the Facebook-backed Telecom Infra Project (TIP). Parallel Wireless and Altiostar (in which Telefónica has a stake) provide software running on general purpose processing platforms, to support its rollout.
Other access solutions are being explored to reduce the cost of rural coverage. In November 2019, Alphabet-owned Loon, the high-altitude balloon company using stratospheric technology to provide internet connectivity on Earth, signed a commercial agreement with IpT (Telefónicawatch, #139).
"This successful Peru deployment is proof of our commitment to simplify and reduce the costs of our radio networks using innovative solutions", claimed Patrick Lopez, Telefónica's Vice-President of Networks Innovation, in a recent case study published by Parallel Wireless. He added that an "open and programmable RAN was an important part of the solution".
IPT functions as a rural mobile infrastructure operator. Through a wholesale model, it offers access to all mobile operators wanting to lease rural connectivity. Telefónica has high hopes that the IpT project, based on the Peruvian model, will eventually connect more than 100 million people in Latin America (Telefónicawatch, #121 and passim).
Bringing open RAN closer to home
IpT has no doubt provided a useful open RAN rural testbed for Telefónica, but the Group now wants to see the tech up and running in its "core markets", supporting both 4G and 5G in suburban and urban areas.
Enrique Blanco, Chief Technology & Information Officer (CTIO) at Telefónica, in a recent by-lined Light Reading article, reiterated his aim of conducting open RAN pilots in Brazil, Germany, Spain, and the UK. These will apparently last until the beginning of next year.
"Our intention is then to ramp up towards the thousands of nodes in these markets. The ambition is for open RAN to reach up to 50% of the 4G and 5G RAN growth between 2022 and 2025", wrote Blanco.
Among the suppliers collaborating with Telefónica on open RAN are Altiostar, Gigatera Communications, Intel, Supermicro, and Xilinx.
"The main goal is help prescribe the necessary hardware and software components, including testing the complete solution in the lab and in the field, integrating an open RAN model into our end-to-end virtualization program (UNICA Next). The collaboration will help mature the operational model, with new services and automation."

Blanco.
The CTIO cautiously added, however, that it will, "take time to carry out the interoperability tests that will be needed to prove the maturity of the technology".
Is TIP a radio laggard?
Blanco is adamant that, if open RAN is take off, then harnessing the interfaces and architectures of the O-RAN Alliance and TIP will be key. But when it comes to developing remote radio heads (RRH), capable of supporting massive MIMO and 5G, TIP seems to be behind the pace.
Rakuten Mobile, Japan's disruptive virtualised mobile network operator, plans to unveil this month what it calls the "world's first" massive 5G MIMO RRH, using a 32T/32R configuration and being "fully compliant" with open interface specifications laid out by the O-RAN Alliance.
TIP's OpenRAN project is aiming to get a sub-$1000 (£760/€846) RRH to market during the first quarter of next year, but that is in a traditional 4T/4R configuration.
Santiago Tenorio, TIP's Chairman — and Vodafone Group's Head of Network Strategy & Architecture — pointedly noted in a recent Light Reading webinar that massive MIMO was "difficult to do".

Ken has been writing about developments in the fixed and mobile markets for over twenty years. He has been a contributor to TelcoTitans since 2015.