Vestager distracts from four-to-three merger demands by highlighting potential for creation of pan-European big beasts.
But is this feasible in any imminent iteration of Europe, beyond cross-border infrastructure ventures envisaged by Orange?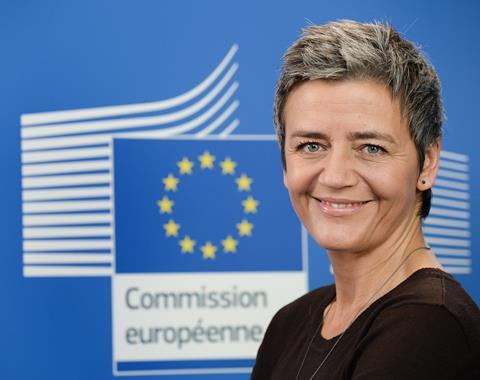 Recent comments from the European Union's Competition Commissioner Margrethe Vestager suggested that the European Commission would welcome moves within the its telecoms sector to create larger cross-region businesses to re-balance the continent's fragmented market. Nonetheless, it appears that the authority remains resistant to in-market mergers it fears could restrict competition.
Speaking on a Financial Times panel in June 2020, Vestager talked up the potential for cross-border consolidation as an appealing prospect for business, and a development that could be considered in the spirit of the European cooperation that the Commission is intended to foster.
"In some sectors, there is indeed room for cross-border consolidation; the telco sector in particular because here we still have very national markets… It would be good to have more pan-European players."

Vestager.
The Vestager remarks were framed as a response to the decision of the European General Court at the end of May 2020 to annul the decision by the Competition Commission that blocked the merger of CK Hutchison's Three UK with Telefonica's O2 UK. However, perhaps pre-emptively, the Commissioner has been calling for greater pan-European consolidation from before this ruling was laid down.
The reiteration of the cross-border consolidation call may be an attempt to hold the Commission's position on resisting in-market consolidation as the prospect of an appeal on the General Court's latest decision awaits.
"Instead of only thinking about consolidating within the national market, then [we can have] a more pan-European approach. We have seen a few [recent] mergers in that direction, but not many."

Vestager.
A key and very possibly insurmountable challenge may be what is meant by 'regional consolidation' or 'big beast'. For telcos and investors, this may resemble a unified AT&T or a Verizon (US giants with a comparatively coherent backyard of over 300 million subscribers and $22trn GDP) rather than the awkward and inefficient corporate federations currently in place to serve Europe. This looks impossible in any currently feasible iteration of Europe, a market of over 400 million and $16btrn GDP that is fragmented into 27 awkwardly unique nation states where service sectors remain intentionally disjointed and incumbent telcos are deemed critical national interests.
Giants may jockey for position…
Considering this seeming invitation at face value, a gaggle of operators spring to mind as potential participants in consolidation:
Just outside the EU perimeter, BT Group, with its Openreach cash cow and dominant position in the UK market — and a recovering but fragile international IT services division housing a leading cybersecurity unit — looks an attractive proposition for a bigger European peer willing to brave the perils of the pension poison pill (and Brexit complications).
Dutch operator KPN, which has been contracting to its base in recent years after earlier expansion, could have a similar appeal on a slightly smaller scale and a bigger European buyer may be more acceptable to management and politicians than Mexico's América Móvil, which attempted to take control of the business as a beachhead into Europe but ran into resistance.
Deutsche Telekom (the region's relative giant) and Orange (France's national consolidating champion) could be candidates to lead deals of this nature, with DT already a strategic investor and BT. On a more ambitious scale, the pair could hook up themselves, with both groups in recent months having been pushed to deny rumours of a merger promoted by speculative media reports.
Telefónica, where Group Executive Chairman José María Álvarez-Pallete has romantically talked of "the stars aligning" on European consolidation, may not currently have the muscle for ambitious consolidation activity. However, several years ago it was linked to another challenged Southern European major in Telecom Italia. A major stakeholder in its Italian peer for the best part of a decade, before selling its interest to French matchmaker Vivendi as part of a deal to secure GVT in Brazil in 2015, the prospect of closer ties re-emerges from time to time. The pair already work more collaboratively in the Brazilian market, with infrastructure sharing in place, and work underway to divvy up the mobile assets of Oi. While national politics is considered, as with many deals involving incumbents, to be a stumbling block, there may be opportunities for the pair to bring their burgeoning partnership to Europe.
Vodafone Group has also indicated that it has put big deals on hold, but must still be a contender along with mavericks like Liberty Global and CK Hutchison, along with predatory private equity players.
The US giants currently look preoccupied at home, with AT&T in the naughty corner as punishment for recent strategy and M&A overstretch, but in future could again be envisaged swooping on Europe, with Vodafone an obvious target. Chinese players would likely face unsurmountable geo-political regional pushback at the current time, but along with other international players might with effort be able to crack individual dominions.
… but new ways of thinking may be required
The idea creating ever-bigger operator groups spanning the continent has an almost prehistoric feel to it, and does not on the face of it appear to quickly solve the challenging operator economics that operators have previously pushed for with in-market consolidation. Pressure on revenue and profit would remain as unabated competition meets surging demand for data services.
It could be, therefore, that operators focus more on the prospect of infrastructure ventures that fit in with the current enthusiasm for monetising network assets. According to comments from Stéphane Richard, Chief Executive of Orange, made in late-2019, the Commission may be open to more innovative thinking on the nature of cross-border deals.
"[Vestager] told us very clearly that she was very strongly in favour of network sharing and network consolidation, which is a form of consolidation… The second point is that she told us that everything that is pan-European will be strongly supported by the EU Commission."

Richard in the Financial Times.
National governments may also have their say
In April 2020, as market turmoil left many major national companies at risk from overseas acquisition, Vestager had encouraged national governments to invest in national businesses to prevent unwelcome takeovers. While state intervention may not be the long-term favoured means of preventing the risk of overseas state-backed organisations taking control of vital assets (with China the greatest perceived threat), the EC appears happy for governments to take whatever steps necessary to protect corporations at risk of going cheap, at least until new regulations can be drawn up. Nevertheless, the signal that nations can take a more interventionist approach on resisting takeovers may still come into conflict with the Commission's enthusiasm for pan-European consolidation.