Liberty CFO Charlie Bracken talks up management benefits of separating infrastructure from service, but imminent hard split not on the cards.
Quest for simplicity that drives shareholder value shown to be a key driver of evolving ServCo/NetCo strategy.
Liberty Global keeping options open on end-game for fibre JVs, with Bracken citing Group's track record of restructuring to most effectively monetise assets while pondering sale or integration.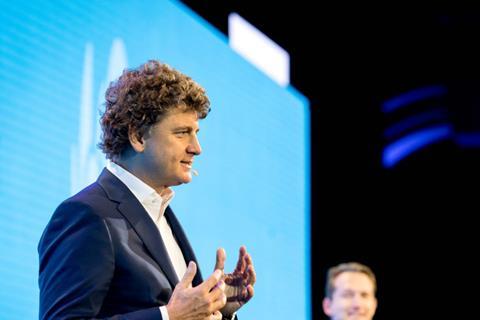 Charlie Bracken, Executive Vice-President and Chief Financial Officer of Liberty Global, played down any prospect of an imminent division of the Virgin Media O2 joint venture into separate NetCo infrastructure business and customer-facing ServCo. However, the appeal of unlocking value and more focused performance from such a split appears evident, and may yet be pursued as part of a longer-term strategy for extracting the greatest value from the UK assets shared with Telefónica Group.
Speaking at a Bank of America Securities event, Bracken positioned a NetCo–ServCo strategy, already in progress with Telenet in Belgium, as intrinsic to Liberty Global's plans across its footprint. He recognised an "increasing divergence" on the different demands running infrastructure and delivering commercial place on management, but said that, for most of its major markets, Liberty Global is "not sure we're quite ready to do [the] full hard split".
" Long term, we're very cognisant of the importance of trying to create two management focuses. One is on building a network and leveraging the network and getting the highest return on capital on that. The other is a much lower capital business, the ServCo. We have some very strong ServCos, and I think they're some very attractive businesses as they develop and sell new retail services, and can also be partners for other people's wholesale networks where it makes sense. "

Bracken.
Speculation on the imminent possibility of VM O2 seeing a fundamental InfraCo and ServCo divide first emerged towards the end of 2021 with Bloomberg reporting that Liberty Global was examining the potential for ServCo/NetCo splits, and that Telefónica was open to the idea in relation to VM O2. Accenture had reportedly been brought in to help map out a potential division, with the joint venture's fixed infrastructure valued at just shy of £10bn (€11.6bn) by analysts.
Although none of the parties would comment at the time, at a subsequent results presentation in November 2021, Liberty Global Chairman and CEO Mike Fries confirmed that the idea of a separate NetCo in the UK was not ruled out, but did not firmly rule it in either.
Fibre to the UK a key Liberty Global priority
The priority for Liberty Global in the UK now appears to be ensuring that a wider build out of its network in the country, alongside preparations for a future switch to fibre-to-the-premises from its legacy cable infrastructure.
As has been the case with other senior Liberty and VM O2 executives, Bracken appears confident that prepping the existing infrastructure for the FTTP switch will come in at a relatively modest cost of £100 per home passed. The upgrade programme, known internally as Project Mustang, will be completed over seven years, with a degree of frontloading on the cost having an impact on current free cash flow for the converged communications JV.
The two parent companies of the JV have also previously confirmed they are looking to create a separate vehicle to build out the VM O2 fibre network in the UK to cover an additional seven million homes, with talks underway with potential investors and customers.
This planned vehicle for fibre investment will be ready to bring outside passengers on board as Bracken anticipates consolidation among the plethora of fibre overbuilders currently operating in the UK, fuelled by equity investment. He noted the potential to swoop in and pick up these assets should they become distressed, and considers that the business plans of a number of emerging fibre players depend on hitting particularly high penetration rates on the network footprint. He claims to have seen estimates of 50%–60% penetration used as a foundation of cases. This would surpass the levels the country's two biggest hitters BT and Virgin Media can reach collectively — a level of ambition and expectation that may ultimately undermine the viability of some emerging challengers.
Across both the new build and upgraded networks, Bracken highlighted the long-term opportunity to take wholesale market share from BT's Openreach as a key motivator. However, finding prospective wholesale customers appears a work in progress, with the CFO referencing "dialogue" with potential users, while acknowledging Liberty is not ready to make announcements on this front.
Keep it simple, shareholders
Keeping the new fibre rollout business as a separate entity to VM O2, with Liberty Global and Telefónica as direct shareholders, was explained by Bracken as a move to try and keep complexity out of the VM O2 business.
He emphasised that complexity in a business can deeply undermine valuations, and the challenge with bringing a fibre buildout company into an established operator is that it is "difficult to measure a negative free cash flow high-growth new build company combined with a mature strong cash flow-generating company".
Bracken considered there are three likely future evolutions for the UK fibre build business once the rollout is completed: it could be publicly listed; sold to private investors: or rolled up into the Group. The key message from Bracken at the event targeting institutional investors was that Liberty Global will seek to generate the greatest shareholder value with its ultimate decision on how it structures its interests, and no options are off the table.
Recent research from Deloitte appears to confirm Bracken's beliefs. The Rise of the NetCo report highlighted that valuation of InfraCos can be 15–20 times annual operating margin, while this valuation tends to hover around six to seven times for traditional telcos.