Quiet support for a boardroom coup at Prisa indicates Telefónica's political muscles as business priorities coincide with larger social challenges.
Telefónica supporting government recovery goals, but lobbying for a more favourable investment environment as 5G auction looms.
Group emphasising its Europe role as Latin America retreat sees grumbling.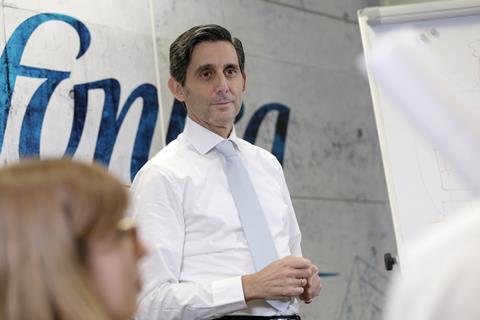 After many years during which the Group has under his leadership seemingly attempted to steer a path away from overt political engagement, Telefónica Executive Chairman José-María Álvarez-Pallete appears to be taking a more direct approach towards influencing government strategy at both domestic and international level.
The change in tack comes as Telefónica faces challenges across its footprint, and touches upon the future of 5G development in Spain and beyond, the Group's attempts to extricate itself from operations in Latin America, and the hope of creating a new regulatory and competitive environment across the European Union (EU).
The Group currently finds itself under pressure from all sides, with analysts expecting more dramatic restructuring to address financial vulnerabilities, and demonstrations that investment will not be undertaken without the likelihood of decent returns. These expectations are coming into conflict with political opinion in Spain that suggests concern that the Latin American retreat is draining the country's global influence, and apparent hopes that the government will be able to squeeze operators for additional funds in future spectrum auctions.
Telefónica finally wields influence at Prisa
The clearest example of Telefónica's reengagement in politics with the goal of exerting its influence on the public discourse can be seen in its role in significant recent management changes at Spanish media group Prisa, in which the Group holds a 9.4% stake.
Here, the Executive Chairman appears to have been a willing player in a boardroom coup that saw two new figures with links to the current government and a history of support for Telefónica elected as directors of the group, which controls influential Spanish newspapers Cinco Días and El País.
Amber Capital, Prisa's largest shareholder with a 29.84% stake, was said to be dissatisfied with the progress of the recovery plan pursued by now-former President Javier Monzón. In what appeared to be an ambush of the Prisa management, an Extraordinary General Meeting (EGM) of shareholders was instigated by Amber in late-December 2020, with support from Telefónica. The meeting saw a motion to remove Monzón passed, with Joseph Oughourlian, co-founder of Amber, installed in his place. Monzón's exit also prompted the resignation of Sonia Dúla, Chair of the Prisa appointments committee.
When Oughourlian, already a Prisa board member, took up the role of President, it created two vacant seats in the Prisa oversight team. Telefónica and Amber are said to have coordinated discussions on replacements, and Álvarez-Pallete put forward the names of Rosauro Varo and Javier Santiso, the two new board members.
Varo is said to be a longstanding Álvarez-Pallete associate; the pair are both avid runners and have trained together in recent years. Varo was also a joint owner of MVNO Pepephone, and oversaw its €158m sale to MásMovil in 2016. Subsequently Varo founded GAT Inversiones, which has a "relevant position" as a Telefónica stakeholder, and was an early backer of Spanish ridesharing "unicorn" Cabify. Varo has recently been a public advocate of Telefónica's Aura cognitive intelligence programme and platform approach in the communications sector. Another Pepephone alumnus, Pedro Serrahima, is a high-flyer in Telefónica España's management (see separate).
Varo also has political heritage, with his mother holding prominent roles in Spain's currently-ruling Socialist Workers' Party (PSOE) and having filled key roles in the Andalusian government. Equally significantly, Varo is said to be close to Javier de Paz, a Telefónica Non-Executive Director and PSOE eminence grise (Telefónicawatch, #105, #131, and passim). de Paz has recently lobbied Prisa with a view to making its newspapers more amenable to the interests of the country's Prime Minister Pedro Sánchez.
The other new Prisa board member, Javier Santiso, is said to be a personal friend of Oughourlian. He also has links to Álvarez-Pallete and Telefónica, having been appointed a Director of Telefónica Europe in 2010, which was then headed by Álvarez-Pallete, and he subsequently went on to develop key strands of Telefónica's programme to elevate the role of emerging startups and new technology within the Group before leaving to set up his own venture capital fund. Santiso has also been a public advocate of the Telefónica Executive Chairman, identifying him as a key mentor in his personal development, and regularly praising him through social media channels.
Vivendi arrival prompts further speculation
In the weeks following the boardroom drama, French multimedia conglomerate Vivendi has begun to build its stake in Prisa. The group initially agreed to acquire a near-8% stake (seemingly owned by HSBC, a shareholder that had opposed the proposal to remove Monzón) before raising its stake to 9.9%. It is now rumoured to be seeking permission from Spanish authorities to raise its stake to 20% (there are currently restrictions on foreign ownership of Spanish-listed companies deemed nationally important).
Vivendi is controlled by Vincent Bolloré, a billionaire who in the past has clashed with Oughourlian over control of other business assets. However, the pair appeared to develop an alliance recently after their own tussle over French publishing and media group Lagardere was interrupted by the intervention of Bernard Arnault, who runs luxury goods group LVMH. Arnault had swept in to financially back Lagardere's Managing Partner Arnaud Lagardere against competing attempts from Amber and Vivendi to gain influence. In a similar move to that undertaken at Prisa, Amber then attempted to call an EGM at Lagardere to overthrow the management, with Vivendi support. Although the attempt was unsuccessful, it appears to have helped build an alliance between the two.
Telefónica and Vivendi's paths have crossed elliptically as the two companies pursue evolving strategies that have seen the worlds of communications and broadcast content converge. The prospect of Telefónica returning to take a stake in Telecom Italia, where Vivendi is the controlling shareholder, is regularly mooted, while Vivendi is believed to want to raise its profile in Spain. Vivendi is also said to be interested in adding audio-visual content assets to Prisa's print and radio portfolio, and Telefónica could be an obvious partner in Spain.
The rapid arrival of Vivendi as a significant Prisa shareholder in the wake of the coordinated Amber and Telefónica shareholder revolt may not be coincidental, and is likely to spark considerable speculation on possible partnerships, assets swaps, or other convoluted activity in the coming months.
Álvarez-Pallete calls for action to boost Spain's recovery
In another example of Álvarez-Pallete taking a higher-profile political role, the Executive Chairman has called on European authorities to accelerate distribution of recovery funds to Spain in order to provide the country's economy with the best opportunity to recover post-pandemic.
Spain is expected to receive around €140bn in recovery funds in the form of aid and loans. Recipients will need to demonstrate any funded programmes support strategic priorities of the EU, which provides a compelling reason for Álvarez-Pallete to frame communications generally, and Telefónica specifically, as crucial levers for recovery.
Álvarez-Pallete was talking to La Cope radio station, and predicted that the economic damage from COVID-19 would take up to two years to repair. The calls for external public investment were not intended to see funds funneled towards Telefónica or other major entities. Instead, Álvarez-Pallete appeared eager to see small- and medium-size enterprises (SME) benefit from investment.
The preferred purpose of the public spending, though, fits neatly within Telefónica's strategic goals.
" These funds have to be earmarked for digitisation and sustainability of the economy. If we do that, the rebound of our economy can be very powerful… [The question is] how do we coordinate so that the funds arrive as soon as possible, and not to the big companies that are well financed, but so that they reach SMEs as soon as possible, so that employment can recover as soon as possible. "

Álvarez-Pallete (translated).
Álvarez-Pallete remained distant from overt party politics on this occasion, and his comments instead referenced earlier consensus building within the Spanish parliament to deliver early responses to the crisis. He also praised the "magnificent work" being done by both the unions and the CEOE (Spanish Confederation of Business Organisations) in working on new agreements and ways of working in light of the coronavirus challenges.
Old habits die hard, though, and Alvarez-Pallete also reiterated his calls for European competition authorities to rethink regulations that he considers place telecoms infrastructure players at a significant disadvantage on the provision of new services when compared to the internet giants.
Álvarez-Pallete is said to be working with the Spanish government on applying reconstruction funds to digital projects, and is developing a closer working relationship with Prime Minister Sánchez — a relationship that may be enhanced by Telefónica's role in putting PSOE-friendly faces in senior positions at Prisa. The Telefónica boss was also a prominent figure at the unveiling of the Sánchez government's national recovery plan in September 2020, when the left-leaning administration sought to improve relations with major business in the country during the time of crisis (Telefónicawatch, #147).
5G auction another pressure point
The relationship between the Spanish incumbent and the country's government is not without its ongoing tensions, however.
Telefónica is unhappy with signs from the government that the upcoming 5G-suitable spectrum auction, expected to be completed mid-year, will be used as a fundraising exercise when the operator and its peers would rather see low licence costs to enable faster deployment.
Budget documents from the Ministry of Economic Affairs and Digital Transformation include a figure of around €2bn for anticipated auction income, compared to earlier estimates of a little over €400m.
Telefónica España Executive Chairman Emilio Gayo has already called for government to "avoid the fundraising desire", and instead to support the sector in delivering "technology that is the cornerstone of new industrialisation in Spain".
Gayo also estimated that 5G rollout in Spain could see €6bn in investment from the telecoms sector as he highlighted the commitment of Telefónica to the Spanish economy. The claims do not appear to be carrying much weight with government, however, and the ministry has described the price expectations as "commensurate and proportional".
Spain leaves room for Huawei as companies step away
The role of Huawei Technologies in Spanish infrastructure is another political matter Álvarez-Pallete is juggling, and here it is the operator that is not sticking to the government's official line.
The Executive Chairman had been identified as a supporter of the Trump administration's Clean Networks policy, which excluded Chinese vendors (Telefónicawatch, #145), while the Spanish government has been more open to Chinese technology as it continues to build strong economic bonds between itself and China. While the USA may not be as overtly pushing this policy under President Biden, Telefónica appears to be cooling its collaboration with the vendor.
Although Huawei won a contract with Telefónica in Spain to provide 5G core technology (Telefónicawatch, #139), almost as soon as the deal was announced, the Spanish operating business indicated it was working towards its replacement by 2024, with a focus on more open technology.
Spain is finally addressing the subject of infrastructure security with a bill currently passing through parliament, and expected to come into law in summer 2021. This will require operators to conduct in-depth reviews of the security of their infrastructure and supply chain, which will feed into a government review expected to be completed at least every six years. There appear no plans to explicitly restrict the use of Huawei equipment, but there will be support for supply chain diversification.
As demonstrated by the Group declaring a commitment to open RAN technology alongside its European peers, Telefónica is seemingly attempting to capitalise on wider EU concerns regarding the risks associated with Chinese vendors (and the technological and economic strength of China more generally) to promote its agenda of overhauling and revitalising EU approaches to competition and regulation, and clearing a path for operators to compete with hyperscalers.
Recent Group appointments indicate a tightening focus on EU relations and calls from Álvarez-Pallete in February 2021 for a radical overhaul of EU policy on the sector will feature in a future Telefónicawatch.
Telefónica faces home resistance as Hispam plans progress
Telefónica's move to exert greater influence in Europe and Spain coincides with its attempt to monetise assets in Latin America, which to date has not always been viewed favourably in national media.
In a late-2020 debate on Spain's role in Latin America in a post-COVID-19 world, Juan Luis Cebrián, a co-founder and former editor of newspaper El País, called for Telefónica to consider national interests as it retreats from the region.
Cebrián, who also previously led Prisa, said he was perplexed by Telefónica's planned exit, and urged the government to "encourage Telefónica not to make decisions that would affect the prestige and development of Ibero-American cooperation". Cébrián was in discussion with Spain's Minister of Foreign Affairs, EU and Cooperation, Arancha González Laya at the Organisation of Ibero-American States for Education Science and Culture event.
The minister was non-committal on the prospect of intervention in the Telefónica decision, although she did stress the country's focus on the region was "non-imperial", and more concerned with ensuring a level playing field for Spanish corporations operating in Latin America.
Telefónica has been indicating that 2021 will be the year that action is taken to monetise Hispanoamérica assets after a year of laying the groundwork, although it is also keen to emphasise that it will not be rushed into sales.
The current view among the financial community appears to be that there is a greater prospect of stake sales at national level, rather than a full-blown spin-out or sale of the regional business as a whole. Liberty Global's Latin American unit has been identified as a frontrunner, particularly in relation to acquisitions in Chile, Colombia, Ecuador, and Uruguay.
Reports on the El Independiente news site cited unnamed Telefónica sources claiming that the sale of the Chilean unit is a priority for the Group. Telefónica Chile is valued by analysts at around €3.8bn. Finding a buyer may prove challenging from a competition perspective, however, with in-market consolidation considered undesirable by national authorities. This could hamper a Liberty bid (it owns market-leading pay-TV and broadband provider VTR) as well any moves by América Móvil's Claro and incumbent Entel. Alternatively, Europe-based equity funds Novator Partners and Borealnet may provide a path of least resistance, with both having secured spectrum in the country's latest auction (Telefónicawatch, #149).
Telecom Argentina is reportedly considering a bid for Telefónica assets in Uruguay as it aims to expand its presence in the neighbouring country. Overall, the Hispanoamérica business has been valued at between €13bn and €14bn by analysts at Goldman Sachs and New Street Research.

Neal Doran is a Senior Analyst for TelcoTitans. Neal's industry knowledge and experience as a telecoms analyst and writer spans three decades, and he has been a key part of TelcoTitan's Editorial team since 2001.