Reports that tightened US sanctions may be a game changer on Huawei security pave the way for a UK government U‑turn on its approach to the vendor.
In Germany, leaked DT contract details underline willingness of Huawei to hedge operator risks with stockpiled supplies and financial guarantees.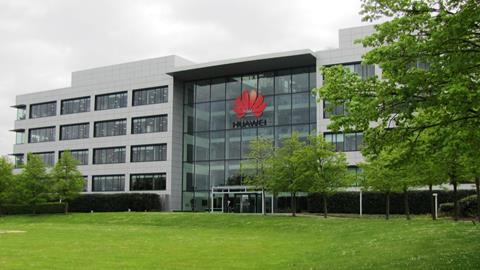 Leading network equipment producer (NEP) Huawei is continuing to battle for its future in European telecoms infrastructure, with internal documents from the German incumbent Deutsche Telekom suggesting it is willing to make considerable efforts to allay concerns on its supply chain as it faces fervent political opposition. However, it appears that the graduated solution (or fudge) proposed for the UK on perceived "high risk vendors" (HRV) may be revisited just months after its initial unveiling.
US blockade may finally bite in UK
According to weekend newspaper reports, the UK's National Cyber Security Centre (NCSC) will reassess the viability of maintaining an opening for Huawei equipment in UK infrastructure as the USA intensifies efforts to isolate the Chinese vendor.
US authorities have taken steps to prohibit Huawei from using any equipment that features US intellectual property, blocking the country's corporations from providing key components that until now have been used widely in Huawei equipment.
In May 2020, The US Department of Commerce issued rules specifically intended to prevent Huawei from using semiconductor designs based on US technology, even when manufactured outside the government's jurisdiction. The new prohibition, which comes fully into effect in mid‑September 2020, is expected to make it difficult, if not impossible, for the Chinese vendor to source critical components, and supposedly (or at least conveniently) derail the confidence of the UK watchdog that any replacement parts are sourced from a secure independent supply chain.
According to sources quoted in the Sunday Times, this intervention "fundamentally changes" the NCSC's view on the security of Huawei equipment, and will lead it to request the government's National Security Council issue a ban on acquiring new Huawei equipment by the end of 2020. The removal of existing equipment is expected to take longer, but it appears that the anticipated new advice may hasten the removal, with reports suggesting that operator hopes a 2030 deadline for complete removal are to be firmly dashed.
However, such reports from the NCSC have been subject to frenzied coverage in the past, with the acknowledgement of challenges and areas of concern that would naturally form part of a thorough risk assessment and mitigation plan portrayed as an existential crisis for UK network security (BTwatch, #296). There are also questions as to whether Huawei will be able to use more generic chips and technology from current suppliers (including UK-based and Japanese-owned ARM) that may open another loophole in the US sanctions, and Huawei has, as ever, stressed its transparency and cooperation with UK state scrutiny.
The latest report may therefore prove to be less definitive in its assessment than initially suggested. Nonetheless, with the political environment not becoming any more positive on the presence of Huawei in UK networks, any indication of uncertainty or heightened risk may be considerably amplified.
It was previously reported by Reuters that the NCSC has written to operators warning them to ensure they maintain sufficient stockpile of replacement parts from all vendors, while particularly highlighting the potential impact of the latest restrictions imposed by the USA.
The last straw, or a useful pretext?
A change (or at least hardening) in NCSC advice on the status of Huawei in UK infrastructure could provide the government with cover to perform a quick U-turn on the presence of so-called HRVs in the country's infrastructure, after plans unveiled earlier in the year to permit them to provide up to 35% of next-generation infrastructure met considerable political resistance even as it was cautiously welcomed by the telecoms sector.
The government is attempting to quell a rebellion among MPs particularly concerned over the security implications of HRVs in UK infrastructure (BTwatch, #311), and under pressure from the House of Lords where attempts to use telecoms legislation as a vehicle to pursue a harder line on toleration of human rights abuses from companies linked to China's government.
This said, it is conveivable that UK is playing tougher with China politically (such offering a haven to Hong Kong nationals), as a mitigating gesture to traditional ally USA, whilst maintaing a pragmatic or at least ameliorated technology and industrial policy that avoids entirely alienating rising economic buddy China.
Huawei taking pains to keep Germany sweet
Meanwhile, Politico carried reports of internal DT documents that appeared to show the extent to which Huawei is willing to insulate partners from risk as it battles to overcome the impact of US sanctions.
According to the website, DT and Huawei signed a renewed strategic partnership in 2019, ahead of the initial steps to exclude US technology from the vendor's solutions. This agreement included a commitment to indemnify the cost of damages and delays incurred by DT that could flow from disruption to the Huawei supply chain caused by external events. The commitment was not a carte blanche, however, and it was stated that the promise would be void should local authorities take action to restrict Huawei's presence. It also remains unclear to what extent heightened US sanctions may undermine the vendor's ability to fulfil its commitments.
With Huawei a strategic supplier for DT, and the German telco a "preferred customer" for Huawei, the 2019 agreement provided DT with a preferential claim over Huawei stocks and spare parts. The accord was said to require Huawei to establish emergency stocks of spare parts across the DT European footprint. The stockpile was expected to ensure sufficient supplies to maintain networks for two years without requiring additional imports. Under the agreement, DT is also able to return unused supplies at the end of the contract.
Despite the apparent close relationship, the signing of a landmark 5G contract between the pair was postponed in late‑2019 as a result of ongoing political qualms (Deutsche Telekomwatch, #90). Angela Merkel's governing coalition, and parliament as a whole, has been divided on the presence of Huawei, with the Chancellor seemingly swimming against the tide much of the time in resisting a ban. A decision on the matter has once again been postponed, with the government avoiding a vote on the matter prior to its two‑month summer recess.
Too big to give the elbow?
It appears that wider German industry concern on the risk of a backlash in China against a range of German businesses is driving Merkel's reluctance to bow to pressure to ban the vendor, but the significance of Huawei gear in German networks is also likely a key factor. A Strand Consulting report estimated that two‑thirds of DT's 4G base stations and antennas are supplied by Huawei, with other major European DT networks largely dependent on the vendor for RAN technology.
DT has been reluctant to detail the extent to which Huawei equipment is used in its infrastructure, describing it as a key vendor but stressing it is one among several. Cisco, Ericsson, and Nokia are mentioned in the same breath as the Chinese vendor. Other internal messages recently cited by German newspaper Handelsblatt described the prospect of excluding Huawei from 5G plans as "Armageddon".
While it would not comment on the Politico reporting of its internal communications, DT emphasised that it "takes the global discussion about the security of network elements very seriously".