New live-TV streaming service raises hackles of media partners over how channels are distributed.
Sievert does not see TVision as a profit pool, or loss leader, but way to stimulate demand for 5G and fixed wireless broadband.
TVision Home to shutter on 30 December 2020.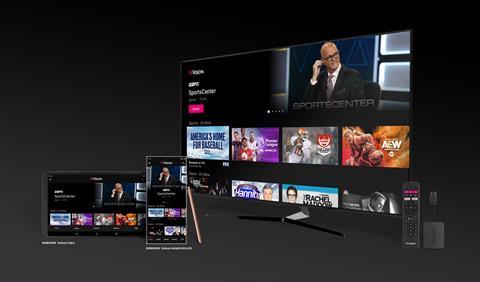 The launch of TVision, T-Mobile US' (TMUS) revamped and aggressively-priced live-TV streaming service, was overshadowed by disputes with content providers.
It was not something that Mike Sievert, Chief Executive (CEO) at TMUS, was evidently prepared for. At service launch, on 1 November 2020, the CEO bragged that TVision was "TV done right", and called it a wake-up call for a "cableopoly that holds TV fans hostage, bundling live news and sports into expensive packages with hundreds of other channels that people don't want, and don't watch".
Moreover, in an interview, he explained that "of course, obviously, everything we're announcing today is fully vetted through our programmers". For good measure, Sievert declared TMUS was the "natural ally" of media players.
The CEO's glowing assessment of TVision was not shared by some programmers, including Discovery, NBCUniversal Media, and ViacomCBS, which filed complaints against the NatCo about how their content was distributed on the TVision platform. They were irked by an absence of the so-called "vetting" process that Sievert claimed to have taken place.
"We were very surprised with how T-Mobile decided that they were going to bundle our networks, particularly because we have a clear agreement where our networks are required to be carried on all their basic tier's OTT offerings", said David Zaslav, President of Discovery. He added that Discovery was in "active discussions" with TMUS to quickly resolve the issue.
"We don't believe they have a right to do what they're doing right now. And they know. It's very clear to them, and they're focused on it."

Zaslav.
Tier fears
The apparent beef some programmers had with TVision was that distribution of their channels was restricted to TVision's cheapest tier: the $10 (€8.31)-a-month Vibe package. By not including them in the higher-priced tiers —LiveTV, in this case, which ranges from $40 to $60 a month —it was deemed a breach of the typical obligation for all basic-tier channels to be included in the more expensive packages.
This arrangement suits content providers, as they can potentially attract more viewers, but it turned out there was no overlap between Vibe and LiveTV offers, either from a channel or content provider perspective. While Vibe initially included channels from Discovery, AMC and ViacomCBS, LiveTV stuck to fare provided by NBCUniversal, Disney, Fox, and Warner Media. "It appears that T-Mobile is treating Vibe and LiveTV as entirely separate products, with separate sets of contracts; we're not surprised that this is generating pushback from content providers", noted analysts from Evercore ISI.
Temporary fix?
In what was billed as a temporary holiday promotional offer —but no doubt with a view to mollifying TVision content providers —TMUS combined the entertainment-focused Vibe bundle of 30-plus channels with LiveTV packages, which mixes in news and sports programming.
Whether or not the temporary offer becomes permanent remains to be seen, but it is a possibility. At the time Deutsche Telekomwatch went to press, TMUS had yet to fix a date when the promotional holiday offer will end.
Sievert, speaking on TMUS's earnings conference call for the quarter ended 30 September 2020, indicated a certain about of pragmatism going forward in dealings with Discovery et al, although he seemed to maintain that TMUS had done nothing wrong.
"We're complying with all of our media contracts and, at the same time, we're working with them because we're open-minded. Some would like to see changes. And if those changes are great for customers and help us continue to smash customer pain points, we're open-minded."

Sievert.
TMUS initially offered TVision to its postpaid subscriber base, and plans to extend the service to Sprint customers before the end of 2020. TVision is slated for extension to prepaid and non-TMUS subscribers some time during 2021.
We're a broadband provider, not a media company
Sievert does not see TVision as necessarily a profit-driver in its own right, but as a way to stimulate demand for 5G and an upcoming home broadband service.
"We're not out to establish a big new profit pool [with TVision] for T-Mobile here. We certainly don't want a loss leader. But the profit pool in our company, as I said, is about being a great wireless company, a great network company, a great broadband company. That's what we do… You won't see us investing tens of billions of dollars anytime soon trying to own content and media or other types of businesses. We're not a conglomerate."

Sievert.
In mid-November 2020, TMUS expanded its home internet pilot using LTE —with a focus on "underserved" rural areas — to more than 130 additional cities and towns across nine states. The previous month, TMUS claimed the pilot offering reached 20 million households. The NatCo is planning to launch a commercial 5G home internet service some time during 2021.
TMUS is shuttering TVision Home, an IPTV service launched in early-2019 to mixed reviews, on 30 December 2020 (Deutsche Telekomwatch, #83). TVision Home was based on technology developed by urban TV provider Layer3, which TMUS purchased for $325m in 2017 (Deutsche Telekomwatch, #69). As far as Deutsche Telekomwatch can determine, TMUS never released take-up figures for TVision Hom