5G Home Internet service available to 30 million homes at launch.
NatCo aims for more than seven million FWA subscribers within five years.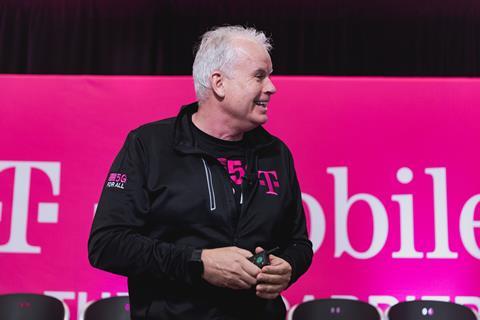 Neville Ray, President of Technology at T-Mobile US (TMUS), once again threw cold water on what he deemed were inadequate 5G preparations by rivals AT&T and Verizon.
As part of his ongoing narrative, Ray, in a blog posted on 19 April 2021, drew attention to the commercial launch of TMUS's 5GHomeInternet, a fixed-wireless access (FWA) service, some two weeks earlier.
"One really big point of good news for customers is that 5G enables a real alternative to cable", he enthused, before pointing out that "30million homes" were eligible for 5GHomeInternet on launch day. Of that number, ten million are in "rural areas and small towns". TMUS said the FWA service will offer average speeds greater than 100Mbps for most customers.
Ray pointedly added that AT&T "seems to be sitting this one out" when it came to offering an alternative cable service because of "concerns its network cannot deliver enough bandwidth to challenge and replace home internet". Verizon, he gleefully added, only committed to offering service to 20 million homes by the end of 2023.
"Competition has arrived for the nation's [internet service providers], and consumers —especially those in under-served areas of the country —will be the winners", concluded Ray.
TMUS confirmed in early-2021 that it was preparing its 5GHomeInternet FWA service for launch, although, despite its name, it also leans on LTE (Deutsche Telekomwatch, #102). Some customers in Minnesota in pilot trials were reportedly receiving speeds of up to 130Mbps by accessing TMUS's 600MHz spectrum and using Nokia-built receivers installed inside customers' homes. TMUS Chief Executive Mike Sievert indicated in late-2020 that FWA was "something that our business plan is very focused on, both in suburban and rural areas".
FWA enthusiasm
On a panellist session hosted by FierceWireless at the Competitive Carrier's Association Mobile Carriers Show, Ulf Ewaldsson, Chief Network Officer at TMUS, enthused about the FWA opportunity.
"The dream of FWA has been around for 30–40years, and having the ability to provide a true broadband connection to a home using wireless is something that's been worked at for many, many years. I think 5G actually gives us the opportunity to do it."

Ewaldsson.
TMUS, he maintained, felt confident it could provide a nationwide FWA service because of its "layer cake" of high, low, and mid-band spectrum. The NatCo is targeting between seven and eight million FWA subscribers within five years.

Ken has been writing about developments in the fixed and mobile markets for over twenty years. He has been a contributor to TelcoTitans since 2015.