Capgemini, T-Systems Russia, and Red Hat help redesign OSS/BSS for more "agile" FTTP deployment.
Target to cover all businesses in Stuttgart by 2025, and 90% of households by 2030.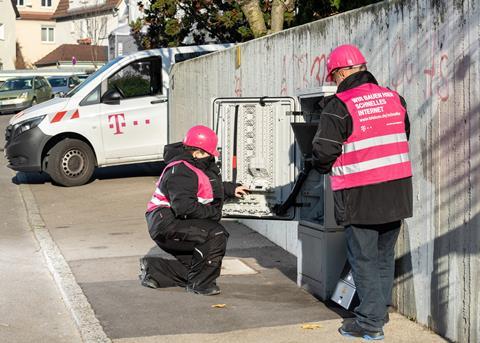 In another push by Deutsche Telekom to lower fibre-to-the-premise rollout costs, a new back-office "business system" is being tested in Heimerdingen, a region in Stuttgart, Germany.
The system, or "digital platform", was developed in partnership with professional IT services player Capgemini, software provider Red Hat, and experts from T-Systems Russia (part of DT Group).
Capgemini's role was to work with DT's home market NatCo Telekom Deutschland and Red Hat cloud technology, and to redesign operations and business support systems for swifter FTTP provisioning.
The redesign took about ten months before the new back-office system swung into pilot action. Capgemini, in a case-study paper, talked about "high-delivery speed".
Open source, DevOps, and Red Hat know-how, said Capgemini, were used to support a "microservice architecture and an agile minimum viable product approach". The business system is apparently aligned to the Scaled Agile Framework (SAFe), a set of organisation and workflow patterns intended to guide enterprises in scaling lean and agile practices.
To ensure interoperability and growth, asserted Capgemini, open source and open standards were used. It claimed that the "high level of platform scalability" paved the way for rollout across Germany, although DT presumably still has to make up its mind about that, based on results in Stuttgart.
From Russia with algorithms
IT experts from T-Systems Russia, despite being based 1,800km away in St. Petersburg, developed algorithms that allow different datasets to be brought together into a single planning tool.
Datasets are apparently related to back-office information gleaned from different parts of the business, including marketing (availability of DT's branded Magenta products) and network construction.
The process of FTTP ordering and installation is then accelerated by using the central IT-controlled planning and booking system, according to the T-Systems unit.
Customers stand to benefit from the new software, provided all goes to plan. The system holds out the promise of being able to better track order status and set technician appointments.
All systems go
With cash at a premium, and pressure rising on DT to up its rate of FTTP rollout, the operator has displayed interest in a wide range of measures to help it bring down cost of fibre deployment, including regional partnerships, new construction techniques, artificial intelligence-based planning, hardware/software disaggregation, and use of agile methodologies within what DT calls its FTTH Factory (Deutsche Telekomwatch, #92 and passim).
At the end of 2019, TDE reported that the average cost of passing each home with fibre dipped below the €1,000 mark, with expectations that this number will decline further — although this continues to appear comparatively costly compared with other national telcos. "We are still striving for significant further reductions in the way [that] we are deploying [FTTP]", said DT Chief Executive Timotheus Höttges in February 2020.
DT is aiming to ramp up its FTTP rollout pace to two million households-per-year by 2021, and re-committed to this target in May 2020, despite COVID-19 disruption. At DT's Annual Shareholders Meeting last week, Höttges said the telco was planning to "connect every household in Germany with optical fibre by 2030", although it was not clear whether he exclusively meant FTTP.