Deutsche Telekom's drone joint venture goes beyond line-of-sight.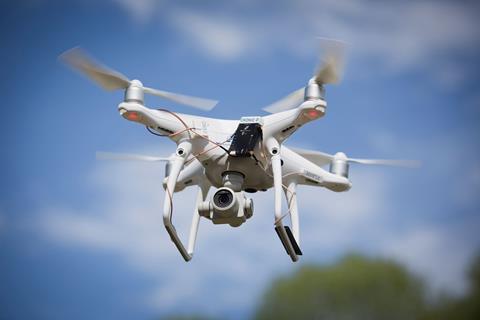 Droniq, a joint venture (JV) between Deutsche Telekom (DT) and Deutsche Flugsicherung (DFS), Germany's state‑owned air traffic control operator, launched what it claimed was Germany's first "fully operational" traffic management system for drones, or, as it also likes to call them, unmanned aircraft systems (UAS).
Droniq claimed that by using its UAS Traffic Management (UTM) system, it is now possible to safely integrate drones into Germany's airspace over long distances.
The Droniq pitch is that the UTM system can plan drone missions and check which permits are required for each flight. "As soon as they start the mission, this airspace is displayed as occupied to other UTM users", reassured Droniq in its official statement. "The web display", added the JV, "also shows relevant manned air traffic that users must avoid".
Technical wizardry includes a "matchbox-sized LTE modem", which is part of Droniq's hook-on device, or HOD. The modem transmits the position of the drone and its identification to the UTM via the cellular network. The HOD also purportedly receives the positions of the surrounding traffic and feeds them into the UTM's 'live' air-situation display. Moreover, all general aviation pilots in the vicinity receive a warning in their cockpit, even if they are not using the UTM service.
DT is already looking at expansion into other markets, beyond Germany. "The hook-on device is in demand throughout Europe and is a leader in the tracking of drones", claimed Jan Eric Putze, Chief Executive of Droniq. He added that the launch will "significantly strengthen the German drone market and also set the trend for the creation of the technical standards for drone tracking".
Droning on since 2016
DT has been working with DFS on drones since 2016, when they flagged a joint research project focused on "concrete applications of unmanned aircraft", also involving logistics group Deutsche Post DHL and RWTH Aachen University. They demonstrated mobile network‑controlled drones at February 2018's Mobile World Congress, alongside unmanned aerial vehicle supplier Microdrones (Deutsche Telekomwatch, #58 and #71).
Aside from the DFS tie‑up, DT has since 2017 been marketing a drone defence shield solution to business customers, based on a special version of the DroneTracker software of Germany‑based drone technology specialist Dedrone. It also features a frequency scanner from Rohde & Schwarz, microphone arrays from Squarehead Technology, radar equipment from Robin Radar Systems, and jammer technology from HP Wüst (Deutsche Telekomwatch, #59). DT has not provided an update on the offering's traction.