German coalition cabinet reportedly approves measures in IT security bill that, if passed, will effectively ban Huawei from 5G RAN market.
Revision looks set to hurt DT, despite recent brave talk of "multi-vendor strategy".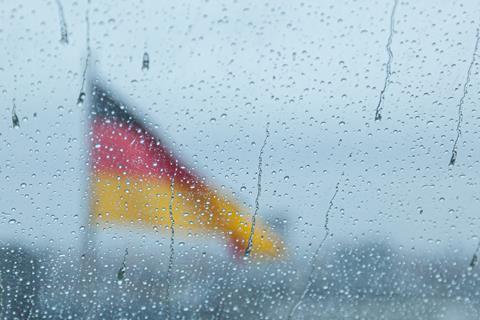 A Handelsblatt report, highlighting the intention of Germany's coalition government to effectively block Huawei Technologies from 5G network rollout in the country, threw into some doubt Deutsche Telekom's (DT) strategy of persisting with the Chinese supplier.
DT has leaned heavily on Huawei in Germany, accounting as it does for more than half of Telekom Deutschland's 5G radio access network (RAN — Deutsche Telekomwatch, #98). But the supplier's RAN days — it has already been excluded from the core — now seem all but numbered.
The coalition government, despite being led by Chancellor Angela Merkel — who has often shown resistance to US pressure for an all-out Huawei ban — has reportedly given the nod to new measures in Germany's long-gestated IT security bill that, in all probability, will force the Chinese supplier to pack its bags.
A bit of politics
According to Handelsblatt and subsequent reports, the bill introduces a two-stage approval process for telecoms equipment. The first stage is a technical check of individual components, followed by a second political assessment stage of weighing up the supplier's "trustworthiness".
One member of the German parliament, quoted by the Financial Times, argued that the second stage will well and truly scupper Huawei's chances of survival in the country. "How can Huawei, a company with suspected links to the Chinese, pass a political trustworthiness test?" remarked the unidentified source.
For its part, Huawei vehemently denied (again) the allegation that it posed a risk to national security. "We cannot identify any comprehensible reasons for restricting our market access", Huawei's German spokesman said.
Perhaps one flicker of hope for Huawei, and Germany's network operators that use its RAN equipment, is the bill is not yet passed into law.
DT and Telefónica Deutschland (O2 Germany) made no immediate comment after the Handelsblatt report, while Vodafone Germany said it will "continue to monitor the situation and will always comply with regulations".
It seems reasonable to assume that all three will redouble their lobbying efforts in the meantime, although Markus Haas, O2 Germany's Chief Executive, seems the most sanguine about Huawei being shown the door. Speaking in July 2020, amid preparations for the 5G launch, he said supplier contingency plans were in place if Germany issued a blanket-ban on the Chinese supplier. "We have contracts with all the main vendors and would be in a position to make a switch within a few weeks", claimed Haas.
Crumpled betting stub?
By the end of July 2020, TDE claimed its 5G services were available to 40 million people (around half of Germany's population).
Although TDE recently signed a 5G RAN contract with Ericsson, it is understood that the majority of coverage is enabled by Huawei antennas. Underlying the apparent confidence of Timotheus Höttges, Chief Executive of DT, that Huawei was going to be around for some time, TDE recently signed a new 5G RAN contract with the Chinese supplier (Deutsche Telekomwatch, #95).
Perhaps sensing that the political tide was beginning to turn against Huawei, and not wanting to be seen as having made a reckless gamble on Huawei, Höttges, recently asserted it was an exaggeration to suggest DT was "exposed and strategically dependent" on the embattled Chinese supplier.
The CEO outlined what he argued were solid multi-vendor strategy credentials. Around 35% of DT's vendors, he said, are from the USA; 25% from Europe; and another 25% are from Asia, including China. The stakes seem high. In an internal paper prepared by DT, seen by Handelsblatt, the cost of replacing Huawei kit in its German operation, over a five‑year period, was pinned at around €3bn. DT has described the disallowing of Chinese suppliers on its home turf as a potential "Armageddon scenario".
DT: reports of China 5G scheme are nonsense
Also underlining the power-politics surrounding Germany's 5G supply chain, DT provided a robust response to reports that it could enter China's mobile market on the back of a deal concocted by Merkel. "Deutsche Telekom has a clear focus on Europe and the USA. Everything else is nonsense", was the unequivocal answer from a DT spokesperson in response to a query from Deutsche Telekomwatch.
Reports of a possible foray into China appear to have originated from WirtschaftsWoche, which suggested that Merkel wants to help DT gain access to the mobile market in China as part of a deal that would also keep Germany's 5G market open to Huawei. WirtschaftsWoche cited sources in Brussels as saying that Chinese officials have come up with an "eight-point anti-espionage agreement" to allay German security concerns over the use of telecoms equipment from China.
While the Group may scoff at reports of an increased focus on China, it does have a limited track record of attempting to enter certain segments of the communications market there. DT still has a presence in the country via T‑Systems P.R. China, which provides ICT solutions to Chinese and foreign multinationals. It manages data centres and cloud services in Beijing and Shanghai, and points-of-presence access in Beijing, Shanghai, and Hong Kong.
In previous years, DT also formed separate tie‑ups with China Mobile and China Unicom, two of China's mobile operators. In 2015, it established a 50:50 joint venture with China Mobile, called Virtue Intelligent Network, which was described as an "internet of vehicles" (IoV) business in China Mobile's 2014 annual results statement. In 2018, China Mobile set up a new IoV venture, called China Mobile Intelligent Mobility Network (CMIM Network), which apparently integrated resources from Virtue Intelligent Network. In early‑2017, DT also formed an Internet of Things (IoT) partnership with China Unicom that appeared set to provide IoT clients of T‑Systems with dedicated connectivity (Deutsche Telekomwatch, #70). Not much has been heard of the venture since then.

Ken has been writing about developments in the fixed and mobile markets for over twenty years. He has been a contributor to TelcoTitans since 2015.