Investor vote of confidence in SkyFive, which provides the European Aviation Network — backed by Deutsche Telekom — with air-to-ground kit.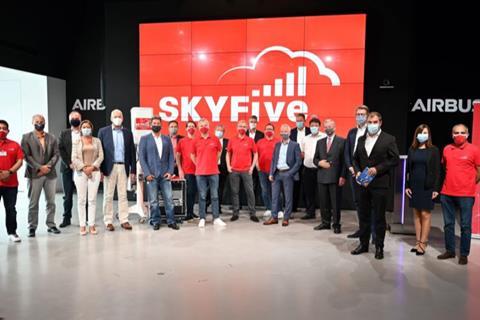 SkyFive, a Nokia spin-out and the tech brains behind Deutsche Telekom's European Aviation Network (EAN) venture with Inmarsat, announced what it called a "significant" pre-Series-A financing round.
Led by a "major [institutional] German investor", the financing round was also supported by Louis Belanger-Martin, a serial entrepreneur and co-founder of Global Eagle, and Alain Lejeune, described as a "seasoned executive from the telecommunications industry with strong roots in China".
All existing angel investors apparently "doubled their initial investment".
SkyFive provides high-speed broadband services for the aviation industry, based on its patented air-to-ground (A2G) solution, which leverages standard mobile network components.
The company was established in 2019 by three former Nokia executives — who, in a management buyout (MBO), acquired a "substantial part" of Nokia's A2G assets and the capabilities used to support the EAN (Deutsche Telekomwatch, #79).
SkyFive spreads its wings
SkyFive has been seeking opportunities to extend the reach of its system and the cash injection could provide a spur for further collaboration, or independent rollouts elsewhere.
Thorsten Robrecht, Chief Executive of SkyFive, told Deutsche Telekomwatch at the time of the MBO that the EAN will "certainly be expanded and densified during [the] next years, but we might see also other [rollouts] in Arabia, India, China… which have no direct linkage to EAN", other than the same technology and roaming capabilities (Deutsche Telekomwatch, #88).
He pointed out that SkyFive has been "active for quite some time in the Middle East [in Saudi Arabia], where [Nokia] already built a trial network about one year ago. We hope to be able to expand this soon and bring this to full commercial usage. In parallel, the Indian and Chinese governments have opened the market for A2G aircraft connectivity, so we might see activities starting there soon".

Ken has been writing about developments in the fixed and mobile markets for over twenty years. He has been a contributor to TelcoTitans since 2015.