Group continues to shop around for cost-saving innovations and lauds AI as a way to drastically reduce FTTP planning times and costs.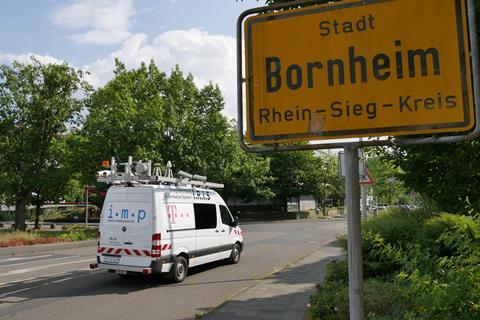 Claudia Nemat, Head of Technology & Innovation at Deutsche Telekom, again highlighted the importance of artificial intelligence (AI) in reducing cost of fibre-to-the-premise (FTTP) rollout in Germany (Deutsche Telekomwatch, #92 and passim).
In a LinkedIn post, Nemat said AI — in the form of a "neural network" — reduces the operator's FTTP planning time for a "standard area" by up to 75%. "Since about 80% of the costs of the fibre-optic rollout are due to civil engineering works, an exact technical planning is necessary", she added.
Revving up T-Cars
Nemat highlighted the role of T-Cars in surveying anticipated areas for FTTP rollout. Equipped with cameras and "eye-safe" laser scanners, T-Cars map the streets in 2D and 3D.
All the data collected by T-Cars is then put through the neural network's algorithmic mincer — which, according to Nemat, automatically works out the most efficient way to lay the new fibre.
Among the AI insights garnered from T-Cars' mapping work is recognition of different surfaces, such as asphalt or cobblestones — which is important when choosing the most appropriate excavation tools and methods — and to check whether trees or street lights are blocking the way of new fibre routes.
The upshot is that Telekom Deutschland's FTTP rollout planners get a detailed understanding of an area's topography, along with recommendations about how best to proceed, without having to leave their home or office.
Although the AI-assisted tool does most of the FTTP planning legwork, website documentation points out that an "experienced planner always looks over the result and optimises it".
Nemat stressed that Telekom Deutschland adhered to the voluntary "spatial code", administered by private organisation Selbstregulierung Informationswirtschaft, which stipulates transparent handling of images, and the giving of notice about any upcoming survey work in public places. "Entire cars and persons", reassured Nemat, "are pixelated in the rollout area images".
FTTP cost pressure
With cash at a premium, and pressure rising on Deutsche Telekom to up its FTTP rollout rate, the operator has shown interest in a wide range of measures to help it bring down costs of FTTP deployment, including regional deployment partnerships, new construction techniques, AI-based planning, hardware/software disaggregation, and use of agile methodologies within what DT calls its FTTH Factory (Deutsche Telekomwatch, #92 and passim).
At the end of 2019, the average cost borne by Telekom Deutschland for passing each home with fibre is said to have dipped below the €1,000 mark, with expectations that this number will decline further — although this continues to appear comparatively costly compared with expenses in other nations. "We are still striving for significant further reductions in the way [that] we are deploying [FTTP]", said Deutsche Telekom Chief Executive Timotheus Höttges in February 2020 (Deutsche Telekomwatch, #92).
Telekom Deutschland is aiming to ramp up its FTTP rollout pace to two million households-per-year by 2021, and re-committed to this target in May 2020, despite COVID-19 disruption. At DT's latest Annual Shareholders Meeting, Höttges said the telco was planning to "connect every household in Germany with optical fibre by 2030", although it was not clear whether he exclusively meant FTTP.

Ken has been writing about developments in the fixed and mobile markets for over twenty years. He has been a contributor to TelcoTitans since 2015.