Six months on from French billionaire's surprise raid on BT, Altice UK now free to up its stake or mount a takeover bid.
Jansen called in for meeting with UK government minister to get the lowdown on Drahi's intentions.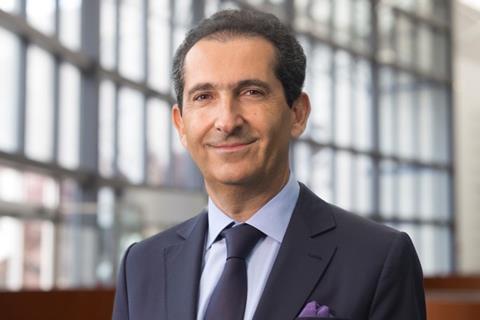 The six-month period within which French billionaire Patrick Drahi was barred from making further advances on BT came to an end on Saturday. Speculation has inevitably mounted over the weekend as to what he may or may not do next.
Nadine Dorries, the UK's Secretary of State for Digital, Culture, Media, and Sport, as reported by the Sunday Times, will apparently "grill" BT Chief Executive Philip Jansen sometime this week about what Drahi might be plotting.
As it operates critical national infrastructure, any foreign takeover bid for BT will necessarily come under political scrutiny.
Under the new National Security and Investment Bill that comes into effect from January 2022, the UK government can block deals involving the purchase of more than 25% in a company if deemed a risk to national security.
Drahi blindsided BT management in June, splashing out £2bn (€2.3bn) via investment vehicle Altice UK for a 12.1% stake. Altice UK is BT's largest shareholder, narrowly edging Deutsche Telekom's 12.06% holding.
Aside from a takeover bid, other options for Drahi — assuming he wants to do something — include buying more BT shares on the open market. The share price, hovering around 175p at the time of writing is, as Reuters notes, 65% off the pace from 2015 highs.
Another possibility is to do some sort of deal with Deutsche Telekom. Tim Höttges, CEO at the German incumbent, may be willing to play ball — or he may not.
Speaking on Deutsche Telekom's results presentation for the three months to 30 September 2021 (Q3 FY21), Höttges said he could not speculate or "open up our hands to show the market where we are heading" (as transcribed via VIQ FD Disclosure), and that he was "keeping all options open" regarding the Group's 12.06% stake (Deutsche Telekomwatch, #109).
Captain Jansen looking good?
At the time Altice UK swooped on BT, it expressed confidence in BT's strategy and prospects. Drahi apparently holds the operator's "board and management team… in high regard".
Höttges has some time for BT's management too. "BT has done a lot of things right", he said, pointing to recent cost reduction and that the "fibre story is doing well".
In May, BT increased the target for its FTTP network from 20 million to 25 million premises by December 2026. It also opened the door to external investors for the first time by saying it will explore joint ventures to fund the additional five million premises. "We're not excluding anybody, and we are very open-minded", said Jansen.
BT, however, it seems is bolstering defences against a potential takeover bid from Drahi.
Robey Warshaw has reportedly joined Goldman Sachs on BT's advisory team ahead of a potential takeover bid. City sources described the appointment as "sensible contingency planning" rather than any admission that a takeover was expected.

Ken has been writing about developments in the fixed and mobile markets for over twenty years. He has been a contributor to TelcoTitans since 2015.