Community Labs; PlugFest; and a TEAC down.
Rundown of ALL previous TEAC winners.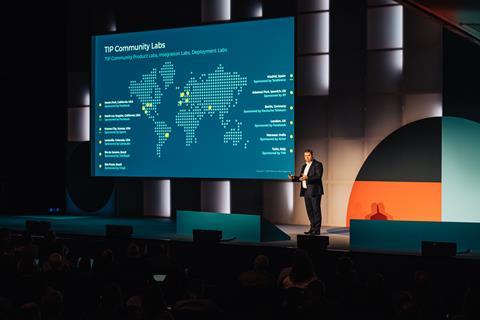 While the Telecom Infra Project (TIP) has continued to build momentum since its inception by Facebook in 2016, its telco-affiliated TIP Ecosystem Acceleration Centre (TEAC) outposts have developed more erratically.
Of the now-three telco hosts, BT is the most obviously engaged, with January 2020 seeing it hold its TEAC UK Wave 3 recruitment. This ends a 15‑month hiatus in all TEAC recruitment activity, preceded by BT's Wave 2 in October 2018. Prior to this, rounds were held at relatively regular intervals by BT as well as peers Deutsche Telekom (DT) and SK Telecom (SK). Since DT joined the party in November 2017, there have been four TEACs, of which three remain tagged as open and active.
TEAC France in Paris was the first TEAC on the map, setting up early on in TIP's inception. However, since its initial acceptance of five entrants to its programme, local incumbent Orange has gone dark bar a few appearances at fellow TEAC hosts' Waves. It has now faded from TEAC listings, suggesting that it no longer actively participates in the initiative, although this may simply be an extended hiatus. Orange's involvement in the broader TIP community, though extant, has become similarly muted in contrast to concerted collaborative efforts from its major European rivals (BTwatch, #300), including Telecom Italia and Telefónica (both of which host TIP Community Labs, as do BT and DT). Amarisoft and Horizon Computing, two of Orange's TEAC alumni, now champion TIP's Open Cellular project group alongside BT and Facebook.
TEAC Germany, driven by DT and centred on Berlin, has only opened itself to one Wave of entries, but a second is understood to be imminent, themed around mobile edge computing (MEC) and open radio area network (oRAN). To date, DT's attention at TIP has ostensibly been drawn to its involvement in various project groups, notably its co-chairing of the mmWave Networks Project Group (Deutsche Telekomwatch, #77).
TEAC South Korea, hosted by SK in Seoul, has supported six startups from two Waves. SK Telecom ran its first two TEAC waves like clockwork, making its Wave 3 a notable omission from the 2019 calendar.
TEAC UK, based at the BT Innovation Labs in Adastral Park, Suffolk, and also present in London's Tech City, has arguably seen the most prominent partnerships, and appears the most active host following its 2020 Wave 3.
The TEAC community increasingly appears to be an adjunct to TIP, with the latter recently giving greater emphasis to its Community Labs and new TIP Exchange (qualified, interoperable solutions), along with its core Project groups. Arguably, the TEAC initiative is a better fit for BT than DT or SK. Unlike many of its international peers, BT has not in recent years been a high-profile corporate venturer, nor a prolific startup incubator. Instead it nowadays tends to take a non-equity partnership approach centred on BT Labs at Adastral Park, where it hosts a growing party of supplier innovation and startup outposts, primed partly by a global squadron of corporate innovation 'scouts'. Reading between the lines, BT may as part of its recent existential reboot have reviewed and chosen to embrace TEAC UK at heart of its innovation strategy, very possibly recognising the alignment and promise of previous waves. This fits the impression that TEAC UK is becoming more BT-, less-TIP- and far-less-Facebook-oriented in terms of presentation and activity.
It is unclear overall how mutually-successfully TEACs have proved for hosts and alumni but BT is again notable, most recently partnering Zeetta Networks on a Smart Tourism project (BTwatch, #302), and with Accelleran, KETS Quantum, and Unmanned Life amongst others appearing to build on the foundations of TEAC UK success. Participants have credited TEAC UK with embedding them deeply and valuably into BT's ecosystem, as well as leveraging the wider TIP community, and increasing their credibility and exposure with other large operators. TEACs were originally envisaged to have significant venture capital tie-ins, tapping multiple hundred million pounds in funding, but this appears to have faded away without any tangible delivery.
Facebook logging out of TEACs?
Facebook has dominated TIP since it founded the community in 2016, with a formative presence at practically every event, and is deep involvement with most Project groups and sub‑groups. However, at January 2020's TEAC UK Wave 3, there was scarcely a reference to the social media giant, unlike previous Waves where it both keynoted and provided judges. TIP itself was also downplayed as collaborator with BT centre stage.
This was despite Facebook's continuing prominence at November 2019's TIP Summit '19, with contributions towards almost every panel. Coupled with indications that Orange has withdrawn from its TEAC-hosting responsibilities, it may be indicative of TIP shifting focus away from operator partnerships on startup acceleration, and instead emphasising its own Community Labs and direct engagement with the wider ecosystem.
This may always have been the plan all along, to pump-prime and achieve critical mass, but it could also mark a geo-political twist that reflects the pre-eminence in TIP and TEACs of large telcos (notably European ones) and possible realignment (or tag‑teaming) with their reinvigorated industry lobbying group the GSM Association (GSMA). Looking under the covers, there are also signs of a pull-back from widespread foundational TIP involvement by Facebook employees, and a parachuting in of GSMA alumni into leadership roles. When in conspiracy theory mode, BTwatch has long questioned whether Facebook envisioned TIP ultimately cracking open and disaggregating telcos as well as network equipment providers, and perhaps European operators are now attempting to turn back the tide.
TEAC Waves, June 2017–January 2020

TEAC

Entrant

Focus

Details

Source: BTwatch; companies.

TEAC UK Wave 3
(BT, January 2020)

Themes: edge computing; 5G private network

DoubleMe
San Jose

Holographic mixed reality.

Already in partnership with BT, Thai operator AIS and Deutsche Telekom's Berlin incubator hubraum (where fellow TEAC UK winner Unmanned Life is also alumni).

Ori Industries
London

Intelligent cloud and edge computing solution.

Existing relationships with DT, Telefónica, and Orange.

TEAC UK Wave 2
(BT, October 2018)

Themes: rural mobility; intent-based networks

Accelleran
Antwerp

Small cell network densification.

Accelleran remains a TIP member and has joined other collaboration bodies 5GCity and Imec R&D (progenitor of DT's TEAC 2018 winner). Also in a partnership with Nokia in TIP Community Labs on the Open Cellular platform (Vodafonewatch, 173).

The company has grown to 25 employers and continues to work closely with BT at Adastral Park.

Tethir Newcastle

Wireless backhaul.

Currently in partnership with Network Rail, Northumbria University, and BAS LLP to develop wireless backhaul for UK rail infrastructure.

Tethir is still working with BT Labs.

TEAC South Korea Wave 2
(SK Telecom, September 2018)

AirHop
San Diego

Network automation and optimisation.

No obvious continued direct involvement with SK Telecom or wider TIP community.

November 2019: partnership with Rakuten Mobile for real‑time cloud‑RAN optimisation.

October 2019: partnership with Altiostar to deliver network intelligence for cloud‑native 5G networks.

DevStack
Daejeon

OpenStack-based customised cloud environments.

No subsequent developments. Appears largely abandoned, but remains a TIP member.

Network Defines
Seoul

Peer-to-peer networks and blockchain.

Investment from Korean VC Springcamp.

TEAC Germany Wave 1
(Deutsche Telekom, April 2018)

Themes: Better/cheaper connectivity; cloud-based network operation; Network efficiency

Airrays
Dresden

Smart, MIMO antennas.

Acquired by Xilinx Inc in 2019.

BISDN
Berlin

Open NFV architecture.

Continued development with DT, and partnerships forged with Intel and Linux.

Imec-incubated
Belgium

Open, active phased-array antenna technology.

DT's focus on the TIP mmWave team may mean this team is associated.

TEAC UK Wave 1
(BT, September 2017)

KETS Quantum
Bristol

Quantum security hardware.

Continued involvement with wider TIP community.

Subsequent partnerships with Airbus, Cryptonext, and Thales.

January 2019: raised £2m in first round of funding, including £1m from the UK government's Industrial Strategy Challenge Fund.

Unmanned Life
London

Autonomy-as-a-service, e.g. drones.

Continued development alongside TIP members powering substantial growth in ten countries across three continents, despite its non‑membership of TIP.

January 2020: partnership with Deutsche Telekom in Vienna for 5G Autonomy-as-a-Service smart city.

February 2018: partnership with BT and Ericsson for first 5G‑powered transatlantic drone flight.

Zeetta Networks
Bristol

Open networking platform.

September 2018: successful trial of Facebook‑led Voyager device on a live optical network in Spain with Zeetta Networks, in collaboration with TIP members ADVA, Cumulus, and Vodafone.

TEAC South Korea Wave 1
(SK Telecom, September 2017)

KulCloud
Seongnam-si

Open 5G packet fronthaul capabilities.

January 2019: deployed flagship product PRISM on the Korean Advanced Research Network, in partnership with rival Korean telco KT.

Optella
Irvine

5G wireless optical network solution.

November 2018: acquired by high‑speed connectivity solutions provider Cosemi Technologies, taking Optella away from TIP partnerships.

Transcelestial
Singapore

Fast, capacious laser communication utilising nano satellites.

September 2018: announced ongoing partnership with SK Telecom to develop fibre‑like ultra‑high bandwidth wireless backhaul for enterprise.

December 2017: raised SG $2.5m (£1.6m) to develop laser communication technology.

TEAC France (Orange, June 2017)

Adipsys
Valbonne

Cloud Wi-Fi management.

Appears to have dropped its TIP membership but has developed other partnerships, including with Orange.

Amarisoft
Paris

Open LTE software stack.

Remains committed to TIP collaboration, and is partnered with BT, Horizon Computing, and Facebook on the Open Cellular project group.

Athonet
Vicenza

LTE cloud software.

A member of the Edge Computing TIP Project, but appears to have left Orange tie‑up behind.

December 2019: joined the 5G-Conni project collaboration, with other members including Bosch.

February 2019: winner of four Global Mobile Awards at Mobile World Congress 2019, as it continues to develop LTE and 5G technology for edge computing.

Horizon Computing
Rocquencourt

Data centre open hardware components.

Transitioned to focus on providing hardware for its Split-Desktop Systems Cloud brand.

Appears to have left Orange partnership behind, but is involved in Open Cellular TIP Project.