BT holds TEAC UK Wave 2 FInal as part of TIP.
Two start-ups win, with another awarded Special Prize.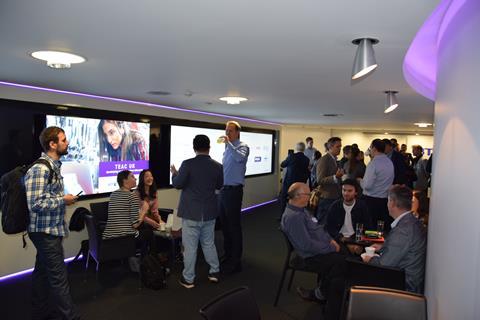 BT held the Wave 2 Final for new recruits to its Telecom Infra Project- (TIP) affiliated UK Ecosystem Acceleration Centre (TEAC) at BT Tower in London, in October 2018.
The format was similar to the previous year's inaugural Wave 1 event (BTwatch, #289), with alumni KETS Quantum Security returning to share learnings. The event was capped the following week by the annual TIP Forum '18 (see separate report), this year also in London.
KETS was effusive in its appreciation of BT, the UK TEAC and TIP, claiming they had hugely raised the startup's visibility, opened many doors, that BT has been incredibly open, and learning has been two-way. Its advice to new entrants was simply to 'work hard' to make the most of the opportunities.
While not as well-attended (or publicised) as 2017, the shortlist of six startups was arguably better attuned to BT, with the judging also seeming stronger (or perhaps just better prepared). Last year, the winners were all smaller startups from the UK (while others with global hyper-growth ambition perhaps ill-fitted). The latest finalists were all small, though only two domestic.
The audience included fellow TEAC hosts (Deutsche Telekom in Germany, Orange in France, and SK Telecom in South Korea), analysts, customers, and other interested parties. The judging panel was majority BT, supplemented by Facebook and TIP.
Although TEACs are ostensibly extensions of TIP and its global vision, in reality they feel more like affiliates of their host telco, in terms of both shortlisting and selection. In London, BT seemingly both selected the candidates and set this year's focus on rural mobility and intent-based networks.
BT's Telecom Infra Project UK Ecosystem Acceleration Centre judges, 2018

Judge

Organisation

Role

Source: BTwatch.

Axel Clauberg

TIP

Chairman (also VP, IP & E2E Infrastructure Cloud, DT; Wave 1 judge in 2017).

Paul Crane

BT

Director of Converged Network Research.

Jean-Marc Frangos

BT

Managing Director, External Innovation.

Mark Henry

BT

Director of Technology & Business Strategy.

Andy Jones

TIP

Consultant (ex-Vodafone).

Min-Sik Jun

Facebook

Network Infrastructure Sourcing.

Nazirali Rajvani

EE

Head of Network Solution Architecture.
'Strange guy' from California briefs on new networking world
Self-described 'strange guy' Jean-Marc Frangos took the reins this year (2017's Mansoor Hanif has moved on to become CTO at regulator Ofcom, though he was a guest this year and later a speaker at TIP Summit '18).
Frangos is BT's Managing Director for Innovation with oversight including technology scouting. He positioned BT as inventor and pioneer (see also the separate BTwatch #300 timeline), as well as 'distributor', highlighting G.fast and quantum computing as recent areas of R&D leadership.
He recognised that Silicon Valley is currently obsessed with fields such as artificial intelligence, and that networking technology may not have been 'cool' since the photonics boom (and bust) nearly twenty years ago. However, he also spoke of a potential resurgence for networking, tying in with topology that is now changing the most since the optical heyday (but this time cloud-led) and the advent of the 'exabyte era'. He made the point, though, that 'software is eating the world, and is having networks for breakfast', and acknowledged that not everyone is comfortable with the shift away from single-purpose hardware to a world where software is becoming central and driving innovation.
Frangos described this Wave's rural mobility and intent-based networking focus as being 'super-hard' things to do, rather than just apparently random choices:
For rural mobility, he emphasised the importance of frugality as well as performance (e.g. radio and software efficiency).
While 'AI' is the buzzword for intent-based networking, Frangos also framed it around 'zero-touch' (including self-configuring/healing) translation of customer intent (internal as well as external, including network planners and designers) to network configuration without coding, manual intervention or human error, and with feedback loop. He sees all telcos pursuing this as fast as they can, and with future operating costs highly dependent on this technology.
Rural mobility is an ongoing challenge for BT, with the operator recognising the need for rural solutions to enable it to offer ubiquitous coverage, while also struggling to identify cost‑effective ways to provide coverage in areas that may never be economically viable in their own right. The conundrum was one of the reasons why the telco joined with Facebook in the Open Compute Project initially, followed by TIP (BTwatch, #274, #284).
BT is also providing the network underpinning the Cisco-fronted RuralFirst project, which forms part of a UK government‑backed 5G research programme (BTwatch, #295), and which is linked to TIP's OpenCellular research.
TEAC UK Wave 2 shortlist and winners
BT's Telecom Infra Project UK Ecosystem Acceleration Centre finalists, 2018

Outcome

Startup

, Location (Founded)

Focus

Source: Market Mettle; companies.

Augtera Networks, San Francisco (2017)

Highly-automated, operator and user intent- and AI-based adaptive, self-healing network, drawing on next-generation telemetry.

Observed that applying machine-learning to networks is remarkably difficult, with minimal related research.

Two years' funding from Bain Capital

.

Bloomberg a client of 18 months.

Wave 2
Winner

Tethir, London (2017)

Wireless backhaul.

Use cases: bringing internet to trains, and building connectivity.

Patent imminent.

EINO, New York (2018)

Network automation with predictive, contextualised optimisation.

Differentiation: leveraging a curated set of external data.

Wave 2
Winner

Accelleran, Antwerp (2013)

Small cells to densify network.

Claimed differentiators are very high-quality software, and openness (escape vendor lock-in).

Wave 2
Special Prize

Jāṅgala, London

Humanitarian emergency internet access solutions, to deliver effective connectivity to displaced people.

Seeking help to make system more flexible — aiming to make as modular and self-configuring as possible (the operational environment can massively vary in terms of available connectivity, users, etc.).

Registered charity of which BT appears to be a corporate supporter and operational partner.

Fairwaves, Boston (2011)

Open-source, software-defined radio. Running on generic hardware.

Mission: lower cost of small cells.

Partners locally to complete solutions, e.g. power, tower, backhaul.

TIP participant. Vodafone

trialling in Africa. Profitable.

Claims 80% reduction in capex/opex (comparison: Chinese vendor).
BT and TIP/Facebook: not quite joined at the hip
As at the 2017 event, TIP-frontrunner Facebook was very visible, including on the judging panel, on stage (Steve Jarrett, EMEA Head of Connectivity Programs), and in the audience (TIP is also headquartered in London).
With regard to TIP and Facebook, BT's Frangos assured that it is not the 'only way', but he was also clear that TIP is now an important part of BT's mix, with close alignment, including around disaggregation.
Axel Clauberg (TIP Chairman and a Deutsche Telekom Vice-President) placed TIP in the context of a telco environment where traditional services are shrinking, and the future business model for 5G is not yet understood and is causing "strange pain in the CFOs stomach" (put simply, 'who's paying?'). From his view, MNOs drove innovation in the 1980s, and worked together in the 1990s, but are now influenced by hyperscalers.
Echoing previous statements, which were to be amplified in subsequent comments at TIP Summit '18, Clauberg (a Cisco veteran) was careful not to crucify incumbent suppliers, saying that the problem is not that telcos "don't get enough from traditional vendors… [but that they] need more".
International TEAC community grows
BT and SK Telecom are the first operators to confirm second waves of TEAC entrants, though there were hints that BT's preparations may have been last minute, with the formal call for entries close to the deadline. SK Telecom's Wave 2 was also lower‑key than 2017, and possibly less ambitious.
Notably early frontrunner Orange does not appear to have a 2018 TEAC France cohort. The French operator was also a notably muted presence at TIP Summit '18 where its European Big-5 peers made a concerted pitch for more earnest development cooperation.
Telecom Infra Project Ecosystem Acceleration Centre cohorts, 2017–18

Wave

TEAC

Startup

Location

Focus

Source: Market Mettle; companies.

October 2018

UK Wave 2
(BT)

Accelleran

Antwerp

Small cell network densification.

Tethir

London

Wireless backhaul.

September 2018

South Korea
Wave 2
(SK Telecom)

AirHop

San Diego

Network automation and optimisation.

DevStack

Daejeon

OpenStack-based customised cloud environments.

Network Defines

Seoul

Peer-to-peer networks and blockchain.

April 2018

Germany
(DT)

Airrays

Dresden

Smart, MIMO antennas.

BISDN

Berlin

Open NFV architecture.

Imec-incubated

Belgium

Open, active phased-array antenna technology.

September 2017

UK Wave 1
(BT)

KETS Quantum

Bristol

Quantum security hardware.

Unmanned Life

London

Autonomy-as-a-service, e.g. drones.

Zeetta Networks

Bristol

Open networking platform.

September 2017

South Korea
Wave 1
(SK Telecom)

KulCloud

Seongnam-si

Open 5G packet fronthaul capabilities.

Optella

Irvine

5G wireless optical network solution.

Transcelestial

Singapore

Fast, capacious laser communication utilising nano satellites.

June 2017

France
(Orange)

Adipsys

Valbonne

Cloud Wi-Fi management.

Amarisoft

Paris

Open LTE software stack.

Athonet

Vicenza

LTE cloud software.

Horizon Computing

Rocquencourt

Data centre open hardware components.