BT infrastructure division announces 5,300 new jobs for 2021, although 2,800 of them will be created within subcontractors.
Capacity needed to increase weekly rate of full-fibre premises passed from 40,000 to 50,000.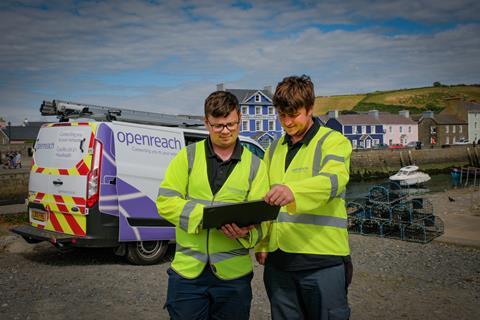 Openreach sought to provide some headcount festive cheer in the run-up to Christmas, announcing the creation of 5,300 new roles during 2021.
Of that number, 2,500 trained-up engineers will be added directly onto Openreach's payroll. The remaining 2,800 positions will be created by a number of third-party contractors that work on Openreach's behalf.
Nine construction partners were handed new deals to support Openreach on roll out earlier in 2020: Instalcom, John Henry Group, Kelly Group, Kier Group, KN Circet, MJ Quinn, Morrison Telecom Services, nmcn, and Telent (BTwatch, #316).
Full-fibre push
The challenges of meeting set targets for full-fibre rollout explains much of the recruitment drive. BT announced in May 2020 that it intended to roll out full-fibre to 20 million premises by the mid- to late-2020s, on the back of a £12bn infrastructure investment pledge. While Openreach is currently extending its full-fibre network at a weekly rate of 40,000 homes and businesses, a rate of 50,000 premises per week during 2021 is apparently needed to stay on course.
BT did make a caveat, however, that the 20 million target was subject to the "successful resolution of a number of critical enablers" (BTwatch, #313).
" Our full-fibre network build is going faster than ever and we're now looking for thousands more people to build a career with Openreach and help us upgrade broadband connections and continue improving service levels. We're also investing in our supply chain, which will support the creation of thousands of jobs based all over the UK. "

Clive Selley, Chief Executive, Openreach.
Job creation has been a theme at Openreach for some time, with the infrastructure arm adding a net 5,000 new roles since March 2017. In parallel with the announcement of 5,300 new jobs, Openreach said it had created more than 6,500 trainee engineering roles, to "support its build programme and to deliver improved customer service".
Openreach's headcount is currently in excess of 34,500 people, which includes more than 25,000 engineers.
Bucking BT trends
Openreach's headcount expansion stands in stark contrast to workforce shrinkage at BT Group.
As part of its transformation programme — announced in 2018, when the headcount was just shy of 107,000 — BT is pushing on with its aggressive goal of reducing that number by 13,000 within five years (BTwatch, #296).
For the Communications Workers Union (CWU), however, the job cuts have been overly aggressive, despite claims from Group Chief Executive Philip Jansen that headcount reductions have largely come about through "natural attrition" (BTwatch, #317).
Tension between the CWU and BT's top brass shows no sign of easing. In a recent ballot of its members employed by the Group, the CWU reported that the majority of its members voted in favour of taking action — raising the possibility of a strike — "in defence of job security and hard-won terms and conditions" (BTwatch, #319).

Ken has been writing about developments in the fixed and mobile markets for over twenty years. He has been a contributor to TelcoTitans since 2015.