Liberty Global reignites M&A talk around Virgin Media.
CityFibre CEO in bullish mood after being freed from Vodafone shackles.
Sky reportedly keen on full-fibre infrastructure investment.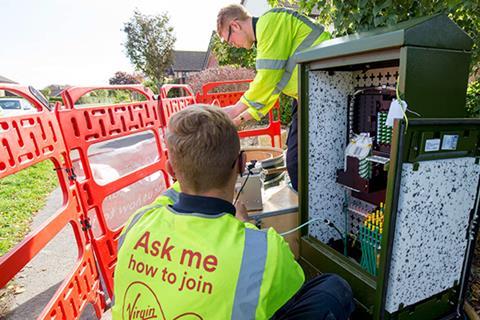 Mike Fries and Greg Mesch, the respective Chief Executives (CEO) of Virgin Media parent Liberty Global and fibre upstart CityFibre, spoke aggressively about shaking up the UK broadband market and applying more pressure on BT and Openreach.
Speaking on Liberty's earnings call for the quarter to 31 December 2019, Fries talked effusively about the need to "scale up" the Virgin Media network and take better advantage of what he sees as customer enthusiasm for discounted bundled packages of mobile and fixed services.
UK growth clearly remains on the Liberty CEO's mind, and Fries confirmed the group was looking to "explore strategic options in the [UK] market". However, the prospect of another ambitious expansion of Project Lightning, which has seen the cableco also turn to fibre‑to‑the‑premise (FTTP) technology to bring its services to more of the country, does not appear on the cards. Fries indicated that achievement of "national scale" would not be achieved through organic expansion, but instead "if we were to look at expanding to an additional seven [million] to ten million homes, we would almost assuredly see to do so off-balance sheet and with third‑party partners or financing sources".
Senior BT executives will no doubt be wary of Virgin Media as potential kingmaker as the UK market moves towards converged network plays — an area where BT is leading the way through integration of mobile and fixed infrastructure. Backed by Liberty, which was in 2019 bolstered to the tune of €10.6bn (£9.2bn) after selling German and Eastern European cable networks to Vodafone Group, Virgin Media's move to bulk up could reshape the UK market (BTwatch, #306). One potential outcome, especially following Virgin Media's recent decision to replace BT Enterprise with Vodafone UK as its host mobile network operator (BTwatch, #308), is a merger between Virgin Media and Vodafone.
Rethinking Liberty wholesale
Although Fries downplayed the prospect of a stridently ambitious infrastructure rollout programme in the UK, Liberty is still keeping the option open of building a new FTTP network that would be distinct from Virgin Media's existing infrastructure (including the FTTP element of Project Lightning). UK regulator Ofcom recently closed a month‑long period of industry consultation on proposals to apply Electronic Communications Code (ECC) powers to a new Liberty subsidiary, Liberty Networks. The fledgling venture is tasked with the construction and operation of high‑speed broadband networks "across the UK", and securing ECC powers would enable it to circumvent a range of planning restrictions on network builds. Although Fries has reservations about wholesale deals on the Virgin Media cable network, there is speculation that the new entity could pitch for government‑backed projects to bring Gigabit access to remote parts of the country, where it could become the incumbent fibre wholesaler.
Did Openreach scupper Virgin–Sky wholesale deal?
When Fries hints at joint ventures and partnerships in the UK, Sky invariably gets mentioned as a potential partner (BTwatch, #307 and passim). Rumours of a wholesale deal that would enable Sky — currently an Openreach customer — to piggy‑back on Virgin Media's cable assets are typically not far behind.
Local media reports surfaced in early-February 2020, however, that Sky was set to launch FTTP services using Openreach infrastructure (see separate report). Analysts from broker house Jefferies thought Openreach was on much shorter odds than Virgin Media to snare Sky as an FTTP customer. "More compelling for Sky would be to support Openreach FTTP rollout into cabled areas where Virgin's retail dominance presents an enticing target", Jefferies said.
Aggressive Openreach FTTP pricing is perhaps not the only reason why a Sky wholesale deal with Virgin Media might not happen (BTwatch, #308). Fries seemed cautious about wholesale deals and their potential to cannibalise retail revenue.
Recently, Openreach Chief Executive Clive Selley has also been quick to point out the challenges that Virgin Media would face in developing a significant wholesale business, based on the systems and processes needed to make wholesaling possible. Describing it as a "non‑trivial exercise", Selley pointed out the doubling up of systems integration work communications providers would have to do as a reason why customers might be reluctant to add an additional wholesale provider to the mix without particularly compelling motivation (BTwatch, #309).
Sky is currently dependent on Openreach to provide broadband service to some 6.2 million customers in the UK. With financial backing from its new owner, US cable giant Comcast (BTwatch, #300), there is some speculation that Sky is seriously contemplating full‑fibre infrastructure investment of its own. A Sunday Telegraph report cited unnamed Sky sources as saying that, as the UK industry moves towards full fibre, Sky's senior executives are uneasy about total reliance on Openreach, apparently deeming this a "worst‑case scenario". Neither were Sky's top brass said to be convinced about the capabilities of Virgin Media and CityFibre to build FTTP networks on a large scale.
Mesch push on BT
Greg Mesch, CEO of CityFibre, claimed — perhaps playfully — that it was not outside the bounds of possibility for incumbent BT to look beyond Openreach and become a customer of the provider. "I think it would be super smart and it happens in other markets", he told Light Reading. "BT's directors should be saying we should be looking at using other people's fibre", he added.
While Mesch may not be sitting by his phone waiting for a call from BT management, during the incumbent's recent results presentation, Group CEO Philip Jansen did say that, if the UK is planning to accelerate nationwide roll out of Gigabit connectivity, it will require other infrastructure builders to step up and build more, particularly in remote areas, and then offer wholesale access. By extension, if BT is not planning to overbuild in these uncommercial areas, but still wants its Consumer division to offer services, the prospect of BT readily turning to other networks should be anticipated.
Despite Sky's apparent qualms about CityFibre as a big‑time full‑fibre player, Mesch and his team continue to talk long and loud about the business's scale ambitions. The provider's planned FTTP footprint has increased from five million to eight million premises, courtesy of its January 2020, £200m takeover of FibreNation (a fledgling fibre venture of broadband player TalkTalk that had ambitions to reach three million premises, but had not raised the capital to support the push before being absorbed by CityFibre — BTwatch, #301 and #308).
Backed by Goldman Sachs and private equity firm Antin, the CityFibre investment pot has swelled from £2.5bn to £4bn. "We came up with a build rate and a target cost per-property and those are perfectly in line", claimed Mesch. "I think our investors are delighted with the performance or they wouldn't be comfortable upping their commitment from £2.5bn to £4bn", he added.
In January 2020, CityFibre agreed a recalibration of its wholesale arrangement with key retail partner Vodafone. The upshot is that CityFibre will be able to pitch to other broadband players for wholesale business much sooner than the old contract allowed and should, if all goes to plan, enable it to compete more aggressively with Openreach for retailer signups. In November 2017, when the ten‑year full‑fibre wholesale deal was signed, CityFibre granted Vodafone a temporary period of exclusive rights during the buildout phase of each city network (Vodafonewatch, #160). Only when FTTP rollout was complete in a city would other broadband players be allowed to enter the FTTP market there using CityFibre capacity. In exchange for this exclusivity, Vodafone made a minimum volume‑based commitment of signing up 20% of homes and businesses passed by CityFibre. Under the new agreement, Vodafone UK will offer Vodafone Gigafast Broadband on a rolling, twelve‑month exclusive basis as homes become available for service in each of the twelve towns and cities covered in phase one of FTTP deployment. The amended commercial terms also apply to additional locations.
Openreach gets response in early
Manoeuvring among Openreach's rivals-cum-customers comes after the network services arm unveiled a range of FTTP discounts on annual rental and connection fees (BTwatch, #308). Some of these became effective on 1 January 2020. Meanwhile, some faster downlink/uplink FTTP wholesale products are slated to go live on 23 March 2020. These include a 550Mbps/75Mbps product and a top‑speed 1Gbps/115Mbps service. Openreach's current range of FTTP discounts expire on 30 September 2022. The access services business is also studying the potential for introducing volume discount deals that would echo successful propositions introduced to encourage migration to superfast services (BTwatch, #297).
This raft of actual and promised promotions can be seen as evidence of Openreach's declared ambition to rapidly establish a full‑fibre marketplace for its customers, as set out at its 2019 Business Briefing (BTwatch, #309). It also appears to be having an impact.
According to an ISPreview article in early-February 2020, Sky Broadband was set for an "imminent" FTTP launch using Openreach infrastructure. The provider may well have launched sooner, said unnamed sources, were it not for some outstanding issues related to voice‑over-IP reliability.
Openreach was also reportedly in discussions with TalkTalk about thrashing out a full‑fibre wholesale deal on a "nationwide basis". TalkTalk has previously indicated a willingness to turn to BT for full‑fibre wholesaling (BTwatch, #303), and, to further Openreach's potential advantage, TalkTalk is recalibrating its fibre broadband game with a much‑reduced focus on standalone buildout as it cedes responsibility for the FibreNation venture to CityFibre.
Vodafone was one of the first communications providers to take advantage of Openreach's offers, pledging to extend its full‑fibre broadband footprint by up‑to-500,000 premises using Openreach infrastructure (BTwatch, #308). The arrangement focuses on three cities: Birmingham, Bristol, and Liverpool. Vodafone said it will start making Openreach FTTP available to its customers in spring 2020, and that the service will grow to 500,000 premises by mid‑2021 as the wholesale footprint expands. Encouragingly for Openreach, this is "phase one" of a strategic agreement with Vodafone. Options are available for "further phases" that could extend FTTP coverage to other places.
If retailers are to take advantage of its FTTP discounts, Openreach cannily insists they undertake marketing legwork to promote the higher speed connections. This should help de‑risk Openreach investment.
Regulator holding the brake down on Openreach acceleration
In its recent consultation on fibre investment in the UK, Ofcom was largely supportive of steps that would enable Openreach to speed up FTTP deployment (BTwatch, #309). However, among the areas where BT and Openreach consider they should be offered more latitude is the signing of long‑term deals with full‑fibre customers.
Openreach wants to be able to sign commercial contracts with communications providers in excess of five years on mutually acceptable commercial terms. However, the regulator is concerned that overly long contract timeframes will shut out competition from the market. Allowing longer contract timeframes may also come into conflict with the potential future desire of Ofcom to impose pricing restrictions on Openreach products offered in a market where it has significant market power.
Digging the UK full-fibre scene: selected FTTP infrastructure providers

Ownership

FTTP

connections passed

(31 December 2019

)

Coverage plans *

Wholesale customers

Notes: * There are approximately 28 million households in the UK. The registered number of businesses in the UK was 2.7 million, as of March 2019.
** ThinkBroadband indicates the official figure is too high and is much nearer two million premises.
*** While Project Lightning has seen the cable footprint increase by around two million homes, ThinkBroadband testing suggests around a quarter of these are based on radio frequency over glass (RFOG), which is the equivalent of FTTP in Virgin Media's infrastructure.
Sources: Ofcom, operators.

OLD GUARD

2.2 million **

Openreach's Fibre First programme targets passing four million homes and businesses with full-fibre by 31 March 2021.

Openreach has indicated it could aim for 15 million premises passed by the "mid-2020s", but only under the "right investment conditions". No firm announcement on the goal is expected until the completion of Ofcom's fibre market review (BTwatch, #309).

Openreach is a willing wholesaler on FTTP, and devising commercial propositions with its customer base (BTwatch, #309).

It is reportedly in advanced FTTP discussions with Sky and TalkTalk.

Openreach

Wholly owned by BT Group but a legally separate company with its own board and independent incentivised objectives (while being accountable to BT board and shareholders)

Virgin Media

Liberty Global

500,000 ***

Project Lightning, a £3bn investment programme announced in 2015, originally envisaged using FTTP to serve at least 25% of four million premises to be added to the cableco's footprint by the end of 2019. However, the programme saw controversy with misstated coverage numbers and apparent delays (BTwatch, passim).

In parallel, Virgin Media is pushing DOCSIS 3.1 upgrades to its hybrid fibre coaxial network. The aim is to offer speeds of up‑to‑1Gbps to 15 million homes by 2021 (BTwatch, #307).

Further, Liberty has created a subsidiary called Liberty Networks, tasked with the construction and operation of high-speed broadband networks "across the UK".

Sky rumoured as a potential high-profile FTTP customer, but Openreach also in frame.

Recent management comments suggest Liberty is wary of embracing wholesaling outside the remit of the provider's Virgin Media Business unit.

Sky has been flagged as a potential partner for Liberty Networks (BTwatch, #307).

KCOM

Macquarie Infrastructure and Real Assets

200,000

In October 2019, KCOM claimed full FTTP coverage across its core Hull and East Yorkshire franchise area (BTwatch, #307).

In January 2020, the operator unveiled phase one of a £100m project to extend FTTP into new parts of East Yorkshire and North Lincolnshire. More rollout areas are to be announced during 2020.

KCOM appears not to disclose wholesale customers, but is required by Ofcom to provide wholesale services on its footprint in a manner similar to Openreach.

NEWER PLAYERS (SELECTED)

100,000–200,000 (est.)

CityFibre's backers initially provided a £2.5bn fund to support FTTP coverage to five million premises, across 37 cities and towns, by end 2024.

The target was subsequently upped to eight million premises following the takeover of FibreNation from TalkTalk. Funds available for FTTP investment similarly shot up, to £4bn.

Vodafone, TalkTalk.

Following a loosening of an exclusivity relationship with Vodafone in late-2019, CityFibre's top brass is seeking to win more wholesale business.

CityFibre

Goldman Sachs

Antin

Gigaclear

Infracapital

–

Provider claims FTTP presence in "more than" 22 counties across the South West, the Midlands, and South East.

–

Hyperoptic

KKR

Newlight Partners

400,000
(est.)

Hyperoptic says it is "live" in 43 towns and cities. Aims to reach five million homes and businesses by 2024.

–