Monitoring unit warns against complacency in safeguarding strategic independence.
Pricing and PIA implementation remain areas of concern.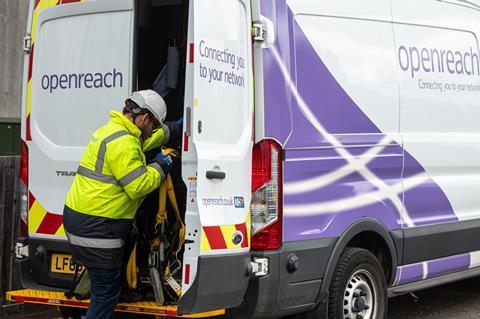 The Openreach Monitoring Unit (OMU) gave guarded praise to BT and Openreach in their efforts to keep their respective businesses at arm's length from one another, as they prepare for legal separation of access services.
In its latest Annual Report, covering the period between April 2019 and end-March 2020, OMU concluded that, "overall, BT and Openreach continue to make good progress in strengthening and safeguarding Openreach's strategic independence", and welcomed Openreach's action during the COVID-19 pandemic. It added that the commitment of Chief Executive Clive Selley and senior leadership at BT's infrastructure arm was a "key factor", and that industry feedback had "generally" shown that Openreach was "improving its engagement with its wholesale customers in many areas — developing its independent identity and building and maintaining constructive commercial relationships".
OMU, which reports to telecoms regulator Ofcom, nonetheless warned against any backsliding. "There is no room for complacency… continued focus and vigilance will be needed to ensure progress continues, is fully embedded, and sustainable", it said.
Established by Ofcom, OMU is tasked with assessing how far BT and Openreach are abiding by the commitments and protocols agreed with the regulator in 2017, as part of the Digital Communications Review process (BTwatch, #284 and #288). Areas of consideration are not confined to evaluating the extent of strategic independence, but also how far separation is contributing to the acceleration of fibre deployment in the UK, and the level of engagement Openreach is fostering with communications providers (CP).
Report card blemishes
Given that OMU's Annual Report took into account input from CPs regarding their relationships with both BT Group and Openreach over the twelve-month period, it was perhaps inevitable that some network competition anxieties came to light, with OMU indicating that "not all stakeholders think the separation between BT and Openreach is working as they consider it should".
"Some industry stakeholders have continued to raise their concerns about the potential for undue BT Group influence over Openreach pricing decisions. We also note some concerns around coincidences of timing of Openreach fibre deployment in certain locations where communication providers' build footprints overlap. While these have been raised as concerns, we have to date not found anything that would suggest that Openreach is not acting in accordance with the commitments. These will continue to be particular areas of focus for our monitoring in the year ahead. "

— OMU.
OMU also drew attention to "growing pains" in implementing physical infrastructure access (PIA), which enables CPs to rent access to ducts and poles, as well as purchase a range of ancillary services to help link into their own physical infrastructure.
Although OMU acknowledged that PIA was a "complex challenge", and that Openreach seemed committed to overcoming hurdles — and that "use of BT's ducts and poles by other providers to deliver their networks has increased substantially since our last report" — it also deemed there was room for improvement. "Openreach will need to do more to ensure providers can gain access at the scale and pace necessary to support the deployment of multiple, fast fibre networks for UK consumers", said OMU.
Liking that FTTP ambition
OMU welcomed BT's announcement in May 2020 that it intends to roll out 'full fibre' to 20 million premises by the mid- to late-2020s, on the back of a £12bn infrastructure investment pledge. "We acknowledge the significant contribution this will make in supporting national broadband ambitions", commented OMU.
"Beneath the surface of the stated ambitions, we have seen that Openreach independently worked up its commercial business case, which was scrutinised and challenged by BT Group through established governance processes before the final investment decision was made. However, we will continue to monitor how the investment needed to support this ambition is delivered. "

— OMU.
BT did make a caveat, however, that the 20 million target was subject to the "successful resolution of a number of critical enablers" (BTwatch, #313).