A strong quarter and half-year for the access services business demonstrates building momentum for fibre services in the face of the pandemic.
Anticipated long-term volume deals may not materialise, but associated competitive pressure may help BT arguments on the need for a 'fair bet' from Ofcom.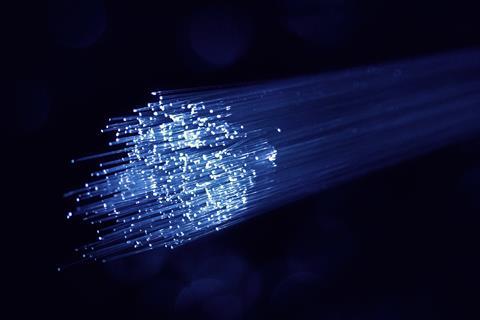 Openreach's headline figures for the quarter and half-year to 30 September 2020 (Q2/H1 FY20-21) showed a business robustly addressing pandemic challenges, and forging forward with its fibre-to-the-premises (FTTP) rollout plans. It was able to "reaccelerate" the deployment in Q2, after a lockdown slowdown at the start of the FY, and is said to be working at new weekly high run-rate of 40,000 premises per week.
This operational reinvigoration is coming alongside growth in revenue and profit as momentum builds and earlier headwinds linked to regulatory restrictions and higher levels of rates charges fade away. Demand for and adoption of fibre and Ethernet services is outweighing the decline in legacy copper services, and all major communication provider (CP) customers are now said to be selling FTTP products, adding to the picture of an infrastructure business that is driving BT Group, and the industry more widely, in the right direction.
Openreach financial performance breakdown, H1 FY20–21
H1 FY19–20
H1 FY20–21
Change

Note: * Adjusted, i.e. before specific items.

Source: BT.

Revenue

£2,536m

£2,585m

1.9%

EBITDA

£1,417m

£1,453m

2.5%

EBITDA margin

55.9%

56.2%

0.3pp

Operating profit

£579m

£621m

7.3%

Capex (reported)

£1,015m

£1,072m

5.6%

Normalised free cash flow

£197m

£20m

-89.8%
Deals, but no volume deals
However, not everything is going Openreach's way. In comments throughout the results presentation, management — and particularly Group Chief Executive (CEO) Philip Jansen — appeared less upbeat on the prospect of securing long-term volume contracts with major CP customers, with the previously disclosed hurdle of delivering deals that do not breach competition law now appearing insurmountable. "Hopefully, we'll sign some bigger contracts", said Jansen, "but we won't be able to tie up volume for very, very long periods of time because that's going to be a deemed as anti-competitive".
Long-term volume commitments have previously been used by Openreach to encourage adoption of superfast services, and were viewed as having great potential for driving full-fibre adoption — but their structure needs to be not only agreed between Openreach and the customer but also cleared by regulator Ofcom and by BT at Group level. It now appears that — with Ofcom only likely to provide a clear guarantee on regulation-free fibre pricing over a five-year period, and reluctant to provide scope for contracts that could freeze out altnets seeking to compete with Openreach — possible terms are not going to be acceptable from the BT perspective.
The BT and Openreach leadership were at pains to stress that this does not mean FTTP momentum is not building, but it does affect to some degree the likely returns from the fibre investment, as a more competitive landscape may emerge.
Ironically, the dimming prospect of guaranteed volume deals may help support BT and Openreach demands that financial stakeholders be guaranteed a 'fair bet' on a long-term investment with uncertain returns. Heightened competition from other infrastructure providers has already been factored into BT's plans that anticipate a 10%–12% return on investment for fibre (BTwatch, #316), including from Virgin Media, which is alluding to a larger rollout, as well as fibre altnets such as CityFibre. Nonetheless, the inability to lock in business for the longer term makes for a more ambiguous future.
This factor will no doubt feature heavily as BT makes its final appeals to Ofcom in relation to the Wholesale Fixed Telecommunications Market Review, due to come into effect on April 2021 (BTwatch, #309, #314).
BT management getting punchy as stakes get higher
As the regulator mulls its final decisions on future fibre regulation, and stakeholders make complaints and promises to further their own causes, BT management appears ready to come out swinging to rebut assertions and criticisms of its delivery of fibre products to the market.
Chief Financial Officer Simon Lowth appeared particularly sceptical over recent Liberty Global and Telefónica Group claims regarding the proposed Virgin Media and Telefónica UK joint venture and its promise of becoming a national connectivity champion. While the two groups are lobbying for a quick decision on clearance of the proposed deal from the European Commission, rather than a reassignment of the decision to the UK's Competition and Markets Authority (CMA), some big numbers were tossed out by the partners on planned network footprint expansion in light of the deal (Telefónicawatch, #148). Although the notion of adding potentially seven million premises to Virgin Media's existing coverage has been bandied about, alongside the promise of rapid 5G deployment, Lowth noted that no timeframe for the programme has been set. He also said it was unclear whether the claims marked a new commitment or a repackaging of previous aspirations for the two partners.
Meanwhile, the usually mild-mannered Openreach CEO Clive Selley was comparatively testy when responding to a question on recent press reports suggesting major CPs are unhappy with the progress of discussions with Openreach on fibre products. This customer disquiet appears to be coming principally from TalkTalk, with the rival claiming that the BT business was hiding behind competition law as negotiations on service contracts stutter (see separate report). Selley said that there had been considerable engagement on the subject with the industry "nearly all of it very, very constructive". He also suggested that the leaking out of information in the media and other forums was not necessarily representative of the ongoing debate, but implied that competitive pressure may be building for some CPs as the commercialisation of fibre becomes "very real".
Openreach provisioning Consumer first mover advantage
During the results presentation Group management discussed the provisioning expense of fibre deployment, which is calculated separately from the rollout cost and is becoming more relevant as commercial offerings launch.
Jansen noted that Selley and Openreach are working on the industrialisation of the provisioning process, but it was acknowledged that the cost of provisioning is still considerable — and certainly significantly higher than the roughly £50 charge that Openreach is currently putting on installation as part of its FTTP proposition. The goal of the business is to move towards that level of cost but for now Openreach appears to be effectively subsidising installation of all lines.
With Consumer accounting for 598,000 of Openreach's 655,000 FTTP connections, and almost 90% of Openreach's 101,000 net adds during the quarter, the BT division is principally getting the benefit of this policy, and being encouraged by its semi-independent sibling to make the most of a first-mover advantage. Other CPs are able to avail of the same offer, but with the major players remaining some way behind in the transition from copper services to fibre-to-the-cabinet, and apparently needing to do more work on updating essential IT systems to accommodate full fibre, it would have been clear as the Openreach policy was developed that Consumer would be the primary player with a clear path to avail of the policy.
[Further reference: Half year to 30 September 2020, and associated documentation and presentation — BT, 29 October 2020.]
BT Group Q2 FY20–21
1

2

3

4

5

6

7

Currently reading

Openreach fibre thrives but volume deal prospects fade