Vendor licensing costs and proprietary hardware acting as a brake on widespread SD-WAN uptake, but more compelling IoT economics bringing DyNS to factory floors.
BT partnership with Dell spotlighted as an enabler of BT progress in expanding its portfolio.
IoT expected to help drive 5G investment through reliable, low-latency campus networks.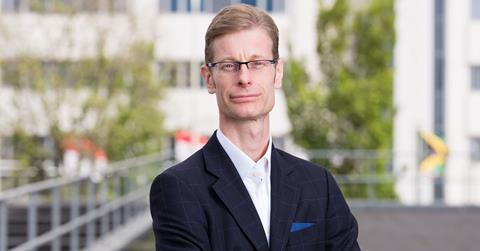 Speaking to BTwatch, Adrian Comley, BT Global's General Manager for Dynamic Network Services (DyNS), highlighted the significance of growing market demand for IoT solutions as a gateway for the introduction of BT's DyNS propositions in key verticals targeted by the division.
In a wide-ranging discussion, Comley highlighted IoT enthusiasm, particularly in manufacturing and retail businesses, which appears to be a sweet spot for BT's burgeoning partnership with vendor Dell Technologies.
IoT bringing in customers sceptical on proprietary SD-WAN
The demand for solutions in association with industrialised IoT reflects BT Global showing a degree of flexibility in response to market conditions.
While to date many headlines and stories surrounding the DyNS programme have focused on the potential for virtual network functions (VNF) being deployed on software-defined wide area networks (SD-WAN) to transform the way in which multinational corporations' (MNC) global networks are utilised and managed, progress in deployment of this type of use case is yet to gain significant traction with customers.
Taking a view of the market as a whole, and not just among BT's base, Comley said "we don't see mass deployments of VNFs on x86 [generic architecture] at scale amongst the global MNCs just yet". With most SD-WAN deployments on proprietary hardware, it appears that the licensing fees levied by some vendors is causing reluctance among customers that still see price as "the key determinant" on network decisions. However, Comley believes that "IoT could tip the balance".
"What we do see is a strong emergence of an IoT-led case for x86 deployment. We've actually got a specific digital manufacturing proposition around this, delivering customers an IoT solution around the Dell x86 device. So [BT] would advise them on their IoT sensors and monitors and security cameras, feeding that information across 5G, 4G, or traditional wired LAN into [a] Dell box running an IoT app."

Comley.
These IoT solutions are particularly gaining traction in manufacturing settings, where the potential for remote oversight, performance management, and maintenance are clear use cases. Retail applications are also showing potential in areas such as stock tracking, with smart city and connected application also expected to emerge.
Dell ticks boxes
In relation to the deployment of Dell equipment based on x86 architecture for DyNS, Comley further said that the vendor has become "one of our main vendor partners, along with Cisco". He also noted its delivery of "good performing, keenly-priced boxes" that have featured heavily in bids for new contracts featuring IoT applications.
Dell EMC and BT originally trumpeted the developing partnership in early 2020, when the use of flexible customer premises equipment from the vendor was showcased as enabling expansion of BT Global's DyNS portfolio in areas including IoT (BTwatch, #310).
Another key partner on industrialised IoT delivery is QiO Technologies (already a BT Security partner — BTwatch, #304), with the ISV providing the applications that enable the virtualisation of functions on the network. Based on solutions from its partners, BT is then providing in-house security, support and advice as part of a managed service.
"We will put a security wrap around that both in terms of the LAN — industrialised LAN from Cisco, for example — or firewalls running in the service chain. We then advise customers on what data to process locally for real-time fast decision-making about shutting down a machine or [other localised issue], and then what they will push out into the cloud to do big data analytics — in Visio, or AWS, [or] wherever that might be."

Comley.
Comley indicated that BT is working with additional partners, including Intel, on other developments of the portfolio in areas including secure device onboarding on customer networks, and security provenance of IoT devices operating in the supply chain, to develop a stronger case for delivering x86 devices.
Industrial IoT on campus: an emerging use case for 5G
Elsewhere, in recent webinars on digital transformation in industry, Comley discussed the potential for using 5G in the context of delivering virtualised network products in an industrialised IoT environment.
The low latency promised by 5G technology in a localised campus network was highlighted as a critical component of IoT applications in an industrial setting, where decisions on equipment performance and safety may need to be made in milliseconds. The need for the low latency and reliability expected of 5G was also framed as vital in enabling video-monitoring and visual analytics of industrial sites. Comley believes that these emerging capabilities create a clear business case for using IoT as a way of working more efficiently, highlighting that cost savings can be made through substantially improved productivity where 'experts' can remotely intervene across widely dispersed sites .
Comley also believes that IoT applications can be an important stepping stone in extending the reach of DyNS within customer networks.
"We've deployed solutions where you've got an IoT app, you've got your firewall; then SD-WAN will come at a later date to our customers. They're very much IoT-driven first, SD-WAN-driven second… I think for the kind of a customer interested in IoT, then, there is quite an interesting conversation that we can have."

Comley.
Further coverage of our discussions with Comley, including Global's approach to partnering on SD-WAN, the role and development of security services, and how customer conversations are evolving on DyNS in the light of the global pandemic, will feature in the next BTwatch report release.