March 2020 deadline met, saving government face.
Unknown outcome from pushback against EE fee proposal.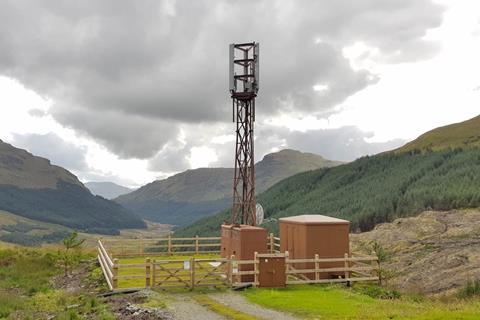 EE and rivals Telefónica UK (O2 UK), Three UK, and Vodafone UK agreed a long‑awaited deal on the UK's Shared Rural Network (SRN) project, which hopes to bring 4G coverage to additional rural and/or transport 'not‑spots' through coordinated network expansion and sharing of existing and new sites (BTwatch, #308–#310).
The move — which adds a new layer of network collaboration for EE, beyond its Mobile Broadband Network joint venture with Three — was confirmed by the UK's Department for Digital, Culture, Media & Sport (DCMS) two days ahead of a perceived deadline of 11 March 2020, coinciding with the government's annual Budget announcement.
The DCMS confirmed, as previously set out, that the SRN will cost £1.03bn, with £532m coming from the operators themselves, to fund network expansion in "partial not‑spots", while the government is contributing £500m to support outreach to the most remote and "commercially unviable" locations. There is an array of phased regional and national targets, but key ones include expansion of every operator's geographical 4G coverage to 90% of the UK by June 2026, and, within this, provision of "guaranteed coverage" to 280,000 premises and 16,000km of roads that currently receive poor or no signal.
Although the deal has been long in the making, and did not come without the inevitable bout of cross-operator squabbling, the telcos' leaders put on their best social responsibility cloaks for the occasion. Philip Jansen, Chief Executive (CEO) of BT Group, declared that "building out fast and reliable access to 4G across the country is a national mission and we're playing a leading role, collaborating with government and the other mobile network operators in the UK, to make this happen".
Nick Jeffery, CEO of Vodafone, trumpeted the programme as "unmatched anywhere in the world". "It will mean an end to mobile 'not‑spots' for people in the more remote areas, whether they are at home, at work, or on the move. We will now get on with the job of delivering it", he added. Mark Evans, CEO of O2 UK, said the collaboration between industry, government, and regulator Ofcom should be seen as a "leading example of how to deliver infrastructure investment".
Troubleshooter DMSL widens remit
The practicalities of the collaboration will be managed by Digital Mobile Spectrum Limited (DMSL), a joint entity (formerly called MitCo) that was originally set up by the UK's mobile operators in 2012, to tackle interference issues after liberalisation of 800MHz spectrum for 4G (Vodafonewatch, #106).
A sub‑plot to the SRN announcement is that DMSL's brief has been significantly expanded behind the scenes. As well as the SRN support role and 800MHz mitigation task (which has now become "voluntary" for operators, following recent expiry of their original, formal licence requirements), DMSL is taking on similar responsibility in the 700MHz field, funded by DCMS, ahead of Ofcom's upcoming 5G frequency rights auction (see separate report). Ben Roome, a former Nortel and Nokia Siemens Networks' executive, appears set to remain CEO at DMSL, which updated its Articles of Association in early-March 2020 to account for the widening mandate.
Ofcom will enforce operators' "legally binding coverage commitments", with the power to issue fines of "up to 10% of an operator's gross revenue" if they do not hit targets. The obligations have come in the form of amendments to their 900MHz and/or 1800MHz licences, although it is not clear if their requirements are specific to these bands.
What the operators have agreed to (collectively)
Commitment (by 30 June 2026 unless stated)
Current situation
Note: For 4G networks, Ofcom defines coverage as delivering a "95% probability of making a 90‑second telephone call successfully completed, and a 95% chance of getting a download speed of at least 2Mbps".
Source: DCMS.

England

98% (from at least one operator)

97%

90% (from every operator)

81%

Northern Ireland

98% (from at least one operator)

97%

85% (from every operator)

75%

Scotland

91% (from at least one operator)

80%

74% (from every operator)

42%

Wales

95% (from at least one operator)

89%

80% (from every operator)

58%

UK

88% (from every operator, by 30 June 2024)

–

95% (from at least one operator, by 30 June 2025)

90% (from every operator)

Additional 280,000 premises and 16,000km of roads (from at least one operator)
The new obligations add a fresh layer of regulatory requirements to those placed on UK operators after they first acquired 4G licences. O2 UK's propagation-friendly 800MHz concession, issued in 2013, mandated the operator to deliver indoor data coverage to 98% of UK premises by 31 December 2017, and Ofcom has since validated O2 UK's completion of this task. Under pressure from Ofcom, all four operators also committed in 2014 to achieve 90% geographical voice coverage across the UK by 31 December 2017, and are all said to have ticked this box.
Individual responsibilities more nuanced
While headline investment figures were put up in lights, neither the government nor the operators revealed how spend will be divvied up between them or any access fees they will charge each other for the sites they 'contribute'.
In particular focus is how the agreement deals with EE's reported push for special compensation to provide access to its rural infrastructure, seen as more widespread than its rivals. This had evidently intensified the cut‑and-thrust of the negotiations.
During the talks, O2 UK's Evans had suggested EE's tactic could "undermine the viability of the project", and it was at one stage mooted that O2 UK, Three, and Vodafone could go it alone on the SRN, as EE's proposal would have apparently made it less costly to build out their own infrastructure than buy access on their rival's network.
EE had argued that the other operators stood to benefit from the greater investments it has made in rural areas over the past several years, and that this should be recognised in pricing for access to its sites. It had also claimed that its investment in remote coverage, significantly incentivised and financed by its contract to support the UK's coming Emergency Services Network, meant its reliance on SRN arrangements would be substantially below that of rivals.
The stand‑off seemingly prompted James Heath, Director of Digital Infrastructure for the DCMS (and soon to take over as CEO of the country's National Infrastructure Commission) to give the operators a sharp 'hurry‑up' earlier in 2020.
Target mix-and-match
One aspect of the SRN is that coverage responsibilities differ between operators on a regional basis. It appears that these discrepancies are not just geared towards spreading workload, but also to account for the operators' varying "baselines", and possibly assuaging EE's reported complaints too.
According to Ofcom documentation on its "compliance verification methodology", for example:
All operators must meet a 90% geographical coverage target for 30 June 2026, across the UK, but EE is mandated to hit 94% in England (against 92% for Vodafone, for example), 89% in Northern Ireland (Vodafone: 93%), 85% in Scotland (Vodafone: 85%), and 88% in Wales (Vodafone: 85%).
Regarding connecting up premises, the operators have a collective target of 280,000, but Three has the greatest burden, with a mandate to cover 140,000 facilities that were not within range of its network as of September 2019. O2 UK and Vodafone sit in the middle with 90,000 each, and EE is (ostensibly) the least put‑upon with a 40,000 target. It appears there will be some overlap between their efforts as, individually, their obligations add up to 360,000 extra premises.
With roads, O2 UK will seemingly be the heaviest lifter, with a brief to connect 10,000km of tarmac beyond its September 2019 baseline. This compares with just 4,000km for both EE and Three, and 8,500km for Vodafone. The aim is to provide cross-operator coverage of 16,000km of roads, again suggesting some duplication.