Latest IDATE figures show UK as one of Europe's fastest-growing FTTH/B markets by coverage.
But only Austria and Serbia fare worse in terms of subscriber penetration.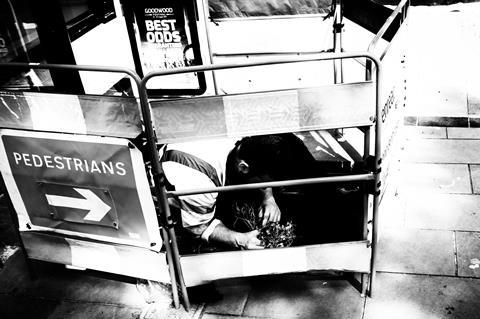 FTTH Council Europe released data showing the UK (still) languishing towards the bottom of a table ranking European countries by fibre-to-the-building/home (FTTB/H) penetration.
There were, however, some encouraging caveats to the latest figures compiled by market research firm IDATE. First, they were slightly old, reaching only as far as September 2019. As such, they did not take into account more recent aggressive fibre‑to‑the‑premise (FTTP) moves by Openreach and other infrastructure providers.
Second, despite the ageing stats, they still captured one encouraging FTTH/B trend. A deployment of 1.4 million FTTH/B 'sockets' between September 2018 and September 2019 meant that the UK was the fifth fastest-growing full-fibre market in Europe, with a 50.8% increase year-on-year (IDATE defines a "socket" as a connection point of a single fibre service provider, so it is possible to have multiple sockets if the location is serviced by multiple FTTH network operators).
International 'full-fibre' comparisons of this sort inevitably put Openreach and the government in a bad light, and are then invariably followed by pointing of fingers from UK broadband lobby groups, political rivals, and retail providers wanting easier access to deliver ultra-broadband services at (ideally) regulated wholesale prices. Heel‑dragging and poorly thought out policy are typically the main accusations.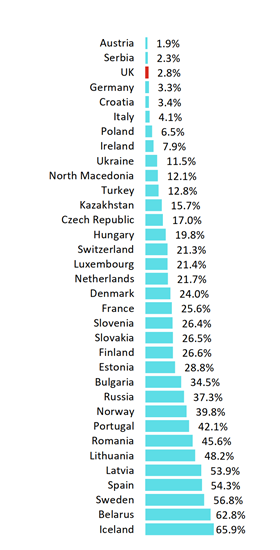 There is still some work to do if the government is to make good on a pledge to deliver "Gigabit-capable broadband" to the whole of the UK (which was originally mooted for 2025 by UK Prime Minister Boris Johnson, although there seems less attachment to that timeframe after the Conservative Party was re‑elected to power in December 2019).
The proportion of UK homes passed by fibre reached 15.1% as of September 2019, far off the coverage pace set by France (57.1%) and Spain (85.6%), which are countries of comparable size. Germany fared worse than the UK, passing only 10% of households with fibre, but any feelings of schadenfreude will hardly appease supporters of a Gigabit Britain.
Worryingly for UK investors in full-fibre infrastructure, FTTH/B take‑up as a percentage of homes passed is low, at 18.2%. Neither can any glee be drawn from Germany, where FTTH/B take‑up is 32.8%. Spain (63.4%) and France (44.8%) show what is possible in terms of stimulating demand.
Assembly line
A recent report from Assembly, commissioned by Huawei Technologies, attempted to quantify the economic benefits of hitting the "Gigabit Britain" target by 2025. While the UK is a "world leader" in superfast broadband, covering more than 95% of premises with downlink speeds of more than 30Mbps, Assembly maintained that the transition from Superfast Broadband Britain to Gigabit Britain "could" provide £51.4bn in gross value-add to the economy by 2025. By 2030 this number may reach £68.8bn. According to Assembly, a twelve-month delay in achieving the 2025 target could mean the UK misses out on £9.7bn in productivity benefits. A lag by two years may well see losses reach £28.7bn.
Assembly made several recommendations about how the UK government and regulators might steer a timely path towards a Gigabit Britain. Among them were sufficient government subsidy and funding models for non-commercial areas to ensure full coverage. Ensuring enough competition to encourage innovation and lower prices (in places that can economically support multiple infrastructures) was another. To stimulate Gigabit demand and lower investment risk, Assembly suggested that the government could help by moving more services online. The research provider highlighted easier access to wayleaves and clearer planning guidance, so avoiding clashes between local and government thinking, as another way forward.
Digging the UK full-fibre scene: selected FTTP infrastructure providers
Ownership
FTTP connections passed (31 December 2019)
Coverage plans *
Wholesale customers

Notes: * There are approximately 28 million households in the UK. The registered number of businesses in the UK was 2.7 million, as of March 2019.

** ThinkBroadband indicates the official figure is too high and is much nearer two million premises.

*** While Project Lightning has seen the cable footprint increase by around two million homes, ThinkBroadband testing suggests around a quarter of these are based on radio frequency over glass (RFOG), which is the equivalent of FTTP in in Virgin Media's infrastructure.

Sources: Ofcom, Assembly, operators.

OLD GUARD

Openreach

Wholly owned by BT Group but a legally separate company with its own board and independent incentivised objectives (while being accountable to BT board and shareholders).

2.2 million **

Openreach's Fibre First programme targets passing four million homes and businesses with full-fibre by 31 March 2021.

Openreach has indicated it could aim for 15 million premises passed by the "mid-2020s", but only under the "right investment conditions". No firm announcement on the goal is expected until the completion of Ofcom's fibre market review (BTwatch, #309).

The pace of FTTP connections has been increasing, from 13,000 premises a week (January 2019) to a weekly rate of 26,000 (February 2020).

Openreach is a willing wholesaler on FTTP, and devising commercial propositions with its customer base (BTwatch, #309).

It is reportedly in advanced FTTP discussions with Sky and TalkTalk.

Virgin Media

Liberty Global

500,000 ***

Project Lightning, a £3bn investment programme announced in 2015, originally envisaged using FTTP to serve at least 25% of four million premises to be added to the cableco's footprint by the end of 2019. However, the programme saw controversy with misstated coverage numbers and apparent delays (BTwatch, passim).

In parallel, Virgin Media is pushing DOCSIS 3.1 upgrades to its hybrid fibre coaxial network. The aim is to offer speeds of up‑to‑1Gbps to 15 million homes by 2021 (BTwatch, #307).

Further, Liberty has created a subsidiary called Liberty Networks, tasked with the construction and operation of high-speed broadband networks "across the UK".

Sky rumoured as a potential high-profile FTTP customer, but Openreach also in frame.

Recent management comments suggest Liberty is wary of embracing wholesaling outside the remit of the provider's Virgin Media Business unit.

Sky has been flagged as a potential partner for Liberty Networks (BTwatch, #307).

KCOM

Macquarie Infrastructure and Real Assets

200,000

In October 2019, KCOM claimed full FTTP coverage across its core Hull and East Yorkshire franchise area (BTwatch, #307).

In January 2020, the operator unveiled phase one of a £100m project to extend FTTP into new parts of East Yorkshire and North Lincolnshire. More rollout areas are to be announced during 2020.

KCOM appears not to disclose wholesale customers, but is required by Ofcom to provide wholesale services on its footprint in a manner similar to Openreach.

NEWER PLAYERS (SELECTED)

CityFibre (FibreNation)

Goldman Sachs

Antin

100,000–200,000 (est.)

CityFibre's backers initially provided a £2.5bn fund to support FTTP coverage to five million premises, across 37 cities and towns, by end-2024.

The target was subsequently upped to eight million premises across 100 cities following the takeover of FibreNation from TalkTalk. Funds available for FTTP investment similarly shot up, to £4bn.

As of early-March 2020, CityFibre had Gigabit services live in eleven cities.

Vodafone, TalkTalk.

Following a loosening of an exclusivity relationship with Vodafone in late-2019, CityFibre's top brass is seeking to win more wholesale business.

Gigaclear

Infracapital

–

The provider claims FTTP presence in "more than" 22 counties across the South West, the Midlands, and South East. More than 65,000 homes and businesses have been passed with fibre.

–

Hyperoptic

KKR

Newlight Partners

400,000 (est.)

Hyperoptic says it is "live" in 43 towns and cities. It currently passes more than 500,000 homes and businesses with fibre and aims to reach five million by 2024.

–